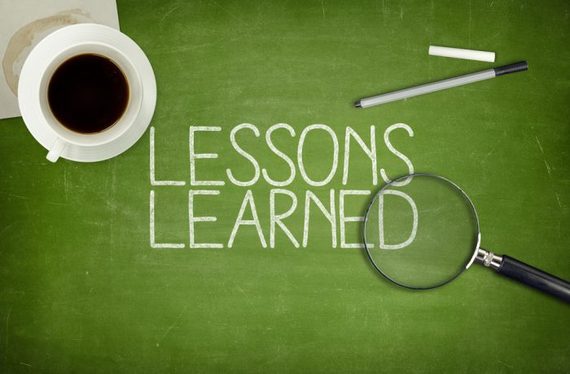 Photo: Shutterstock
Today I am reflecting on some of the lessons I have learned during and post divorce.
Happiness is a choice
This may seem obvious to some of you, but when you are caught up in a continual cycle of drama you may not be able to see that removing yourself from a negative situation is your choice. I have learned to remove myself from negative people and negative situations that don't have a positive impact on my life. In nearly all situations I ask myself "does this make me happy?" or "do I feel good about this?" if the answer is "No" then it's not something I pursue. You can use the 'joy or annoy' method! Bin the things, situations and people that annoy, keep the ones that bring you joy.
Forgiveness is required to move forward
Right now this may seem impossible for you and admittedly I still find it hard to fully forgive my ex and his (now) wife for turning my world upside-down and putting me in a very difficult situation. Not only did their actions affect me emotionally and mentally, being coerced in to bankruptcy and denied rights to an equal divorce has continued to affect my life and financial situation for nearly 5 years.
However, I am reminded of the quote "Holding on to anger is like drinking poison and expecting the other person to die" ~ Buddha. I must accept that I will never receive an apology for what they put me through and that by holding on to resentment, the only person getting hurt is me!
The UK legal system is flawed
Maybe I didn't select the right representation or maybe I was just a small fish in a big pond. If my solicitor had told me right from the start that I would get nothing from my ex due to my bankruptcy then I NEVER would have pursued him to pay my mum back what she was owed from the house. If I had known that he would come after my business/livelihood and that legally he was entitled to, I would have taken steps to protect it and myself. All in all it was a costly and emotionally damaging exercise where he kept everything and my mum only received a fraction of what she was due. I received nothing and still owe my dad for the cost of the divorce. If I could turn back the clock, my choice of solicitor and route to divorce would be completely different. My advice would be; do some research, select the right route to divorce for you and if going down the route of using a solicitor, choose someone you feel comfortable with.
Psychopaths exist outside of the movies
I have dated a psychopath, post divorce, and believe I may also have married one. I believe no decent human being would act in a malicious manner to intentionally hurt a vulnerable person.
It's ok to ask for help
I fought for ages about seeking professional help. My defense was "I'm fine!". On reflection, the early days of the split were when I needed help the most, over 4 years on I believe that this lack of professional help in the early stages has impacted on how I deal with my emotions now. Go get help and don't be embarrassed about it!
Stress is a choice, depression is not
I choose to be self-employed, therefore I can choose whether to be stressed about work, deadlines or life in general. It is in my power to keep stress at a minimum level. For years I thought I thrived in stressful situations, procrastinating on projects and leaving it to the last minute to meet the deadline as working under pressure produced the best results... or so I thought! Having tried to lose weight for over 4 years and consistently putting it on, I am beginning to understand (and be educated on) the impact of stress on the body. Having been diagnosed with depression and ignoring this diagnosis I am now bigger than I have ever been, EVEN THOUGH I eat well and have 3 personal training sessions a week and complete my step goal each day. I have drastically changed some habits to reduce my stress levels and I am working on others. I may just have to succumb to the idea that all though mentally I feel 'fine', my body is telling me that I am depressed.
Acceptance is key
In order to move forward you must accept what has happened and learn to find peace with it. Some people may say 'things happen for a reason'. I used to HATE it when people threw this cliché at me, but now I find myself saying it to others in times of emotional turmoil. I have accepted the role I played in the end of my marriage and have accepted that in order to have a happy life I must follow my own advice and forgive those who have caused me hurt.
Money isn't everything
Going through bankruptcy alone and living off a small wage was a lesson I would never have wanted to learn in a million years! I was a high flyer in marketing, loved shopping and home-making... But shit happens and I dealt with it, day by day. I am still tarnished with the 'bankruptcy brush' as I can't get a mortgage or write a cheque or get a credit card, but it has taught me that the important thing in life is not how much money is in the bank but how much love there is around you. My family, friends, pets and my home are among the MOST important things to me and I am truly grateful to have them in my life.
Choose your friends wisely
I learned very early on after my split that there are some friends who will be there no matter what, they'll give you the truth even if it hurts because they care - hold on to them and don't let them go, and there are some friends who stick around because they a) feel guilty b) are nosey c) love drama & gossip - avoid these at all costs! Delete them from social media, no need to be nasty or cause further drama, just be aware of who in your life makes a positive impact and who doesn't.
Finally - Embrace change and all the lessons life throws at you!
For more advice, shared stories and legal information, head to our website.