Men's and women's wear label Nicopanda has just dropped its Autumn/Winter collection and its signature fun is matched with street-savvy sophistication.
Designed by Nicola Formichetti, the former artistic director of Mugler and Diesel is perhaps more widely known for creating some of Lady Gaga's most memorable looks and videos, including Bad Romance, as well as directing the stunning Gaga's Workshop Barney's windows for her New York charity project in 2011.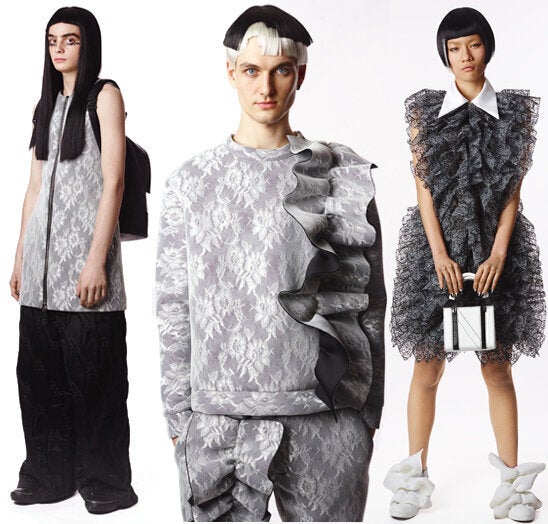 Born in Tokyo, the Italian-Japanese designer often appears to draw heavily on some of the fun aspects associated with Japanese culture for his Nicopanda line - from manga style (his favourite character is Chibi Maruko) to Harajuku street style, colour and cuteness. But, perhaps drawing on the understated Italian side of his heritage, there is also an arch sophistication to this incredibly unique and wearable line.
The latest drop - some of which is pictured here - features architechtural elements, beautiful construction and continues with the ruffles theme seen in previous collections, for both sexes.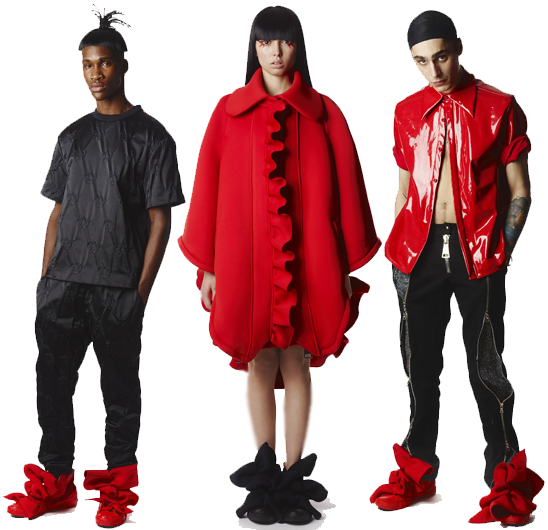 I hadn't planned to write solely about this collection but it just really speaks to me as someone who lives in and for comfy sportswear, and can often feel constricted and awkward when 'dressing up', despite loving a more 'grown up' evening image.
This Nicopanda collection presents a fashion-forward, easy-to-wear look that represents a duality that absolutely appeals to both sporty and more groomed aesthetics without compromising on comfort or personality. And LOOK - they're all styled with (gorgeousgorgeousgorgeous) trainers, too! HELLO.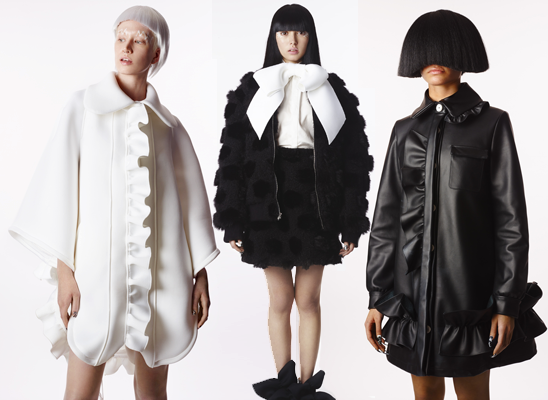 It's hard to pick a standout from such a strong collection but I am completely obsessed with the red coat pictured above (also seen in white, here). The rounded exaggerated collars are a clever nod to the season's key 1970s trend and top a fun, sassy style that plays convincingly with volume and proportions in the most perfect shade of lipstick red.
The lace print pieces, pictured top, are also divine, especially the unisex sweatshirt and matching sweatpants/trousers which use a chic colour palette and well-placed ruffle details to take a basic sports luxe design to the next level.
Shop the Nicopanda collection internationally, either online at thecorner.com (coming soon) or from a number of retailers around the world including Machine-A , 127 and Selfridges in London, Hervia in Manchester, and Opening Ceremony in both New York and Los Angeles.
Related