Since I first got a kitten last year, come any kind of occasion - birthdays, Christmas etc - I seem to receive lots of cat-themed cards and gifts. I'm not a cat calendar kind of girl (yet) so thankfully there's a whole ton of really cool, quirky or downright kitsch cat-related stuff around right now from high end designers to the High Street in fashion, footwear and all manner of other home and lifestyle accessories too.
Here are a few of my favourites available now and, by way of apology for anyone who was expecting cute cat pics, I've chucked one in of my gorgeous little girl, Parker, for good measure.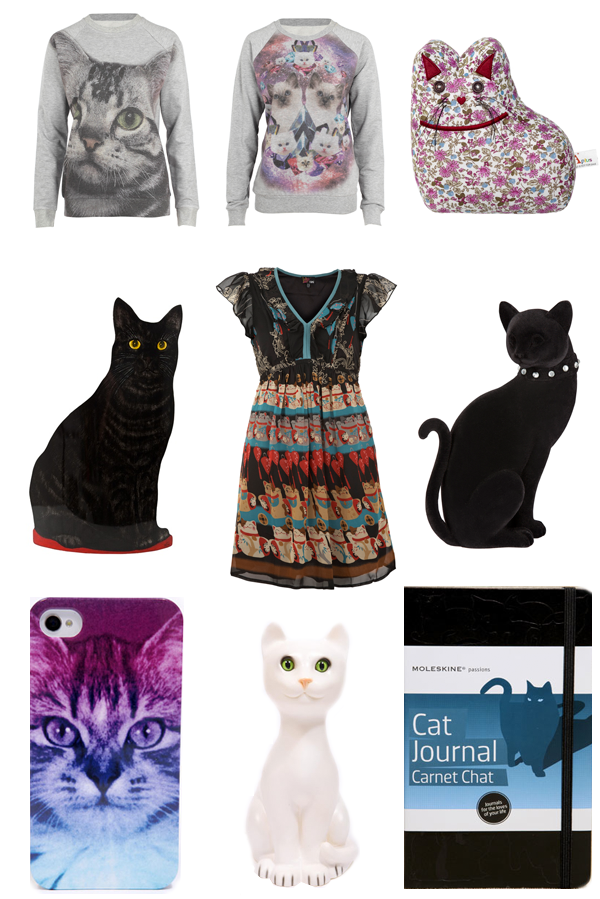 Top Row (L-R): ASOS sweat with cat, and galaxy cat sweatshirt, both £28 each from ASOS.com, TU Cat Door Stop, £12, from Sainsburys Home.
Middle Row:Fornasetti Umbrella Stand, £1,039, from L'Eclaireur, Paris via FarFetch.com, Yumi Money cat print dress, £50 from www.yumidirect.co.uk, Flocked cat ornament, £12.99, from the British Heart Foundation, www.giftshop.bhf.org.uk/christmas 0845 246 4050 and from BHF shops.
Bottom Row: Cat iPhone 4 Cover, exclusive to Urban Outfitters, £12; White Cat Light, £70, and Moleskine Cat journal, £15.99, for actual cat owners with sections for notes on cat care, personality notes etc. all from www.urbanoutfitters.co.uk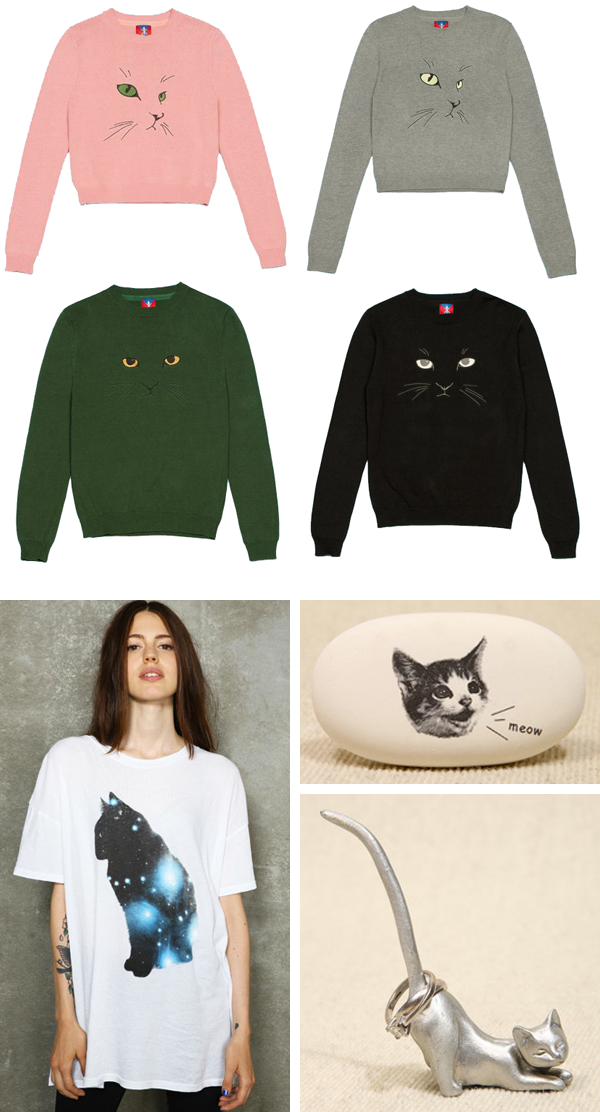 Top Row (L-R): Women's Glamour x OC exclusive cat embroidered sweaters, featuring Basil the cat, $135 each, from www.openingceremony.us
Middle Row: Men's Glamour x OC exclusive cat embroidered sweaters, $150 each, also from Opening Ceremony (they ship worldwide or try the UK pop up store).
Bottom Row: Wildfox Oversized Galaxy Cat Tee, £85; Cat eraser, £3, and Cat Stretch Ring Holder, £8, all from Urban Outfitters.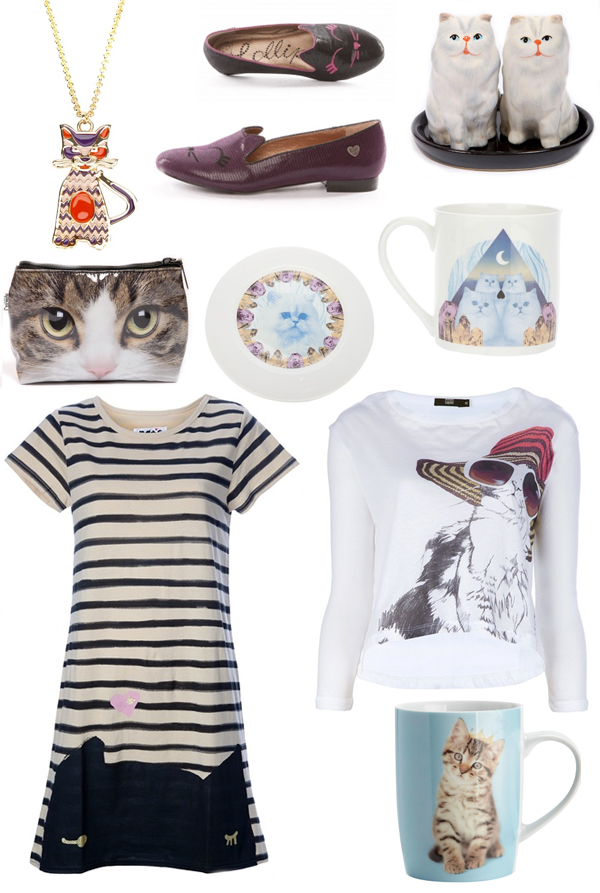 Top Row (L-R): Missoni Cat Pendant, £133 from Smets in Luxembourg via Farfetch.com, Lollipops 'Nobody' cat loafers, £89, from www.lollipopsparis.co.uk, Persian Salt & Pepper Set, exclusive to Urban Outfitters, £9.
Middle Row: Tabby Cat Medium Toiletry Bag, £16 from www.urbanoutfitters.co.uk, Jaguarshoes Collective Magic Cat mug, £20, and Magic Cat plate, £30, from no-one via FarFetch.com.
Bottom Row: Cats by Tsumori Chisato striped t-shirt dress, £79 from Societe Anonyme in Florence via FarFetch.com, Markus Lupfer 'Cool Cat' Print Tee, £95 from Start via Farfetch.com, and Kitten mug, £2 from Matalan.
And lastly, a gratuitous cat pic...