My trusty MAC eyeshadow palette has finally come to an end so I've been hunting for a replacement.
I need something with a versatile range of colours, nothing too big or heavy so it can be easily carried about, and the colour has to be long lasting. I also have no business with wishy washy shades which bear no resemblance to their original colour once they're actually on your skin, and I want a good depth of colour that doesn't crease or end up gathered in your crows feet if you have the temerity to smile. Simple requirements.
I've been trying out a few new shadow products along with some ancillary eye make up paraphernalia recently ('scuse eyebrows - I think eyebrow pencils should probably be next on my agenda), and this weekend I'm bringing you a few of my favourites. It's worth noting that I have very pale skin and blue eyes but all these products either come in a variety of different colours or are suitable for at least a few different skin tones.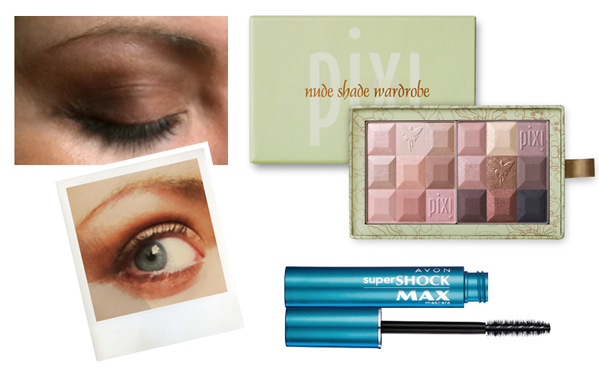 Great for Nude Tones: Pixi Nude Shade Wardrobe, £18.50 from www.pixibeauty.co.uk
This double palette is great to stash in your desk drawer at work as it's 18 shades are split into half eyeshadows and half cheek colours and can produce a range of looks for day but also for night - especially if you have pale skin like me - thanks to the inclusion of some really dark tones too. I've been using this one all week and have been impressed with it's staying power. Pixi are also staunchly against animal testing so it's a feel good option too.
Worn With Mascara: I usually hate those mascara wands with the little spindly spokes companies insist on making now. Whenever I've tried them, no matter how cheap or how expensive, they all seem to just clog in the tube then transfer claggy mascara goo straight to your lashes. One nano-blink later, you've mascara bombed your eyeball and are left weeping, cursing and temporarily blind. I was recommended the Avon Super Shock Max mascara (£10 from http://avonshop.co.uk) and despite its wand striking fear into me as soon as I took the lid off, I really liked it. It coated every lash easily and had a really jet black colour - amazingly the colour my naturally blonde lashes have in the images above and directly below took only one coat directly from the wand, no fancy brush techniques, to achieve.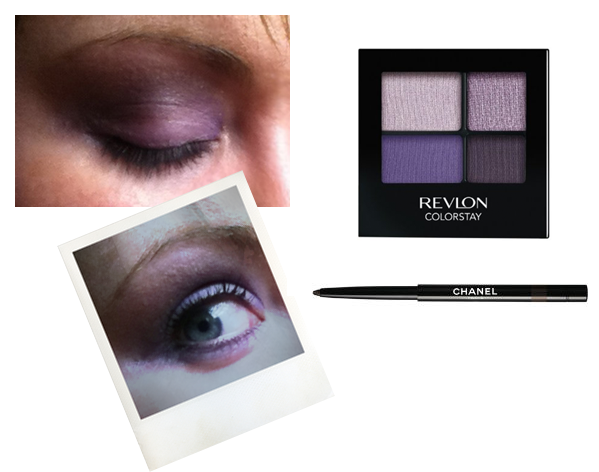 Colour That Won't Budge:Revlon ColorStay 16 Hour Eye Shadow Quads, £7.99 from Boots and various stockists.
I tested the 'Seductive' palette filled with a spectrum of violet shades and sure enough, it did what the name suggests and clung on in there all day without dulling. This pocket friendly option comes in 14 colour ways with each quad containing four complementary shadows (obviously), each sized according to what they're meant to be used for - so the base and feature colours are larger than the highlight accents, meaning your palette should last longer. Clever.
Worn With Waterproof Eyeliner: I go through eyeliner at a rate of knots and my all time favourite pencil for staying power is the Chanel Stylo Yeux Waterproof in Ebene (£19 from Selfridges and various other stockists, available in six shades) which is not only almost impossible to shift but it doesn't drag when you apply it, even to the inner eye. Here I've lined my top inner eyelid with it for definition. It sticks firm and fast so I don't recommend this for blending but if you're after a thin, precise pencil (that you don't have to sharpen) and long-lasting coverage, I'm pretty sure you won't find better than this.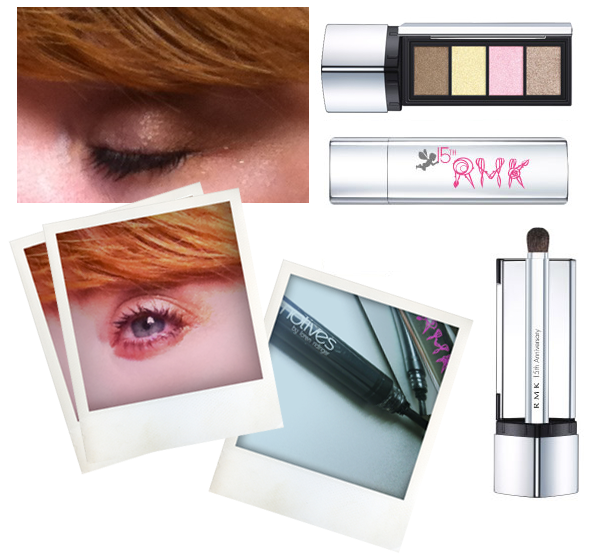 Good For Fresh Metallic Glisten: RMK 15th Anniversary Eye Palette in 01 Brown, £35, see www.rmkrmk.com/global for stockist information.
This special anniversary edition palette from leading Japanese makeup brand RMK not only has beautifully soft, shimmering metallics but it also has the best packaging. How cute is this big lipstick/small atomiser style silver case? Sometimes I can't be bothered with shading and blending and just want something I can dab on quickly with my fingers to perk my complexion up a bit and these were just the trick. The soft powder was really easy to apply with fingers as well as with the super handy pop up brush concealed within the casing along with a small mirror for on-the-go touch ups, and the pretty colours were definitely grown up glisten rather than teenage glitter.
Worn With Mascara:Motives by Loren Ridinger is an Avon-style home selling brand that's absolutely huge in the US and has just launched in the UK. I recently went to one of their events and learned how the FAHbulous Ms Ridinger's girlfriends - J-Lo, Eva Longoria, Kim Kardashian, Kelly Rowland etc. this woman has quite the celebrity crew - all apparently go crazy for her makeup so I figured I'd give it a try. This Motives Lustrafy High Definition Mascara (£16) was the stand out for me as the finish is like the difference between a lipstick and a lipgloss; it has a slick, glossy sheen and, best of all, it comes in a clear tube so you can see when it's running out. Not widely known in the UK yet but available here and one to watch out for.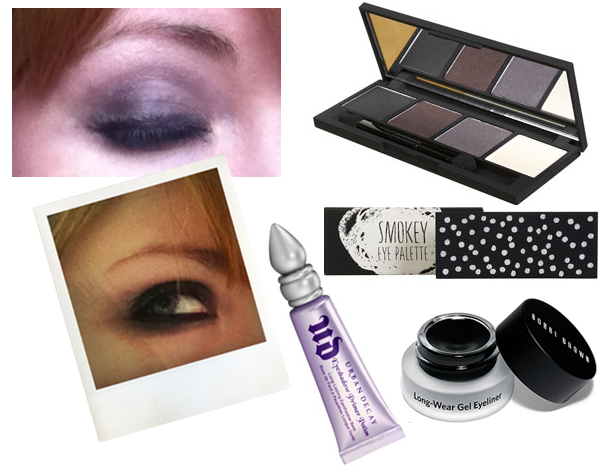 Go-To For Smokey Eyes: Topshop Make Up Smokey Eye Palette in 'Smouldering', £12 from www.topshop.com
Who doesn't love a smokey eye? This Topshop Makeup quad has four great shades - a mid-black, a burgundy sparkle, a rich, suede-y grey and a peachy-cream highlighter - and comes with a five step instruction leaflet showing you how to create dramatic, movie star style looks. The colours are great and reminiscent of more expensive brands but it's the adorable yet tough looking spotty packaging that gets me every time.
Worn With Gel Eyeliner:Bobbi Brown Long Wear Gel Eyeliner in Black Ink, £17 from www.selfridges.com and various other stockists.
This little pot revolutionised my make up routine. I'm all about fuss free, quick to use products and the drama you get from this gel is just incredible. What's more, it takes longer to get off than it does to put on - a definite plus in my book. Apply with a flat brush to the inner eye then dab around the eyelash line on top of eye make up for real statement eyes that you can take in a neatly groomed screen siren or rough and ready rock chick direction just by the way you use your brush. It comes in 14 different colours but the darkest jet of Black Ink is by far my favourite.
Also Worn With Eyeshadow Base Primer: Urban Decay Eyeshadow Primer Potion in 'Original', £14.50 from House of Fraser and various stockists.
Whenever I wear dark eye makeup I always use this primer underneath as it's a tried and tested staple that ensures my eyeshadow stays exactly where it's meant to be regardless of heat, humidity or a weepy film. Especially important if you apply eyeshadow under your lower lids so the colour doesn't gather just above your cheeks - not cool. I've been using this primer for years as it totally works and I heartily recommend it. The regular matte version in the purple tube has no colour to it and just makes your own eyeshadows go on smoother and amplifies their colour, whilst there's also a beige shimmer version called 'Sin' which does all that too whilst adding a slight sparkle and this can also be worn on its own.