I love busting out a silver shimmer- it's my go-to, year-round shade for adding sparkle to an outfit and I'm never without my Elsa Peretti for Tiffany open heart hoop style earrings, one of many silver chains and my beloved Frank Gehry torque ring but it's not just for jewellery. My disco ball style silver nails have been drawing lots of unsolicited compliments of late and I would lend someone my kitten for a pair of the silver Isabel Marant wedge heel trainers, pictured below.
In the fashion stakes, silver definitely scores higher than gold for me but maybe I'll be swayed as I prepare for next week's post (last week was all about bronze, this week is brought to you by the colour silver - can you guess what next week will be...?). In the meantime, check out my silver picks below.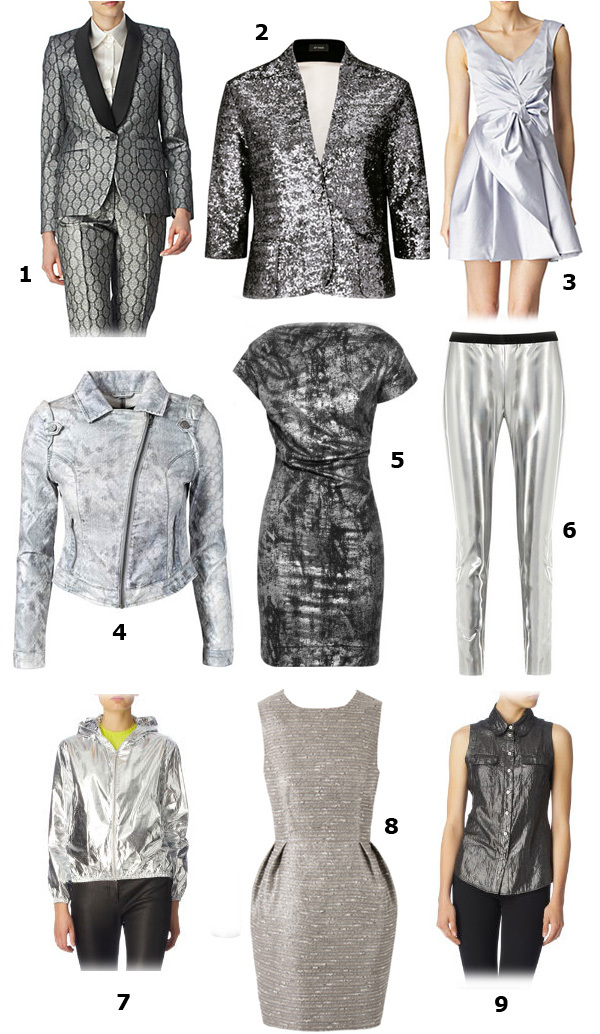 Silver Fashion:
1 Stella McCartney brocade jacket, £1,450 at Selfridges
2 Silver sequinned jacket, £40 from Matalan stores
3 Karen Millen folded silver satin dress, £160 at www.selfridges.com
4 Jacket, £139.95 from www.nelly.com
5 Vivienne Westwood Anglomania Boudicca metallic stretch-jersey dress, £205 from Selfridges
6 Chalayan Holographic coated leggings, £530 from www.net-a-porter.com
7 Acne Clash Silver jacket, £205 www.selfridges.com
8 Dunnes Silver Boucle dress, £27, in stores late August www.dunnesstores.ie
9 Karen Millen sleeveless metallic shirt, £85 from Selfridges and other stockists.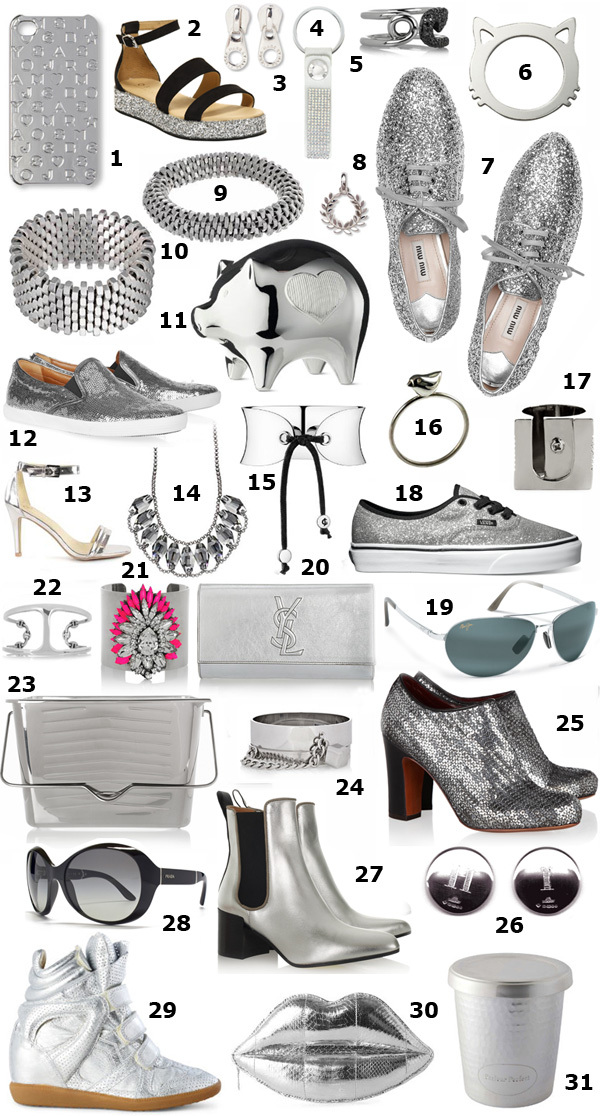 Silver Shoes, Trainers & Accessories:
1 Marc by Marc Jacobs silver Stardust iPhone cover, £30 www.selfridges.com
2 Glitter soled sandals, £58 from Office stores www.office.co.uk
3 Marc by Marc Jacobs classic Zip It stud earrings, £50 www.selfridges.com
4 Swarovski CRYSTALLIZED keychain, £35 available from www.swarovski-elements.com
5 Ileana Makri Safety Pin 18-karat white gold diamond ring, £1,735 www.net-a-porter.com
6 Fine by Tatty Devine cat ring, £120 www.selfridges.com
7 Miu Miu Glitter-finished leather brogues, £420 www.net-a-porter.com
8 Links of London 2012 Collection silver 2012 wreath charm, £45 www.selfridges.com
9 Alice Menter Olive bracelet, £225 and 10 Alice Menter chunky silver cuff, £165, both www.alicementer.co.uk
11 Vera Wang @ Wedgwood silverplate baby piggy bank, £37.50 www.selfridges.com
12 Jimmy Choo Demi leather-trimmed sequined sneakers,£275 www.net-a-porter.com
13 Sandals, £34.95 www.nelly.com
14 Chained Scallop Necklace by Eastern Mystic, £188 www.easternmystic.com
15 George Jensen Tie Cuff, £395 exclusively from Selfridges
16 Sparrow Ring by Jana Reinhardt, £59 www.janareinhardt.com
17 Big Sharpy Pencil Sharpener Ring by Me & Zena x Me & Zena, £24 from www.culturelabel.com
18 Silver glitter Vans Authentics from £45, www.vans.com
19 Silver Maui Jim Pilot sunglasses, £214 www.mauijim.co.uk
20 Yves Saint LaurentBelle Du Jour metallic textured-leather clutch, £495 www.net-a-porter.com
21 Shourouk Yildiz sterling silver crystal cuff, £300 from Net-A-Porter.com
22 Hoorsenbuhs by Robert Keith Phantom sterling silver cuff, £1,240 also Net-A-Porter
23 Maison Martin Margiela by L'Atelier D'Exercices Mirrored stainless steel champagne bucket, £280 from Net-A-Porter.com
24 Marc by Marc Jacobs Collars And Cuffs silver-tone bracelets, £250, and 25 Marc by Marc Jacobs Sequined leather ankle boots, £390 both from www.net-a-porter.com
26 Bunney Hand-Engraved Alphabet Series Sterling Silver badges, £195 each from Dover Street Market bunney.co.uk
27 Acne Free metallic-leather ankle boots, £460 www.net-a-porter.com
28 Prada Folding Oversize Ladies Glasses Black Crystal Grey Gradient Lens, £225 from www.redhotsunglasses.co.uk
29 The most lusted after Isabel Marant Silver Bird wedged hi-top trainers, £460 www.selfridges.com
30 Lulu Guinness metallic padded silver lips clutch, £295 Selfridges.com - I want this so much!
31 Culinary Concepts large silver-plated ice cream tub, £45 at Selfridges.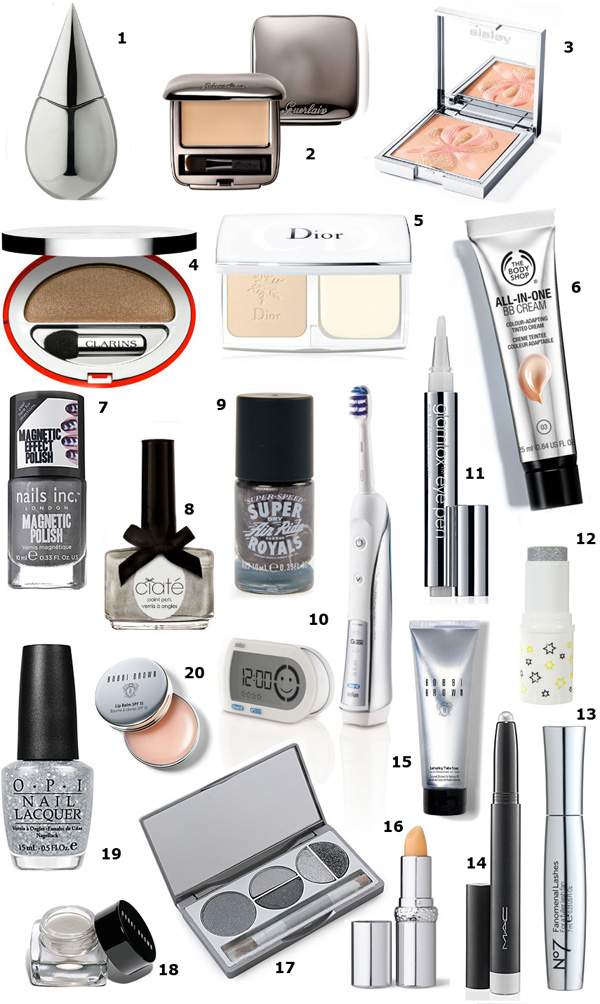 Silver Health & Beauty:
1 La Prairie Silver Rain eau de parfum 50ml £95 at Selfridges
2Guerlain Ombre Eclat eye primer, £21.50 (how cute?? love this) www.selfridges.com
3 Sisley Palette Orchidée highlighting blush, £60 at Selfridges
4 Clarins mono eyeshadow in Beige Shimmer, £15 www.selfridges.com
5 Dior Diorsnow White Reveal Pure Transparency SPF 30 PA+++ lightweight powder foundation, £37 www.selfridges.com
6The Body Shop All-In-One BB Cream (a tinted moisturizer with 24hr hydration), £12 - I tried this intuitive skincare/foundation hybrid yesterday and can highly recommend. Available for pale to black skin, go have a try when this comes out in Body Shop stores and at www.thebodyshop.com in August
7 Nails Inc. magnetic nail polish in 'Trafalgar Square', £16.95 www.nelly.com
8 Ciate silver shimmer nail varnish in 'Fit For A Queen', £9 www.selfridges.com
9 Superdry silver 'Super Royals' nail polish, £6 www.superdry.com
10 Oral-B TriZone 5000 is £199.99 available from various retailers including Boots and Amazon. www.oral-b.co.uk
11 Rodial Glamtox Eyelight Pen, £36 www.selfridges.com
12 Topshop Makeup silver glitter chubby stick, £6.00 www.topshop.com
13 No.7 Fanomenal mascara, £12.95 www.boots.com
14 MAC shadestick, £13.50 www.selfridges.com
15 Bobbi Brown Lathering tube soap, £19 at Selfridges
16 La Prairie Cellular Luxe Lip Treatment SPF 15, £33 www.selfridges.com
17 DuWop Eye Palette in Grey, £32.95 www.nelly.com
18 Bobbi Brown long-wear cream eyeshadow, £18 Selfridges.com
19 OPI 'Pirouette My Whistle' nail lacquer, £15.50 www.nelly.com
20 Bobbi Brown lip balm with SPF15, £15 www.selfridges.com