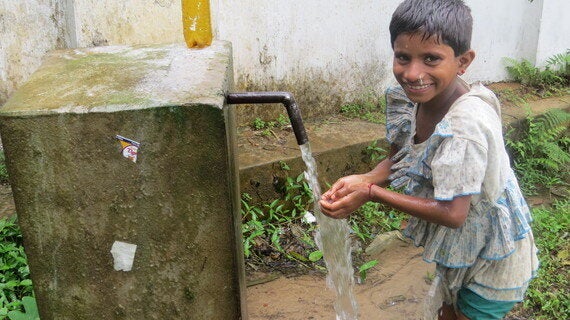 Working in the field of international development it's all too easy to get bogged down in the complexities of running programmes overseas. Looking at budgets and timeframes, considering objectives and partnerships we become so immersed in the technicalities of legislation and logistics that often we forget international development is as much about small and simple actions as it is about complex details.
The SDGs may be a way of putting a new shine on an old topic but, ultimately our work is still very much about ensuring equitable access to water, food, education and healthcare. Of course there are multiple layers and sub-issues within those that are important to tackle, but I think it's important to remember that simple actions are as important and effective in addressing poverty and inequality as much as multi-layered and complex interventions.
One of the simplest yet most effective intervention practices remains WASH (water, sanitation and hygiene) projects. It may sound a little basic, been-there done-that, even boring but many of the key messages of water safety aren't as commonplace in developing countries as they should be.
Places such as Bihar in India and Bogra in Bangladesh are extremely poor areas. They have some of the highest numbers of those affected by neglected tropical diseases (NTDs) and many people who are unaware of the importance of clean water and good sanitation.
At Lepra, we know that poor housing and dirty conditions contribute to the spread of disease and that symptoms are exacerbated because of poor hygiene. This is why we are increasing our investment in WASH projects despite them possibly being considered a little old-school.
Providing education on the importance of safe water and how to keep clean to those who may not have been reached in the past makes a real difference when it comes to NTDs. Access to clean water can mean those with a neglected tropical disease like leprosy or LF are able to take better care of themselves, keep their immune systems strong and reduce the risk of secondary infection.
My point is that we can often be guilty of getting carried away with new approaches, technology and innovative ways of igniting change when simple mechanisms remain effective. In one year of our Community Action Health and Hygiene project in Bogra we've seen the number of households reporting using 'safe drinking water' increase from 34% to 57%. This has been achieved by simple education on basic hygiene principles such as putting a lid on a water container to reduce the risk of water contamination and washing hands before cooking.
This is why no matter how shiny and appealing new intervention methods may seem, we will remain loyal servants to the power of WASH, as we know that without it our work in fighting poverty and disease is in jeopardy. Whilst we continue to strive for innovation, we recognise that some of the greatest change comes from simple activities and through spreading key messages - something that we at Lepra are happy to continue to do.
Popular in the Community