It's 7 o'clock in the morning, the baby's up and readied for day.
After my household chores, and barely grabbing breakfast it's time to whizz out of the door and fly into the hairdressers for a quick blow dry.
"I'm channelling Michelle Obama," I giggle as I Google image some snaps of the First Lady, thrusting my trusty Apple iPad at my bemused Catford hairdresser Xander and Xaviar, who do their best to turn my dishevelled tresses into a poofy and preened style Michelle is famous for.
Today is something different. A first for me.
I've been asked to speak at the House of Commons to inspire young girls to achieve their dreams.
Little old me, still trying to work out the meaning of success till this day, was getting ready to go to Parliament in an initiative backed by Michelle Obama herself, Hackney MP Dianne Abbott and I'mPossible founder Simone Bresi-Ando to motivate girls aged 12 to 18 in schools across London to do well.
It was a tall task. So I had to do it right. Getting into character of a First Lady takes time and expertise so I turned to trendsetters Freedom from Topshop jewellery and make-up artists to the stars Fashion Fare for a classy make-over from Safi, who was "so proud" to be part of the day as she got me 'White House' ready in 45minutes at Debenhams in Oxford Street.
I've been to a few places in my time - but even partying with Rihanna at the Grammys in LA, and on board P Diddy's yacht in the south of France, could not compare to the experience of walking up those steps into the magnificent meeting rooms where greats such as Winston Churchill, Margaret Thatcher and world leaders have walked before and made important decisions to impact our country.
Now here I was to share my personal experience helping young women realise they can be incredible just like their role models in the media or at home - and what a totally humbling experience it was.
Joining a panel of distinguished young ladies including top barrister Sheryl Nwosu, award winning film maker Sheila Nortley, Live magazine editor Celeste Houlker, and Elevation Networks charity founder Barbara Kasumu, I think even they would agree, we went there to inspire, but we ended up being inspired and a little teary-eyed at the passion of the teenagers in the room, all with their lives ahead of them wondering if they would be able to make it in their chosen fields, and hoping the colour of their skin wouldn't obstruct them.
But perched next to MP Dianne Abbott, who is Britain's first black female MP, and surprised me when she said: "Ooh, I follow you on Twitter!", I wanted to make these young girls realise that if I could do it coming from Folkestone in Kent, there's no stopping them.
The 100 girls in the audience, much like the panellists, came from all walks of life. Some from single parent families, some extremely high achievers, some wealthy, some possibly more interested in their boyfriends and hairdos than their education, and some who had been homeless and had struggled out of poverty.
But they all had one thing in common. The will to do well. And as they listened intently to our stories, our ups and downs, and how we came to be sitting up on the panel, they left with a renewed hope and vigour that they could be whatever they wanted to be, if they stayed in school and stayed out of trouble.
It begged the question, why are there not more initiatives like this to inspire young people? To get them off the streets and out of trouble.
We keep hearing of senseless killings of teenagers, people who don't feel inspired to work hard and stay in school but rather turn to a life of crime and join gangs because they have no one to look up to. No-one to take time out and put them in a room full of people who have achieved a certain level of success despite their adversity to go on to strive to better themselves.
This was the first 'youth edition' from the I'mPossible team, and judging from its success I certainly hope it won't be the last.
Barack and Michelle Obama even sent a message to the children in the room on Take Our Daughters and Sons To Work Day.
The prospect of rearing more young Michelle Obamas seems pretty high, according to the event organisers.
Black Women Mean Business founder Dianne said: "I think there are thousands of really dynamic young girls who are really going to go places and build on what some of us have done and transform this society.
"It's always a pleasure to have young people here, from all sorts of different backgrounds, who might not expect to spend the day in the House of Commons, that's what it's all about for me."
I'mPossible founder Simone said: "To give them the opportunity to be in the seat of power, we are in the heart of the UK government, democracy and everything we know about modern living in the west, I'm so grateful to Diane for.
"It's only right that I'mPossible got involved because we are energising a generation of young women to think about themselves in a way they never thought they could.
"I think there's many more Michelle Obamas, I think there's British Michelle Obamas, Hackney versions and Catford versions, and that's what we want."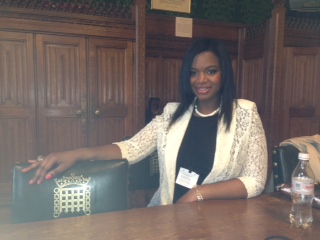 copyright Sarah Tetteh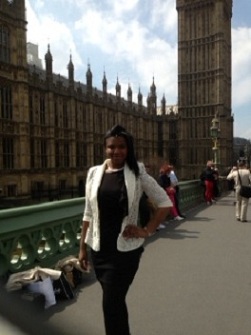 copyright Sarah Tetteh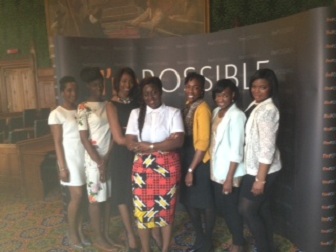 copyright Sarah Tetteh
I think Michelle Obama would be proud of the celebration that followed.
On Monday night I was a special guest of Jay-Z's favourite champagne brand Armand de Brignac at Beyonce's first night of her London O2 gigs.
Michelle and Beyonce have become bff, with Bey backing Chelle's Let's Move! Campaign against childhood obesity in America, singing Get Me Bodied, as she did on Monday night too.
Queen Bey didn't disappoint, with her terrific catalogue of hits spanning her Destiny's Child days from Survivor, to her solo tunes Crazy in Love, Single Ladies and Halo.
Despite a slower section in the middle where people sprinted to get their drinks, it was back to business for Queen Bey, who was suspended up above the crowds to travel to a "B" stage near the back of the 02, so all her fans could get to see her close up.
The defining moment of the night came during Bey's surprise tribute to Whitney Houston - the house fell silent as she delivered a stunning acapella version of I Will Always Love You.
After popping out her baby, she's bounced back to work, and back into shape reclaiming her crown as Jay-Z would say "the hottest chick in the game" (we're not jealous, honest!)
Now surely this gives young women all around the world something to aspire to?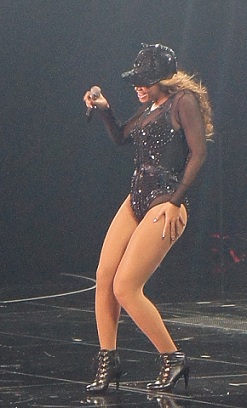 copyright Yvonne Lardner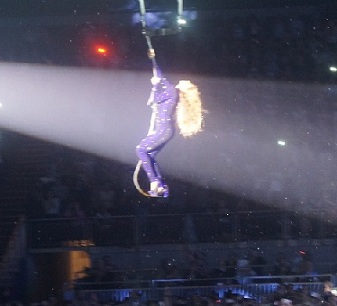 Copyright Yvonne Lardner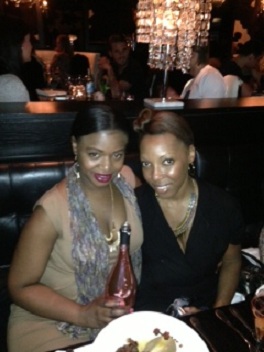 Copyright Sarah Tetteh pictured with Armand de Brignac Global Director of PR Yvonne Lardner