IF you thought Prince Harry was the most rock'n'roll royal around - think again.
As Cannes Film Festival opens in true style this week, I'm invited for afternoon tea with HRH Emanuele Filiberto of Savoy, the grandson of the last king of Italy, and heir to their dynasty.
The encounter left me charmed, shocked, impressed, but above all lost for words at how he, like Prince Harry, just wants to be one of the lads.
With a past that is just as colourful as the royal red-head, Emanuele's used to fast cars, helicopters and supermodels (he was linked to Kate Moss back in the day don't cha know).
He turned up to meet me on the tube after catching a 5am train from Paris, where he lives as a happily married father of two. Showing up in casual double denim to meet me, how very on-trend, he turned down any offer of chaperones too. As we relax into our chairs in the private snooker room at London's exclusive Groucho club, I'm gripped by the story of the Prince whose family was exiled from Italy in 1946, banned from returning only up until recently after being sent to live in Switzerland.
He has teamed up with the equally eclectic Damien Gregory to launch Savoie and Gregorie - a film production and finance company here in London, which is producing a documentary on his personal story of being exiled called Derailment, and a separate one called Contamination - and they'll be working La Croisette in Cannes this weekend.
Speaking of his ordeal the Prince told me: 'Being exiled I felt injustice. I describe it as if you are on a diet and just underneath your house is the best chocolate shop but the door is closed to you. I was living in Switzerland which is right next to Italy so I could see and feel Italy but I could not go there. The law was made in 1946 when I was not born, so I was sentenced to a crime I did not do. Now I am allowed back I have bought a house in the countryside with a farm, I go there every school holiday with my daughters - it was so emotional the first time I arrived. My father remembers the lights of Naples getting smaller and smaller as he left Italy on a boat the last time. To him it was very important. It was like something new and old because you have 1,000 years of history but you've never been to your country. Now it feels like I've never been in exile.'
Surprisingly after he had been slated by his countrymen who saw him as nothing more than a pampered party prince, Emanuele made his comeback winning the hearts of the nation - and Dancing With The Stars for that matter.
'After 60 years without the Savoie family in Italy, so many bad things were written about us that we had no say over. About my family, and myself. The public had the image of me that wasn't right. A posh boy, spoiled and in a gold exile, so superficial. I had never been able to address the people directly. So I thought what is best way to present myself in Italy? It was television - because it goes to millions of households. So I accepted a place in Dancing With a The Stars. A very strange thing happened - I won. Not because I was the best dancer, but I had the record votes of all of the Dancing With the Stars in the world - it was very special because the Italian public were voting for the present but also for the past - there was a very special chemistry between me and the public.
So I had an incredible weapon on my side - the media. So I became a celebrity in Italy - even bigger than my Great-great grandfather that unified Italy. '
So how does Emanuele, who is close to our own royal family, often joining his 'very funny' friend Prince Charles and Camilla for dinner at Clarence House and has travelled with him to Saudi Arabia, relate to fellow party prince Harry?
'I should be seeing Prince Harry in Milan later this month. He is young, good looking, why can't he be like all the other people? We were all party princes once. Yes, I was a party prince! You have moments where you can party and moments where you have official things and can't party. And I think he is doing very good things - he went to Afghanistan, for the grandson of Queen of England he is very courageous. I know what it's like having negative press as a Prince - in the end the public judged me. Prince Harry is loved by the public so he won!
I still have a lot of fun now when I'm working and I also like going to The Box club here in London - fantastic!'
Now that's something he has in common with La Moss.
He smiles as he elaborates: 'I have nothing to say. She is a very nice girl, very intelligent also. She's very good looking, and now she has a very nice family.'
Well, with that cleared up then, or not as the case may be, it's off to celebrate the launch of Sony Xperia Z2 with a brilliant set from Katy B.
Well, someone's got to live up to that party prince crown!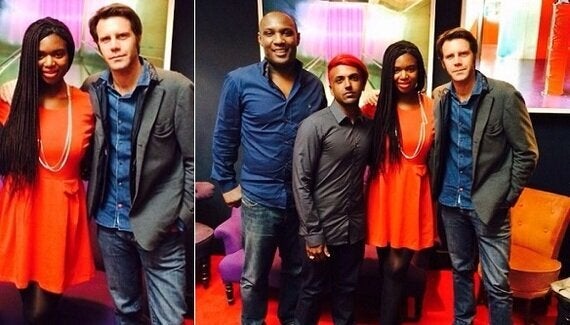 Sarah meets the Fresh Prince of Italy, Damien Gregory and Adam Rutherford.

Rock'n'roll royal style: After-show with Katy B.