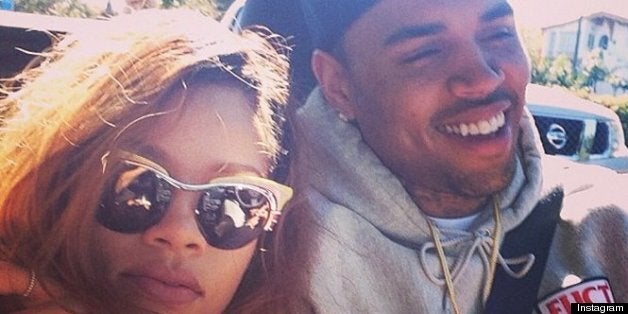 I'm not going to lie. Everybody likes a bit of a bad boy. And with her tattoos and gun-toting lyrics, let's face it, Rihanna was never going to settle for a drip.
Back in the arms of Chris Brown for the 183rd time quashing rumours they had split by posting a picture of them cosying up on a shopping trip this week, is it about time we accepted Rihanna will date who she pleases, when she pleases?
She is the first to admit after all: "I don't understand love".
However, the Bajan star, 25, is not the first pop princess to fall for a bad guy. It's a case of history repeating itself when you look at volatile couples in the music industry like Ike and Tina Turner and Whitney and Bobby.
The reality is Rihanna and Chris probably won't be the last.
So what is it that attracts her to the man who is doing community service for assaulting her before the Grammys in 2009? This is something only the two of them will ever know.
Now she has publicly forgiven him, first breaking down on Oprah saying she still loved him, she wants the rest of the world to forget about his past too.
Public opinion seems to be easing up on the 23-year-old Grammy winning singer. After all Chris, who has apologised for his actions, broke bread with the likes of Elton John at the Oscars, Adele at the Grammys and squeaky clean star J-Lo recently posted a new bff picture with Chris in the studio where they were recording together.
Is it because he apparently makes Rihanna happy, or because he makes great hits, that people are starting to accept him back in their fold?
Rihanna's decision to take him back has naturally raised eyebrows among her fans, and domestic violence groups.
But defiant Rihanna has never claimed to be a role model, and it's her blatant honesty about her struggle with love that endears her to her 29million plus Twitter followers.
Let's not forget, she has fought tooth and nail to be with Chris, who was dating model Karrueche Tran before Rihanna came back on the scene. So why does she keep taking him back? Perhaps it their animal attraction and tempestuous nature of their relationship that makes it exciting...
Feminists might argue she is being weak and a victim for going back to Brown. But in following her heart and standing up for what she believes in despite being criticised, many fans have saluted her for her bravery. Her whole I-dont-give-a-damn attitude now defines the pop icon, who curses, regularly uses the 'n' word without being hung out to dry, and is still at the top of her game, even giving the likes of Beyonce and Lady Gaga a run for their money in the popularity stakes.
She wears her heart on her sleeve, and she is without sounding cliché 'real' about every emotion.
Puffing on funny looking cigarettes and posting racy snaps on Twitter, it seems Rihanna's not a good girl gone bad, but a bad girl getting badder.
Perhaps it's the challenge in believing she can change him that keeps them together- "He doesn't have the luxury to f*** up again", she said recently. Otherwise he'll have her sea of Rihanna Navy followers to answer to.
Popular in the Community