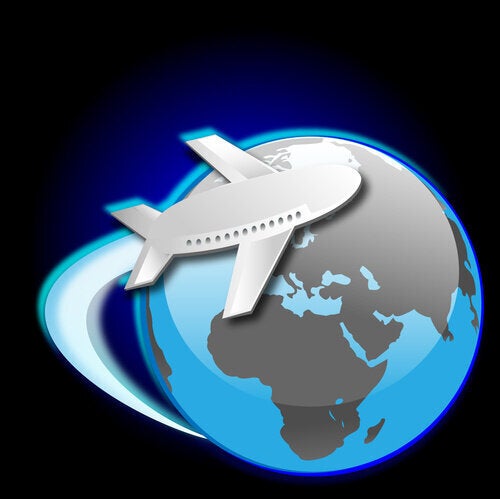 Now that Christmas is over, our thoughts turn towards the summer and we begin to plan for a sunshine break. However, there's a stumbling block, and it is the profit-making travel companies. I am sick and tired of them and the airlines hiking their prices during the school holidays. It penalises parents, teachers and the children who miss out on seeing the world because their family can't afford to take them abroad. We save up all year for this big treat, spend hours researching amazing destinations and then we go to book the flights and discover that they are HUGELY expensive and all we feel is deflated and fed up. It is simply not fair.
Fired up by the injustice of it all, I have been researching ways in which we could all cut the cost of summer flights and I have realised that there are LOADS of ways to beat the airlines at their own game. With a bit of savvy knowledge you can save hundreds!
Book your flights at the right time
Almost two thirds of families book their trips more than three months in advance of travel. However, recent research shows that this might not be the best time to book flights. Time it right and you can book exactly when the flights are at their cheapest, If you want to fly to Spain, booking 7 weeks ahead is the magic number, America is 22 weeks, Italy is 8 weeks, Turkey is 14 weeks and the best price for flights to Portugal is when you book them 5 weeks ahead of your trip.
Travel at the end of the school holidays
Travel companies tend to increase their prices for the school holidays and this is pretty unavoidable. However, you can still save cash......Almost half of all families who take a trip during the school summer holidays do so in the first two weeks of the summer break, but this is in fact the most expensive time to travel. Families who opt to fly to Portugal in the last week of the summer instead will save on average almost 20% on flights, which is around £175 for a family of four while those heading to the USA can save over £1,000 for a family.
If you really do have to travel in the first week of the summer holidays, be flexible and fly on less popular days of the week. Most people go on their holidays from Saturday to Saturday but actually this can be an expensive mistake. If you are willing to travel on a Wednesday, a family of four would save £22 going to Spain and there'd be a massive £300 saving if you are heading Stateside. For Turkey and Portugal then travelling on a Friday will save you money - £75 for Turkey and £133 for Portugal.
Pick your destination wisely
Although flight prices to Spain and Italy rise by around 35-40% in the last week of July (compared to June), families heading to Turkey in the peak summer are likely to feel a lot more ripped off as average flight prices rise by a whopping 70%, which works out at almost £600 more for a family of four. Try not to be guided by destination and have a look at the best value places.
Budget isn't always cheapest
When booking flights, shop around as the budget airlines don't always offer the cheapest prices.
It may take longer but you can make huge savings and try mixing and matching by flying out with one airline and back with another as it can work out miles cheaper. Be flexible with airports too - the one closest could be more expensive. In fact I have friends who have just saved £400 simply by flying from East Midlands instead of Birmingham. That is BIG money!
And most importantly, keep track of price changes
You can keep track of flight prices by setting up a price alert with Skyscanner so that you are notified when prices rise or fall on a specific route. This means that you can book your flight when you see a good price. However, don't forget to use sites like lastminute.com, expedia and trivago to compare hotel and package costs too.
As a money saver, it is these kind of tricks that I love sharing the most - things that can help the average family save loads and get a treat into the bargain! With four kids I know how expensive summer holidays can be but these sneaky tricks might make it more affordable for EVERYONE!