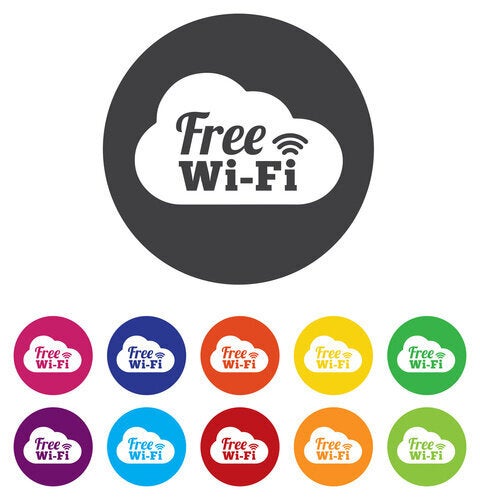 After two horrendous run-ins with expensive and poor quality hotel Wi-Fi in the past month, I wasn't surprised to read a new study which found that the average UK business traveller pays £16.30 for Wi-Fi and roaming charges on EVERY business trip. This means that UK businesses are shelling out over £370 million each year just on Wi-Fi and roaming charges for their employees. It seems as though these big hotels just assume that everyone is claiming on expenses so they can get away with charging guests to use their Wi-Fi. It is very arrogant and completely unacceptable. Most of the time these hotels are charging huge sums of money for a room, so I believe that the least a guest can expect is free Wi-Fi. It should not be this way.
However, it isn't just about economics or an issue reserved solely for business travel, we all now reply on Wi-Fi when we travel. Whether it is trying to check in online before a flight, keep in touch with family and friends or just look up directions to that great bar you read about, many of us know first-hand the frustration of battling with slow, unreliable Wi-Fi connections both abroad or even worse, in this country. We live in fear of turning on data roaming (and anyone that has will know the ludicrous bill that they will receive afterwards!) so have to rely on patchy Wi-Fi. Although much of the UK has 3G or 4G we shouldn't have to use up our own data allowance, it doesn't really seem fair.
I recently had to travel abroad when I was actually due to attend an important board meeting in London. Unable to change my travel plans to be there in person, I had instead arranged to join via Skype; only to find that the laughable Wi-Fi connection at my hotel made it impossible for me dial in. After several failed attempts I gave up and paid to connect to the hotel's premium service; eventually joining the meeting in time to wave goodbye to my colleagues as they left. Unprofessional and unacceptable, given the amount I was paying to stay there.
However it is not all bad and I think that fortunately things are starting to change - albeit slowly. Some companies like Amba Hotels offer fast, free Wi-Fi throughout the hotel for all customers - whether they're staying in the hotel or just popping in for a coffee - and heavy investment means free Wi-Fi on trains and planes should become the norm in the next couple of years. With more and more people working remotely it can't come soon enough.
In the meantime, sites like RottenWifi and Hotelwifitest are a great way to easily compare Wi-Fi speeds at hotels and public areas. It means that you can check them out before you book. They also allow you to simply and easily upload your own speed tests so get involved - the more people that add their readings, the better the resource and the stronger the pressure on hotels and travel hubs to get their act together! If we work together it can only be a matter of time before ALL hotels bow down to pressure and offer free Wi-Fi.
Popular in the Community