If you want to meet the most financially fragile work experience girl, then find the best-dressed woman on the floor. She is working a second-hand shift dress and a chignon bun, and is side-eyeing the posh intern; who has UGG trimmings for brains and wears denim to the office. The former girl's prickliness comes from sofa hopping and another week of daily, hour-long phone calls to her Jobcentre. One that is cutting her benefits as a penalty for self-reliance.
It was a time that came to mind when I read that Cait Reilly was required to drop her volunteering role in a museum, for £1.33 an hour at Poundland, with no extra salary. I never expected to rely on my Jobcentre, but their conditions for my independent efforts penalised my attempts to help myself.
"I'm afraid, Miss Woolley, if you are working in London we must class you as unavailable for work. And Jobseeker's Allowance will only fund placements supplied by your local Jobcentre."
So, tough luck if you believe in making your own opportunities. Local jobs in Ipswich were non-existent or beyond my skill set: boiler repair and work with vulnerable people.
Naively, I had announced my two-week work experience placement, with Penguin Press, to my benefits advisor. I expected, "Congratulations! It's Penguin. Mums love household names and you can drape yourself over the photocopier when Hari Kunzru appears. Since they're paying your travel expenses, let us help you with food money."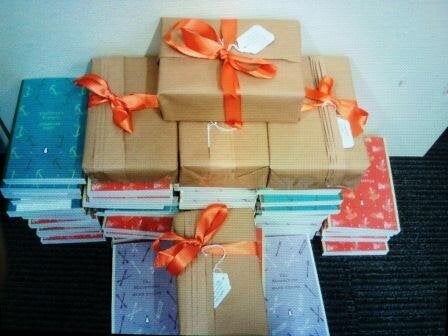 When I was asked to wrap some books to send to Vogue I couldn't wait for the CEO to notice my mad skills for pleats and ribbons.
Inside Shell Mex House, my Jobcentre phone calls became a lunchtime ritual. Surely, it made more economic sense to back the work that was most likely to bust me out of the dole queue than ask me to wait on Ipswich's watch for hypothetical jobs.
In 2012, I was claiming Jobseeker's Allowance and wanted any work going and a chance to catch up to everyone in the graduate pool. I had spent 18 months recovering from a spinal fusion, pneumonia, and the death of my father. This loss had also cost us our family home and business. We were broke and I was not entitled to benefits during my recovery because I was a student, albeit on a year out for my health. Moving out of my mother's home would have helped my case, but I was living there because I still needed the care that is required when you have been unzipped from the neck down.
Cut to my first day at Penguin and my indomitable mentor - Maria Garbutt-Lucero - had trained me to use the relevant software, given me press releases to write, and taken me to see Nick Hornby. Everything was a joy, even when publicists handed me back press releases to ask me if I would, "kill the Helvetica and put this in Times New Roman, please".
Penguin's request that I stay for an extra week added to my Jobcentre's argument that I was unavailable for the treasures that East Anglia was about to spring upon me.
"Can I sign on in London? If you tell me there's work, I'll become available and come home."
Yet each Jobcentre employee I spoke with had a different answer when it came to the rules.
Some suggested that my whole claim was doomed, but most gave me nudge-nudge recommendations and advised that I declare a 'holiday.' But it was too short notice and I was terrified by the Department of Work and Pensions' 'abandon hope all ye who scrounge' campaigns.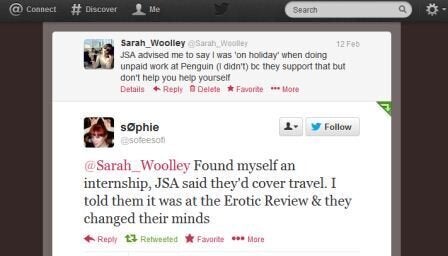 Eventually there was some business involving a declaration of illness and a form named after an E number. A voice said, "It's just this once. You can't take another work experience placement." I had no idea what had taken place or if it was legitimate, but I had money in the bank.
Translation: Next time, lie to us from the start.
Since then, Penguin has been the brightest star on my CV and I've been able to rent and work in London.
Related