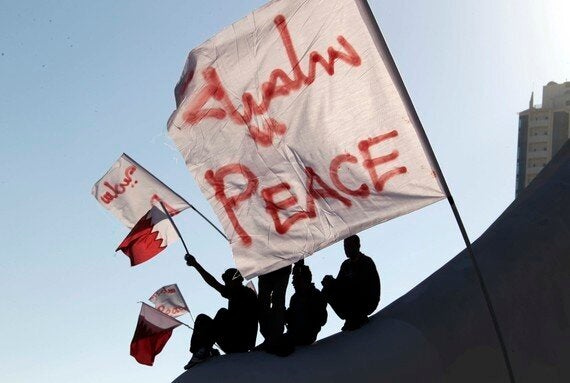 Bahrain is failing to improve its human rights record and its ally the United Kingdom is turning a blind eye. As the British Foreign Affairs committee calls on the Foreign Office to come down on Bahraini human rights abuses, we must ask: why isn't the Foreign Office doing just that?
Lack of progress in Bahrain's human rights record is most obvious in Zainab Al Khawaja's sentencing last week to 3 years imprisonment and a BD3000 (£5000) fine for ripping up the King of Bahrain's portrait. This clear infringement on her right to free expression is emblematic of the red lines of Bahrain's reform.
So why, when human rights abuses continue, does the UK continue to turn a blind eye? The British Foreign Office releases a Human Rights Report annually which highlights some countries with particularly bad records as 'countries of concern', and since 2011 the Foreign Office has failed to designate Bahrain as one. In 2013, the Foreign Affairs Committee called on the Foreign Office to designate Bahrain a country of concern in 2014 if the situation failed to improve - and now that 2014 has come and gone and the Foreign Office has stubbornly ignored the call, they've upped their criticism. In this year's report, the FAC stated: 'We see little or no evidence that Bahrain has made enough progress in implementing political reform and safeguarding human rights, and we believe that the FCO should have bitten the bullet and designated Bahrain as a country of concern.'
Indeed, the Foreign Office has been particularly bad in criticising Bahrain. When the U.S. State Department, Amnesty International, Human Rights Watch, Committee to Protect Journalists and Freedom House (not nearly an exhaustive list) all found a deterioration in Bahrain in 2013 in areas of civil liberties, child rights, press freedom and protection from torture, the Foreign Office recorded 'some positive developments for human rights in Bahrain', barely touching on any concerns.
This support for Bahrain has at times been baffling and disingenuous, such as when Baroness Warsi stated in the House of Lords in March that the UK has never received any evidence of torture to extract confessions in Bahrain. The Foreign Office quickly had to amend their statement when the NGO REDRESS pointed out that they had submitted proof of torture directly to the Foreign Office.
Perhaps this borderline sycophancy has to do with money. The United Kingdom has sold £58,000,000 worth of arms to the Kingdom of Bahrain just in the last two years, while a Typhoon jet sale, still being negotiated, is estimated to be worth approximately £1 billion. The relationship goes deeper than that. The Royal Military Academy Sandhurst renamed the Mons Hall, named after a tragic WWI battle, to the King Hamad Hall after a £3m donation in 2013.
Now it has gone further. Britain is to establish a new naval base in Bahrain, which the Bahrainis are paying to build for them. £15m is being invested by the Government of Bahrain to build this base, the first British base in the Middle East since 1971. These actions speak to Bahrainis, both on the government's side and on the opposition's: 'We are happy with how Bahrain is, and don't care to change it'.
Could Bahrain's purchasing of British silence be more clear?
And it is really now, in light of the new base's announcement, that we must think of Zainab and Abdulhadi Al-Khawaja and all who are suffering in a country which fundamentally does not respect human rights and which has failed in attempting to reform its record. Their cases are not unique, and it is they and their fellows who we think of when we call on the Foreign Office to confront Bahrain with its own terrible human rights report.
Related