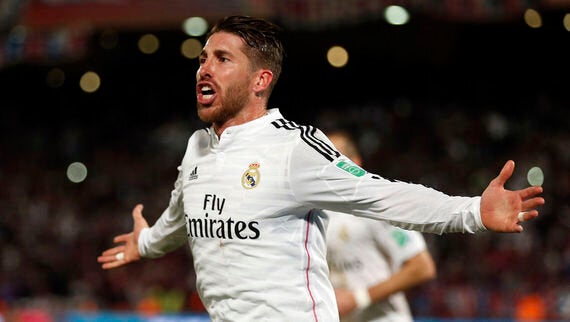 Sergio Ramos has told Real Madrid he wants to leave Santiago Bernabeu. And if you believe all you read, there's only one club on his mind. The Spanish World Cup winner reportedly wants to join Manchester United.
But if there's one lesson we can all learn from the bundles of transfer rumours we come across every day, it's 'don't believe everything you read'.
There's a reason for that. Recent history proves that Manchester United haven't had much luck landing Real Madrid's first team players after they've all-too-publicly given chase. United failed miserably in previous attempts to land the likes of Gareth Bale, Karim Benzema and Cristiano Ronaldo from Los Blancos, while Real have a rich history of taking players from United; or from under their noses.
It's now Ramos at the centre of the headlines. And though this deal looks closer (even now) than any of those potential transfers ever did, all that we know so far is that United have put in an offer. Real Madrid have no need to sell if it's not in their best interests, regardless of whether Ramos wants out or not.
But consider that Ramos is only making noise about leaving because he feels financially undervalued by his current employers. The relationship between he and president Florentino Perez is reportedly fractured, but the damage isn't irreversible. For all we know, a reconciliation between the two parties could be as far away as a mere snap of the fingers.
The 29-year-old is currently on holiday in the United States and is soon to return, but upon his comeback he'll hold talks with the club's officials. Though all signs (the reported ones, anyway) point to Ramos wanting to move to England, United are at risk of once again being used as the pawn in the contract wrangle between Real Madrid and one of their main stars.
Granted, this is Manchester United looking to make a statement of intent. Landing a player of Ramos' quality would be just that. But they've been linked with the likes of Mats Hummels, Raphael Varane (how could we forget him?) and Nicolas Otamendi already this summer - and just a matter of weeks ago, Otamendi was on the verge of signing for the Red Devils himself.
It just goes to show how quickly things can change. And how quickly this Sergio Ramos speculation could completely disappear, with United then left to pursue other targets. Failure to land Ramos would yet again mean United have failed to attract a big name and that they've wasted valuable time that could have been used on signing other, more attainable targets.
Of course, United managed to land Angel Di Maria from Real in a British record £59.7million deal last summer, though he wasn't considered a player of the true highest calibre by his former employers. Di Maria was cast off as a mere fundraiser following the deal that brought James Rodriguez to the Spanish capital.
It really depends on Madrid in this case, too. They are the most powerful club in the world - regardless of what United fans think of that - and United have lost countless battles with them in the transfer market before. They will do with Ramos whatever they see fit.
Though while Sergio Ramos is one of the finest defenders in the world, should United even be chasing him? Casting the facts aside that this could be a long, drawn out process, is it actually wise to be paying such big money for a player approaching the age of 30?
Each of us have seen how quickly Robin van Persie's standard has dropped in his three years at Manchester United and Ramos would be at a similar age to the Dutchman when he made the Old Trafford move if he arrives this summer. Defenders generally have a longer shelf-life than their attacking counterparts, but United must surely be aware that Ramos will have little-to-no resale value in the years to come. There are so many things to consider.
Apologies for the scepticism, but it's very difficult not to harbour doubt when United have fallen into this trap so many times before. For one, I'll welcome Sergio Ramos to Old Trafford with open arms should he arrive and I'll be prepared to eat my words, but this one is not going to happen.
Image from 90min.com. For more fan views or to join the conversation visit www.90min.com