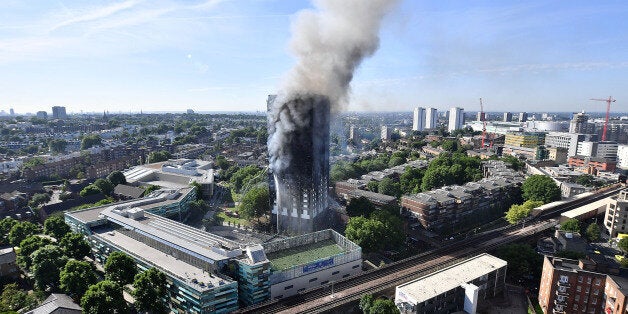 After the shock and anger, there must follow action. 36 hours after the tragic fire at Grenfell Tower in Kensington & Chelsea in west London, which has killed at least 17 people and injured many more, it is still too early to know exactly how the blaze started and what caused it to spread so quickly and disastrously.
What we do know is that residents' complaints about poor fire safety, both in the tower itself and in other council stock across the borough, were repeatedly ignored.
Accountability and justice is now needed for the survivors and for friends and family who have lost loved ones. The Prime Minister has just ordered a public inquiry into the tragedy, and this must provide clear answers and identify responsibility.
But we live in a rich country, and it shames us that this horror is possible even today. The inquiry must lead to a national review of standards in the country's housing stock, where health and safety should be a given, not an optional extra.
It has only been since 2015 that private landlords have by law had to install smoke alarms and carbon monoxide detectors in their properties, to protect their tenants.
But we still don't know whether this law is being complied with. Most landlords have no checks on their qualifications to operate. Anyone with a spare room can rent it out on the market, which has led to criminals filling family homes with desperate tenants sharing insufficient sanitation.
We need proper oversight and licensing of the private landlords to ensure that basic safety standards are being complied with, and to shut down landlords who are renting out potential death traps. But there are other areas of health and safety that also need attention.
For example, while a gas safety certificate must be provided every year in a private tenancy, there is still no oversight for the safety of a property's electrics.
Campaigns calling for a professional, electrical safety inspection every five years have been resisted in England, although the powers exist to easily bring this in, as has happened in Scotland.
The responsibility for enforcing housing law lies with local councils but environmental health teams have insufficient funding to carry out inspections of squalid homes. They clearly need more investment to rebuild their capacity to tackle poor landlord practices. But both private and social tenants also need a legal course of action if the authorities fail them.
Our anger at this week's events must force the government to focus on the housing crisis, and lead to proper investment in ensuring all homes are safe.
To make this happen, renters need to continue to raise our voices and organise ourselves in a way that cannot be ignored, by landlords, by councils or by politicians. The Renters Power Project is seeking to build a London-wide renters union that would do just that.
In 1987, the Kings Cross fire that killed 31 and injured 100 led to major changes to fire safety on the London Underground, a legacy that exists to this day.
We now need to start building a parallel legacy that will honour the victims of the Grenfell fire, making all homes across the country safe, whatever tenure they are. Government must do all it can to ensure this kind of disaster is never repeated, and that our housing stock is fit for future generations.
We cannot wait for the next tragedy. Action must happen now.