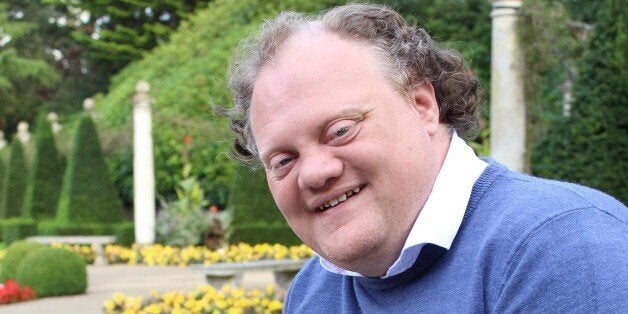 I've always found love a difficult thing and never got used to it. I wanted to see whether it would work if I took part in a dating programme. I wanted to combat my fears because I had been scared of women for years.
Hi I'm Shaine and if you hadn't already guessed I'm a poet. I'm 36, from Bournemouth, and have a learning disability which means I'm often lost for words when it comes to members of the opposite sex.
I applied to take part in The Undateables back in 2011 because I wanted to see what love was all about. I wanted to be loved back. But after going on that first date I rushed in and although I thought it was going well I soon realised it was a bumpy road.
I have since got used to being filmed - I've now been on three series. I treated the camera like a lovely little friend so I wouldn't feel nervous.
The title can be a bit controversial, but when 'The Undateables' sign knocks off the 'Un' with cupid's arrow it shows we are all dateable. We all need love. Sometimes with a disability it's difficult, it's difficult for everybody.
For the latest programme I was hooked up with an old school friend who I hadn't seen in yonks. I remember getting the call from the dating agency to say 'We've found you a date and we think you know her.' It was going to be my first date in over three years and I was nervous.
Beforehand I didn't know what to expect. Because it was somebody I knew from school, and there was a lot of bullying at school, I had to try to remember the good times.
I got emotional and cried - it was like a writer's block but a mind-block. I didn't think I wanted to go through with the date at first, but my friends and family said 'you never know Shaine, this one could work'.
On the actual date I was lost for words at the beginning. I didn't want to say the wrong thing, I just didn't want it to go good, then flopsy and pear shaped.
But we soon got chatting. It had been 23 years since our school days. And ever since then we kept bumping into each other. I think she'd mentioned seeing a show or play, but never had time. I wanted to tell her how I felt, but I never could. I have a feeling she could have secretly liked me at school, because she always said 'oh Shaine, you're funny!'
Since that first date in October last year we are now a couple. I've written Gemma loads of poems and we send love letters to each other every day.
Outside of dating I think being on TV has helped me - I've become a national treasure. I always thought life is a difficult thing, it's like a merry-go-round, you never know what's going to happen next. Its helped boost my confidence. Unexpected things have also happened to me. My career has a taken off really well. It's been quite overwhelming really, I didn't know it would go so well and I have had three poetry books published.
Through the ups and downs I've learnt quite a bit about going on a first date. My advice is don't get too nervous, always give love a try because you never know. And if you get scared, keep trying, until you find the right one. Sometimes love is just around the corner.
Dating finding a companionship, friendship and romance is a soul soothing twisted fate
It's a magical fabulous of often ups and downs like plenty of yo yos;
and a blows then it turns your tummy into knotted jitterbugs like fast friendly butterflies
That sweep you under your feet
and then the love bug; or love ladder, whistles through its funk, soul jazzy music and chocolate like a river of timeless soul
Is love a chocolate? Is it sweet, like a chocolate fondue? Or is it like salted caramel?
Sometimes love can be bitter, but it's not always that sweet, but it's always somebody's treat
Is it lovely when you go have a pot of tea and slice of cake with your loved one? Yes!
Is chocolate always everybody's friend? Did it help the Romans, did it help the Aztecs, did they have a proposal of the Kenco beans of chocolate and coffee? I think yes!
But love is a funny, quirky, sometimes pretty sometimes funky
What's your thing on love? How does it make you? Does it make you go up and down? Sideways?
Or is love not everybody's cup of tea? But does it make you feel wanted, loved, someone to talk to, companionship. I wonder. Love is always there for everybody. But love is a very funny thing. Sometimes you get that soothing feeling when you know love is there, and it's always good to share.
The Undateables transmits tonight on Channel 4 and is also available on All 4
Shaine's latest poetry book, A Hiccup in a Teacup, is available to buy online.