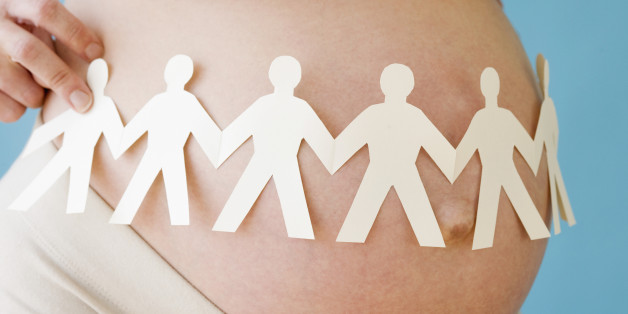 Jamie Grill via Getty Images
It's a fact of life that when you yearn desperately for something, inevitably everywhere you go you are presented with reminders.
EVERYWHERE!
When you set out on the journey to become parents, fresh faced, full of optimism and still enjoying sex without a temp chart or ovulation kit. How the world is a wonderful place and as you pass those mothers in full bloom of pregnancy or with a young child in their arms, you smile knowing at each other. Soon that will be us.
Sadly "soon" that was not us and the joy of starting a family turned into a nightmare of invasive tests, heart breaking losses and scheduled sex. Just what every newly married couple aspires to.
Baby bumps were one of the most difficult things for me to deal with while we were trying - BUMPS, BUMPS EVERYWHERE, BUMPS AS FAR AS THE EYE CAN SEE. Even the men!
It seemed that everyone and their dog was pregnant and I do mean everyone. One day I sat in the vets waiting for my fur baby's appointment and in waddles a heavily pregnant dog, with owners proud proclamation that she has large litters so they were keeping an eye on her.
"Really? how lovely," I reply smiling, and then under my breath, "No one likes a show off Fido!"
I may have stuck my tongue out at the poor dog. Have I mentioned I was irrational in those days?
Even when I was crippled with jealousy, I must admit there is still something about a mum cradling her big belly. It makes you smile. Admittedly for me it was sometimes followed by tears! It is beautiful proof of the miracle inside that beautiful big belly.
I once sat in a waiting room waiting for a scan, they had lost my notes so I was delayed and watched several couples come and go. One young girl sat alone and was she waiting a long time too.
I was having problems following a miscarriage and watching those pregnant bellies was an ice pick to my heart. I kept my head down, making little eye contact. I sat silent tears falling onto my lap. My husband was away at the time and I was there alone too, my choice I don't like anyone to witness my grief.
Silent tears I have perfected over the years. When I have sobbed out every bit of energy and there is nothing left in my tank, tears can still find a way down my cheeks quietly "plink, plink, plinking" onto the fabric of my trousers. I sat desperately wishing it was all over and I was back home not having to look at another blooming bump.
The young girl came to sit with me and held my hand, she offered me a tissue. We didn't speak, she didn't ask me why I was crying. She just held my hand. Some time passed and she had a few tears herself.
Soon after this a nurse called my name, I gave her a watery smile and nodded at her and went inside for my appointment. She was gone by the time I got out. I never found my voice to thank her. That act of kindness that day made it a little easier.
I truly believe women are a wonderful, the empathy we can feel for someone else even if we don't understand it is amazing. She had no reason to offer me a hand that day, yet she still did. I was so thankful for that.
I never really felt the same about bumps after this. Sure, I felt jealousy but it occurred to me that I don't know what is going on behind the bump. I started to imagine all the wonderful stories that might be told in the making of the bumps they became less hurtful. Who knows if they had struggled to conceive, maybe even lost a child. Perhaps it was unplanned and the bump terrified them as much as it upset me.
Seeing the real women behind the bumps made me feel a bit better. After that day, I really understood how well we have the capacity to support each other and show compassion. We support our friends, family and in this case a stranger consoling a broken woman who was devastated at losing her child.
With everything that is happening around the world today. We need more acts of kindness like this, more love. Nothing was ever made better by adding more hate to the world. I try every day to pay that kindness forward, to offer a hand to anyone out there feeling the pain I have. It doesn't change what has happened of cause, but it makes the burden carried just that little bit easier for that moment and lend strength to get them through another day.
Originally posted on www.thechildlessmother.blog.