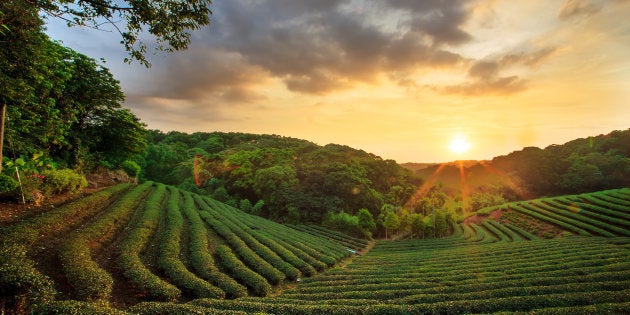 After a few days in Mumbai, we think we have somewhat come to terms with the chaos that is India. A kaleidoscope of bellowing hooting, interweaving traffic and a throng of new sights and sounds providing a frenzied backdrop for our adventure.
As we land in Bagdogra, the sharp drop in temperature and crisp air tell us we have entered a completely different environment. We embark on a three-hour journey to get to Darjeeling. The town is located in the north of India, sandwiched between Nepal, Bhutan and China. A taxi stop for hundreds of jeeps heading off into the mass expanse that is the east forming a point of convergence of Chinese, Nepalese and Indian culture.
Our intention is to stay in Darjeeling and head further east to discover the mountain slopes of Meghalaya. We land at around 6pm and hail a taxi. Three hours of driving on what should be a single carriageway road interweaving between people, cows and oncoming traffic isn't for the fainthearted. We finally arrive in one piece and Raju the caretaker checks us into our Airbnb. Raju looks like he is "Kumar Pallana" direct from the set of the Royal Tennenbaums. A man of few words, he eagerly proceeds to bring us Chickpea soup, Paneer, Cauliflower Curry, and Aloo Ghobi. The dishes keep on coming as incessantly as the hooting we can hear outside.
The Airbnb listing refers to the apartment as a villa. It is definitely the wrong word, "a basic three-bedroom apartment with one or two leaks in the ceiling" would have been a more apt description. The shocking purple curtains in our room can only be contrasted with the cobalt blue duvet cover. A few blow heaters and a multitude of blankets, attempt to keep the freezing temperature at bay, the bony fingers of the cold creeping under our blankets.
One of the reasons I book our three-bedroom "villa" is not for the lavish accommodation (you can probably assume), but rather for the magnificent views. Not being able to feel your toes or hands is easily remedied when a view of the Himalayas is the backdrop to your morning coffee. The Himalayas remain at the core of the town's culture.
Darjeeling is home to the Himalayan mountain engineering institute, a museum that pays homage to the various expeditions that have climbed Everest.
Darjeeling is home to the Himalayan mountain engineering institute, a museum that pays homage to the various expeditions that have climbed Everest. The museum is full of artefacts from each of the different expeditions including the first. The actual gear that the climbers wore is on display. Tenzing Norgay a local Nepali Sherpa guide who rose to fame for being the first man to climb Mount Everest with Sir Edmund Hilary is buried at the front of the museum. We spend quite a bit of time at the museum imbibing as much knowledge as we can for our upcoming trek. Darjeeling has a myriad of tourist attractions. A zoo that specialises in endangered Himalayan animals, over 86 tea plantations, and a toy train that is a world heritage site to name a few. There are so many different wonderful attractions, but the one we don't expect to spend any time at is the Darjeeling hospital.
We go to dinner at "a hole in the wall" dive bar called "Gatskys". As we walk down the road, Allie suddenly falls and clings onto Ed, we quickly realise that she's damaged her ankle in a deep pothole. She can't walk and we're stuck in the middle of a dark road. Allie sits on the nearest ledge whilst Ed goes to find help. There's panting and a paw on Allies shoulder, a Border Collie cross decides to adopt us while we wait. It may have something to do with the fact that we are sitting on his bed. He barks at anything that passes including the rubbish truck. He's become our firm friend, instinctively knowing that we are dog lovers.
About twenty minutes later, Ed returns with a man on a scooter and Allie is whisked off back to our little Villa. Keeping her ankle cold won't be too hard in our frozen little apartment. The next day, our driver Narvu takes us to a local hospital. It looks like a small operation from the outside. The only thing that belies the size of the building, is the multitude of people going up and down the stairs carrying picnic baskets. Some people wear masks over their faces to prevent others from getting sick. I'm not sure how many flights of stairs there are but it appears that the building is like a "Mary Poppins style bag" with many different layers. The range of specialities is presented on the board, everything from Urology to heart surgery.
Allie is wheeled into the X Ray room and as multiple people huddle around her, our driver Narvu is ready, he stands close by scurrying up and down the steps to consult the doctor.
The good news is that it's not broken. X Rays, a doctor's consultation, medication and crutches come to $30 in total. The specialist tells us that it's a bad sprain so no more trekking.
John Lennon said that "Life is what happens to you whilst you are busy making other plans.Af" In this instance busy making plans for a great trek in Meghalaya. As we find ourselves in Delhi airport on the way to Goa to discover some of the most beautiful beaches in the world, the sharp increase in temperature tells us we have entered a completely different environment.
Goa is located in the south of India the completely opposite direction from where we were originally headed, and I wonder what this wondrous thing called life wants to show us next.