I had a great afternoon down at my local HomeSense, choosing my Top Picks and helping shoppers solve their interior design & home buy dilemmas, finding myself rummaging through treasures to find 'on trend' bargains and helping design savvy clients select the perfect partnering items for challenging rooms.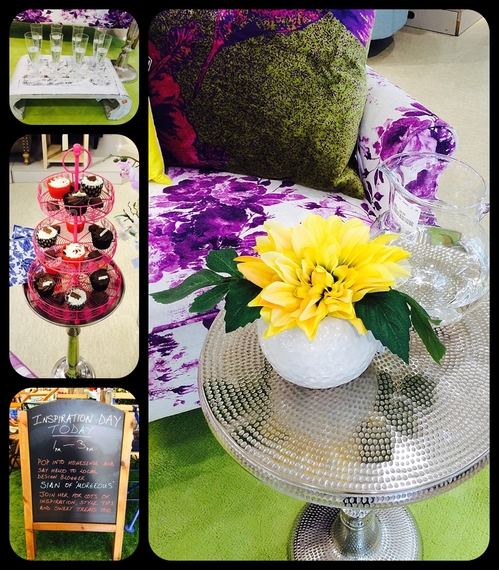 I even helped one customer re-design her extension via pictures on her mobile. Oh the joys of modern day living eh, we interior designers don't even need home visits, just HomeSense ones!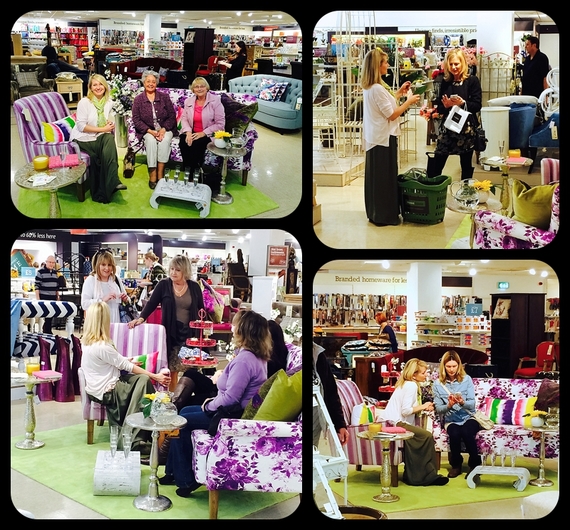 Lots of people stopped by for cake and a chat, asking questions about colour and pattern, but also more in depth questions about their homes. I found it really interesting that the more mature shoppers I spoke to were super adventurous which was slightly unexpected. They talked about total style overhauls and ditching their old fashioned style for a more contemporary look. The under 25's on the other hand wanted eclectic, individual pieces, things their friends do not have making their homes unique. The 30 - 60's in the middle were looking for quality at good prices, with a keen eye on design and the purse strings. Fascinating stuff and something for everyone it would appear.
I was asked to tag my favourite finds of the day with cute little Moregeous "Blogger Recommends" labels. Below are my Fabulous Finds of the day, along with reasons why.
1) Metallic
We all know metallics are hot, hot, hot for 2014 and the trend allows something for everyone whether you like warm coppery tones or cool silvers. I especially love their copper pans at great prices, this beaten gold & black bowl and an elegantly patterned silver candle holder: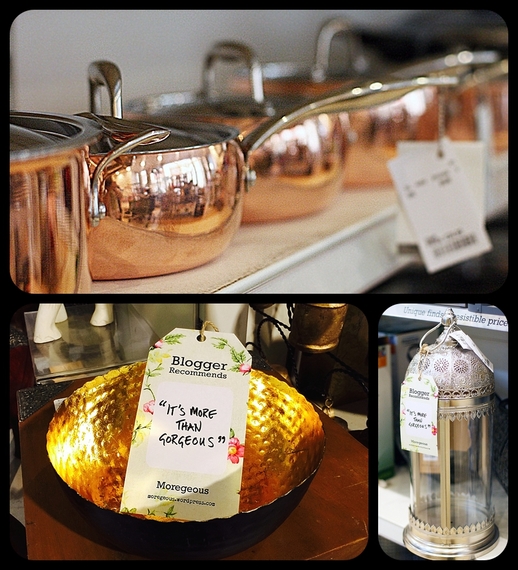 2) Graphically Organic
Highly graphic, but still organic, monochrome patterning is a longtime favourite of mine. There's something elegant yet slightly subversive about black and white crockery. I bought a few pieces from the gorgeous range below a few weeks ago and my Bank Holiday roasties looked amazing served up on a bowl just like this one yesterday. I was also tempted by the cute bird plate and slightly scary skull mug.
3) Hearting Red
I'm finding myself with a passion for red at the moment, seeing it popping everywhere in the design world, as my Hearting Red Pinterest board will attest. Nice to see a lush-tastic red velvet sofa on display and these rather lovely scarlet patterned plates too: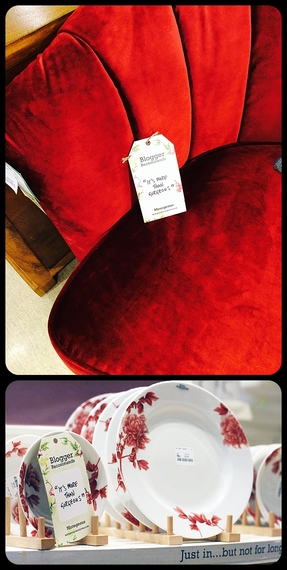 4) Cross Stitch Crazy
One of the ladies I spoke with was a keen cross-stitcher and we had a lovely conversation about the resurgence of craft. She was delighted when I showed her this very simple and contemporary take on her skill, here's hoping she'll tell her grandchildren that cross stitch isn't past it after all :)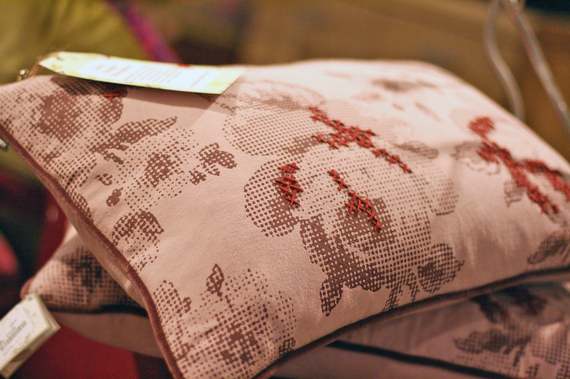 5) Purple Colour Pop!
And how could I not end with a picture of the wonderfully colourful room set which Aaron and I had fun curating in-store? I adored the purple floral sofa paired with a striped armchair, picking up Pantone's Colour of the Year; Radiant Orchid. The rainbow cushions had a touch of dip dye to them, very of the moment, the beaten silver tables of different heights gave a glamorous sheen and colour pop accessorising completed the summer time feel - perfect for fizz, cake and housey chatter.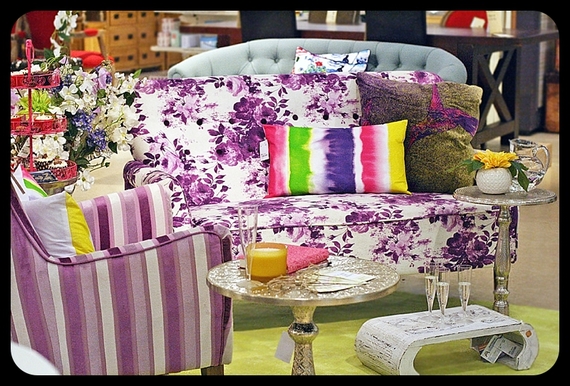 All in all a lovely afternoon with enthusiastic, interior adoring shoppers - bring on the next one!