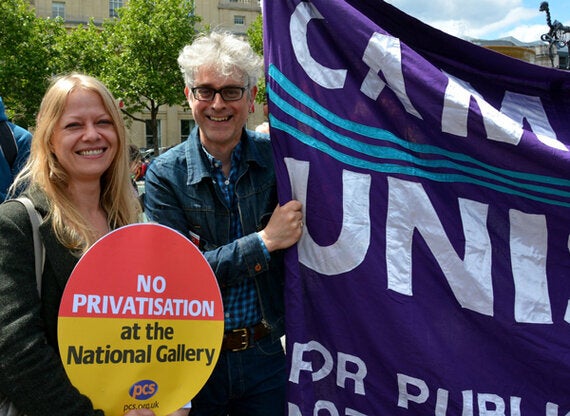 I'm standing to be Green candidate for London Mayor, so the housing, transport and air pollution crises in the city are things I'm asked about every day. But despite these crises, thanks at least partly to our world-leading arts and cultural scene, London remains a dynamic, exhilarating place that draws people from all over the world.
I believe arts and culture should be an important part of the Green Party's agenda in next year's election. Greens want a city that is worth living in - not just a city to make money in, and protection is needed for things that have an intrinsic, rather than just financial value.
The arts face huge threats, but arts and culture is not an issue you'll hear other politicians address very often. In part this is because arts policies are often solely associated with elite institutions, but I'm referring to arts and culture across the spectrum - from the Irish folk musicians playing in your local pub to Benedict Cumberbatch playing Hamlet at the Barbican.
While the West End and major players such as the Royal Opera House are in relatively rude health, the threats to smaller cultural groups are clearly connected to the other crises facing London. As a councillor in Camden, I work with communities whose social housing, civic spaces and local pubs are under threat - and many fringe theatres, music venues and arts centres are also in the crosshairs of profit-driven property speculators. Several key venues, such as the 12 Bar Club on Denmark Street and the Black Cap cabaret in Camden, have closed recently thanks to rising rents or predatory property developers.
What can the Mayor do to protect grassroots culture in London, and help it thrive? London is set to rewrite the London Plan, the policy that sets out what can and can't be done with land, buildings and development, and we could achieve a lot by making it more radical and protective of our cultural spaces.
The new London Plan should include a requirement for new cultural spaces to be built in new developments such as Nine Elms (at present there is none) and in existing urban centres, arts organisations should benefit from lower rents and other preferential treatment.
Rising property prices also threaten rehearsal spaces and artists studios where London's great art is created. Many small and medium-sized organisations are seeking creative solutions to rising prices by looking to take over - either temporarily or permanently - warehouses and other industrial spaces. English Touring Opera turned a warehouse at Crimscott Street into a rehearsal space for two years, and the Wells Way Pop-Up in Southwark provides space for a wide range of independent companies, designers and performers, as well as projects for young people.
But great initiatives like this often face barriers from Borough councils, whose officers and regulations haven't adapted to this kind of change. Through the London Plan, we can help boroughs give cultural organisations greater flexibility in challenging times. Meanwhile, space should be designated in the Olympic Park development for more small and medium-sized organisations to create work - not just the large ones.
There are many smaller steps the Mayor can take to strengthen arts and culture across the 32 Boroughs. One policy I put forward when I last stood for Mayor in 2008 is for more community-focused advertising on the tube and other GLA assets, such as bus stops and cycle hire. This would dedicate some of the advertising space to local businesses and arts organisations at cheap rates, and help venues such as Artsdepot in Barnet or The Albany in Deptford plug their shows as prominently as West End theatres do in their local tube and rail stations.
While decisions on funding for the arts are largely taken by national government and local authorities, the Mayor and Greater London Assembly do have discretionary funds for certain projects, including for skills and economic development through the Local Growth Fund.
There is much more to London's brilliance than finance, or even coding, and at the moment our cultural organisations do not reflect the diversity of our city. Thanks to a longstanding frustration that, as a child, I was never able to get lessons to learn an instrument, I'm particularly passionate about opening up creative careers through training and access to equipment for young people without the funds to buy their own. I'd also argue for the power to top-slice 10% of corporate donations to major players like the National Theatre and Royal Opera House for local arts organisations and these training schemes.
As Mayor I'd also campaign for greater diversity on the boards of major national institutions, so that there are other voices to the captains of finance and industry that have encouraged outsourcing and de-unionisation in buildings such as the National Gallery. We could further address access and diversity by finding ways to reward smaller companies that pay artists the living wage. And while we're reducing inequality, how about tackling the historic gender imbalance in London's statues with a policy of no new male statues until the lives of brilliant women are celebrated in equal measure?
The pace of change in London is relentless. Before we know it, we could lose many of the fragile, wonderful cultural ventures that make our city great.
A thriving, diverse city needs a thriving, diverse arts scene - otherwise it isn't a city worth living in. For that reason, I would be proud to set myself apart from other candidates for Mayor and make the arts a key part of the 2016 London election campaign.
Popular in the Community