Phew! What a fast-moving political week last week was. Like many others, I had slowly sauntered into work on Tuesday morning after a long Easter weekend away. As I was travelling in to work, news filtered through that the Prime Minister would make a statement Tuesday morning. Speculation mounted about what it would be - an early general election. And as soon as June 8th. The ultimate chaos for many people working in politics in Parliament, the civil service and beyond.
The campaign is only a week days old, but already the Government's aid budget has been a hot topic of debate. The commitment of 0.7% of national income spending on aid that has had cross-party consensus among the major UK political parties for several years had been remorselessly attacked by some sections of the media in recent months. And there were strong calls for parties to not put the target in their manifestos.
Let's be clear at this point. Aid saves lives. In the past 40 years, the number of people in extreme poverty has halved, and since 1990 child mortality has halved too. And the UK's aid is more important than ever now as, per the UN, the current refugee crisis is the world's largest humanitarian crisis since the Second World War in 1945. 20 million people are at risk of starvation as a result of drought and conflict, with Nigeria, Somalia, South Sudan and Yemen currently the hardest hit. As Microsoft founder Bill Gates said last week, if we cut aid now then lives will certainly be lost.
There will be many fiery debates over the next few weeks, but I hope that all major UK political parties will commit to spending 0.7% of the UK's national income on aid. The lives of the world's poorest people should not be a political football in this election. Surely this is one thing that as a nation we can put above party politics, even in the heat of an election campaign?
It was hugely encouraging at the end of last week to hear the Prime Minister say that the 0.7% commitment will remain in place for the Conservative Party. All political parties should follow suit over the coming days.
The Prime Minister also said that she will look at how our aid money will be spent, to make sure that it is spent in the most effective way. I could not agree more. Rather than endlessly debating how much we spend, I hope that at this election we can have a lively debate about how the UK can best spend its aid money to both save lives, but also to help developing countries stand on their own two feet, so that they might move to a future free of aid dependency.
Aid delivered by the government, charities and others should continue to work to tackle the effects of poverty, but also try to tackle the symptoms too so that we see lasting change. For example, the Prime Minister mentioned Ebola in her response last week. In Sierra Leone, the UK government, NHS volunteers and charities did a heroic job in stemming the spread of the killer virus. At Christian Aid, we worked with local faith leaders and communities to educate a largely Christian population about how the dead could be buried in a way that respected local traditions and also stopped the disease spreading. But we can't stop there. The government and charities now need to work to rebuild the Sierra Leonean health system so that it is more able to withstand and respond to future problems. This is in both Sierra Leone's interests and the UK's - and that result would be the very best of UK aid.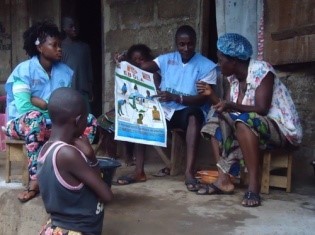 There are other ways that the government, charities and others can work together to tackle both the symptoms and causes of poverty. Smart aid that helps people in developing countries to stand on their own two feet and grow their economies too.
For example, it is more effective to spend money on preparing for environmental disasters than recovering after them. Every £1 spent on disaster risk reduction - things like flood and earthquake proofed buildings and early warning signals for communities - saves £7 in recovery. Currently just 0.4% of the government's overall aid budget is spent in this way. We at Christian Aid want that to increase to 5%.
The government should also continue to use UK aid to help developing countries raise more taxes (rather than adding to their tax income), so that they can fund essential services like health and education without relying on aid. This is important because many developing countries' tax bases are very low. For example, Ghana's tax to Gross Domestic Product ratio is around 14% and Sierra Leone's is around 11%. This compares to the UK's at around 32%. The Organisation for Economic Cooperation and Development has said that for every £1 in aid spent helping to improve tax revenues, around £350 is returned. That's a no brainer.
We also know that most of the world's poor are women and girls, and governments often don't spend enough on services for them. If the UK's aid money can be spent in inspiring women's community groups, such as Christian Aid does in Guatemala, to hold their governments to account on what they are spending on women's services, this will help to lift families out of poverty too.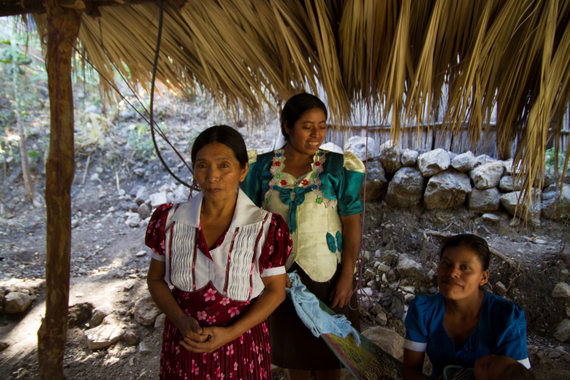 To deliver this vision of tackling both the symptoms and causes of poverty, the world-leading UK Department for International Development should be maintained, and should focus on targeting UK aid to those who need it most. But it, and other UK government departments such as the Treasury, should also work together to make sure our aid spending and other policies are also tackling the causes of poverty, such as climate change, low tax revenues and gender inequality.
The next few weeks are going to be exhausting, draining, exciting and exhilarating for many working in politics. There will be much hot air and disagreement.
But if all parties can agree on how much we spend, the 0.7 per cent, then we can all finally move on to talking about how the money can best be spent. And that should be a very interesting and useful debate indeed.