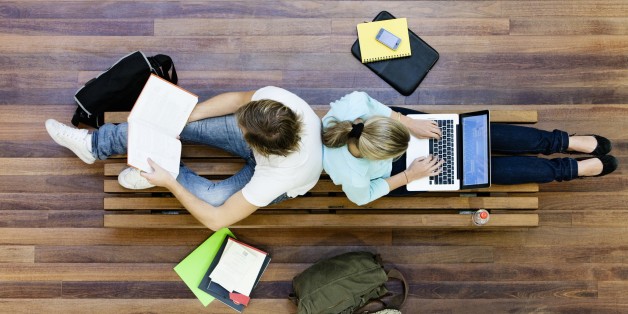 moodboard via Getty Images
In her first speech as Prime Minister, Theresa May highlighted the shocking access gap at our universities, saying that white working-class boys were "less likely than anybody else in Britain to go to university".
But surprisingly social mobility has not been the issue it should have been in this election.
Our own research has shown that white working class boys are the least likely to get five good GCSEs of any major ethnic group and to go on to study after GCSE. This seriously limits the number that have the chance to go on to university or a higher level apprenticeship.
The poor academic performance of all disadvantaged pupils is a tragic waste of talent which results in a significant economic cost.
While we must narrow the gap for all pupils who continue to fall behind, the sheer size of the disadvantaged white British community means that it is a priority that we make a concerted effort to improve their results.
Fairer access to the best schools is part of the solution, but the Conservatives' proposed expansion of grammar schools is unlikely to be a quick fix.
It has been well documented that disadvantaged pupils are underrepresented at grammar schools and our own research has shown that white working class pupils in particular enter grammar school at the lowest rate of any major ethnic group.
Our mobility manifesto proposes practical steps to improve access to grammars and the best comprehensives. These include outreach, giving poor kids a break and using ballots to allocate students to schools.
However, the most important thing we can do is to improve the quality of teaching. The difference between a good and bad teacher for disadvantaged pupils can be as much as a year's learning. So, making sure teachers have access to the training and development they need is the most effective way to raise standards.
We also need to instil that same will to learn that we see in many ethnic minority groups. This means engaging with parents, particularly those whose own experience of school was not positive. The Education Endowment Foundation found that texting parents about upcoming tests and homework deadlines boosted maths results and reduced absenteeism too.
Boosting aspirations is vitally important. We need to offer more support to disadvantaged young people throughout their education so that they are able to fulfil their potential after GCSE. Interventions like our Summer Schools give teenagers from low and middle income homes the confidence to apply to top universities.
But it's not all bad news. There is evidence that the attainment gap has been narrowing in primary schools.
But if those elected on Thursday are serious about further narrowing those still wide gaps, the new MPs and ministers must look at the evidence as to what has worked and redouble their efforts to address the huge inequalities that continue to blight our country.
This piece originally appeared as part of Paul Waugh's 'Beyond Brexit' series. Read the full article here.