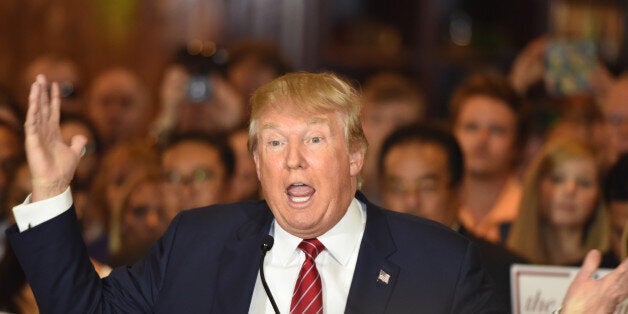 Shortly after Trump was elected, and periodically since, my grandmother has asked - nay, begged - me to be careful about what I write. She was concerned the president, or his cronies, would target me. I had written it off as her typical overprotectiveness, but after the last week's events, I no longer can.
From Kellyanne Conway's "alternative facts" to Trump's regular outright lies and gaslighting (whether on Twitter or at the podium), this administration's attempts to circumvent and curtail the free exercise of the press are dangerous. In May the Guardian reported that Trump suggested the FBI should jail reporters. The President remained silent when the Republican candidate for Montana's at-large congressional seat body-slammed a reporter. Given his incendiary rhetoric against the press over the past two years, though, we shouldn't expect it. Hell, given the gif of him body-slamming CNN, we can almost assume he approves.
This is what made Brian Karem's takedown of Deputy White House Press Secretary Sarah Huckabee-Sanders so noteworthy. After directing people to a video of dubious accuracy to justify her boss' behaviour, Karem - of the Sentinel - firmly reminded her that journalists "are here to ask the questions" and that she was "there to provide the answers." It's a fairly easy concept, one fundamental to a functioning democracy, yet this administration doesn't seem to grasp it.
Over the past seven days, though, the battle between the president and the free press has reached fevered pitch. Last week, after she made a joke at his expense, Trump attacked Mika Brzezinski (the presenter of Morning Joe, a cable morning news programme) on Twitter with, as her fiancé and fellow presenter Joe Scarborough noted, the sexist vitriol he almost exclusively reserves for women. Brzezinski and Scarborough revealed in an op-ed for the Washington Post that the president, by way of his cronies in the White House, had threatened them with an unflattering story in the tabloid the National Enquirer unless they called and apologised to him.
The Enquirer - long known for unsubstantiated stories and an allegiance to Trump - harassed Brzezinski's children, friends, and ex-husband, yet she and Scarborough remained defiant. They didn't go public until last week, following Trump's latest Twitter rant about them.
Then, over the weekend, the president shifted focus to CNN, tweeting a gif of him bodyslamming the CNN logo (a reworked clip from his time with the WWE that was created by an account widely reported to generate antisemitic memes). Trump has routinely attacked CNN as "fake news" and "low-rated," but this took his feud with the press to a new low. The insinuation was clear: CNN should toe the president's line or risk the full weight of his presidency crashing down upon them. Similarly, CNN was defiant.
I wasn't sure I was going to write about any of this. My beat is British politics, and I've addressed Corbyn's and May's reluctance to talk to the press before. This is another level entirely, and though my beat isn't the White House, I am an American journalist. I can't sit by and watch my peers and colleagues attacked for doing their jobs - one so vital for democracy.
A free and open press is what sets democracies apart from dictatorships like Russia, China, and North Korea where the only approved line is the government's line. The Trump camp, since the days of the campaign when then-candidate Trump regularly vilified the press and treated us - and by extension the American people - with contempt.
That today is the 4th of July makes this even more prescient. Americans across the country will be celebrating Independence Day and the freedoms that supposedly set us apart from the rest of the world. But unless we stand up for the rights our foremothers and forefathers fought for, we might as well put the hot dogs and fireworks away, because there will be nothing to celebrate.
Without a free press to hold the government accountable, we will easily and quickly devolve into an authoritarian hellhole so many Americans claim we defend against. "Liberty cannot be preserved without a general knowledge among the people," John Adams wrote in 1765, and it remains true today. It is the job of journalists to hold the feet of those in power to the proverbial fire and get that knowledge disseminated among the masses. If Trump and his cronies can't stand it, to paraphrase another American president (Truman), they should get out of the kitchen.
I'm not going to lie, it's a scary time to be a journalist. The president's threats (and the threats of his supporters) don't go unnoticed. But I won't stop writing critically of this administration because the president threatens journalists with jail time or a beating. That's not the way we do things in this country. It's not the way any civilised democracy does things. Our free press, bolstered by the First Amendment, is part of what makes America special. If we allow ourselves to lose it, we allow ourselves to lose something fundamental and exceptional to the American experiment.
So here's my challenge to all Americans, but especially those who support President Trump: instead of vilifying the press, stand up for us, even when you don't like what we have to say. We're trying to do an increasingly impossible job in service to the republic, and we need your help. It isn't patriotic to demonise us. It is patriotic to fight for our continued right to write without fear of imprisonment or bodily harm.
Britain, I don't want to leave you out of this either, though I also don't want to lump you in to this mess. You've got your own issues to sort out, but Lord knows this ain't one of them. Still, as Brexit gets underway, you're going to need journalists more than ever before. So subscribe to a newspaper. I don't care if it's the Telegraph, the Guardian, or your local paper (so long as it isn't the S*n). But throw some money to the hardworking journalists who try to keep British democracy transparent, too.
The press is not the enemy of democracy. We are the defenders of democracy. This Fourth of July, I hope that every American - especially the President - will take a step back and realise just how important we are to the country. A free press isn't something to be vilified. It's something to be celebrated. So this Independence Day, let's celebrate our independent press - while we still have it.