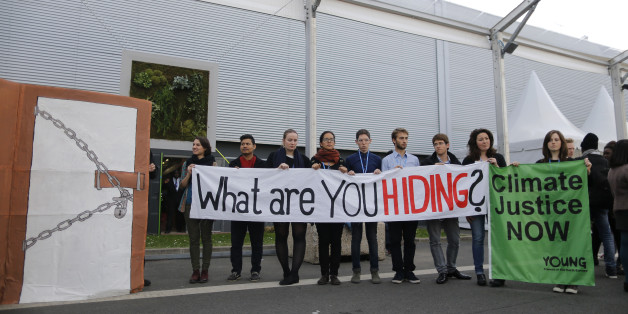 Stephane Mahe / Reuters
The snap election that nobody expected has thrown up more than a few problems since April 18.
In 2014 a Lobbying Act, or the "charity-gagging law" as dubbed by some, was passed. It tightened the rules on campaigning in the run-up to elections. It was meant to limit corporate lobbying, and stop wealthy pressure groups and individuals from having undue influence on elections. That sounds fair enough.
But in practice it has been bad for British charities that want to speak out on behalf of the voiceless or powerless.
Lobbying Act rules are very confusing, and since it was introduced, the Act has had a chilling effect on charity campaigning. Social care charities told the Guardian last week that they were too afraid to speak out on Conservative social care policies until after the election. I'm worried that some charities that work on important public interest issues may have completely withdrawn from public debate in the run up to elections for fear of falling foul of this Act.
Can that be what anyone wants?
Last year, the government commissioned the Conservative peer Lord Hodgson to conduct a review of the Lobbying Act. The 'Hodgson Review' found that the right balance hadn't been struck between preventing some people having too much influence on the one hand, and placing an unreasonable burden on campaigners on the other. Lord Hodgson recommended that the Act should be changed to deal with this. So far, no action has been taken, and the Act has remained in full force.
The unexpected nature of this snap election has only exacerbated some of the more egregious elements of the Lobbying Act. At the moment, all campaigning for a year before a general election can potentially be caught by Lobbying Act rules. This is far too long, but at least under the Fixed Term Parliament act, charities thought they would know in advance when this 'regulated period' would start.
Soon after the election was called, the Electoral Commission announced that the 'regulated period' was retrospective, and had started in June last year. That has meant that charities like Friends of the Earth have had to go back and assess the campaigning we did long before anyone knew an election had even been called.
This is why more than 50 charities wrote to party leaders this week imploring them to fix a piece of legislation that is quite simply unfit for purpose. Action Aid, Christian Aid, Age UK, Wildlife Trusts, Amnesty UK, CARE and Sue Ryder are some of the 53 signatories from a broad spectrum of civil society who want to see the legislation changed.
We said in the letter that charities were "weighed down by an unreasonable and unfair law which restricts our ability to contribute fully to a democratic society".
Of course, lobbying in advance of elections does need to be regulated - we don't want wealthy interest groups having undue influence any more than anybody else does.
But the Lobbying Act as currently drafted is an absolutely ridiculous administrative headache that hugely hinders the work that we do. Friends of the Earth is committed to speaking out to protect the environment, and we won't let the Lobbying Act gag us. But someone has had to work almost full-time scrutinising everything we put out to decide whether it's caught by the Act, and that's not mentioning efforts of our hardworking finance team, costing out each website page and tweet. Smaller charities simply don't have these sorts of resources, and in many cases have just stopped saying anything at all.
The outgoing UN Special Rapporteur has recently published a report on his mission to the UK which is highly critical of the Lobbying Act, and recommends that it be reformed. In particular, he says the Act has a 'disproportionate effect on civil society...vis-à-vis business' - essentially that civil society, which works for the public benefit, is being gagged more than businesses working for private interests. Surely that's the wrong outcome?
Charities that work hard to represent the poorest and most marginalised people around the world are wasting time, money, and resources to ensure they do not fall foul of a pedantic law, or quite simply stopping themselves from speaking out. If the Lobbying Act is not overhauled as a matter of urgency it is our democracy that suffers.