Oh dear, it really does seem like us girls aren't sticking together these days doesn't it?
We've had #YesAllWomen - which in fairness was a wonderful thing in itself, and only marginally ruined by the backlash of negativity from both men AND women themselves; we've had the negative reactions towards Beyonce's Rosie the Riveter picture, and now we are dealing with Women Against Feminism. And the sense of female solidarity and empowerment is where, pray tell?
Don't get me wrong; I am not about to burn my bras and grow hair everywhere, but I would never go so far as to say that a spirit of desire for gender equality isn't needed. As a gender, we have had to do a great deal of overcoming and make a great deal of sacrifice and to an extent this still continues; so imagine my disgust when I discovered there is a blog promoting images such as these for the world to see.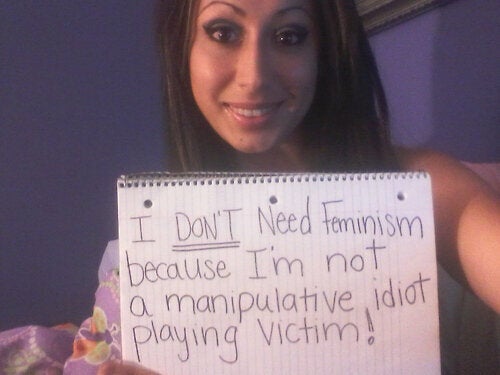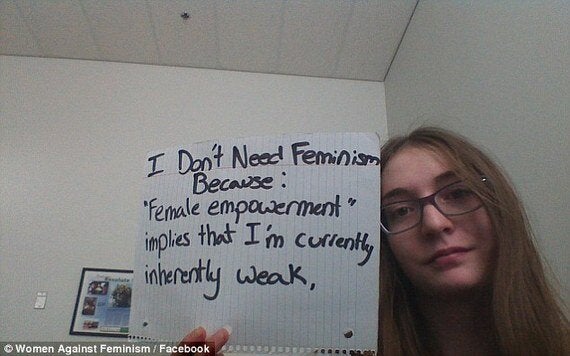 Photo credit: Google Images
Why, as a female and therefore hopefully somewhat aware of the struggles of your predecessors, would you ever call another girl a 'manipulative idiot playing victim'? Guess what, we are victims. We're victims of patriarchy, of not being able to walk down the street at night and feel safe, and of constantly being shot down whenever we offer an opinion of our own. You know what we also are? We're survivors. So many of us have survived verbal abuse, physical abuse and even sexual violence at the hands of a man who ultimately believed he could get away with it because we are the 'weaker sex'. Calling women who support feminism 'weak' and 'manipulative' goes against everything we have fought against to even be able live in a world where people can suggest that they don't need a movement that protects and empowers our gender; and what these teenagers posting pictures on the internet don't seem to realise is that, had there not been women that were brave enough to start the movement in the beginning, there would never have even been an opportunity to suggest this for the world to see.
Further to this, the power of the internet as a platform for opinion means that this is up there for literally anyone to see. I hope I am not alone in saying that I would never want any child of mine seeing this and growing up with the perceptions of the girls in these pictures. It's called girl power because we need to stick together to maintain this balance that the majority of us are able to live within now. When men and children see us calling each other names and ridiculing our opinions, we do look weak. In fighting is not pretty, it's not clever, and it sure won't improve anything as much as it will cause damage.
You know what's cool? Sticking together as a gender and showing our strength through our ability to support and encourage each other. Not bitching each other out by posting a picture on the internet, encouraging outsiders to laugh at the fact that women died so that we have rights.
Get involved with the discussion by using the hash-tag #WomenAgainstFeminism and have your say on the matter.