On the 11th month of the 11th day of the 11th hour, we will remember our fallen. We also pay tribute to the many men and women who still protect our country, through the skies, on the ground, through the shores and combating planned attacks. We also remember the ladies and gentlemen who have fallen in recent wars.
We will remember our brothers, sisters, Great Grandparents who fought, fathers, mothers, friends and lovers, lost in war.
11 November is known as Armistice Day, Remembrance Day or Poppy Day.
It was created as remembrance of the First World War, on the 11th hour of the 11th day of the 11th month in 1918, when the guns of the Western Front fell silent after more than four years of continuous warfare.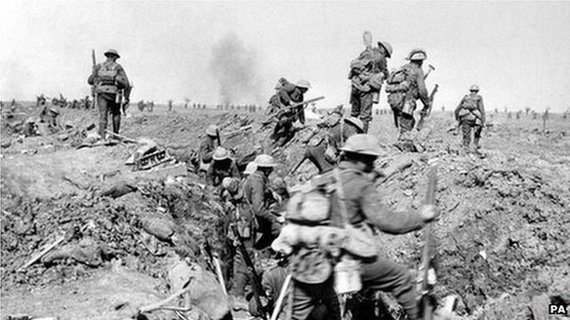 Photo (c) www.bbc.co.uk
2014 has seen the UK recall memories of loved ones who fought in the war that was started 100 years ago. The centenarian of World War One has bought out the creation at the Tower of London Poppy river.
The UK fell into a dim of darkness on 4th August 2014. The Lights Out event saw households with only one light or candle glowing. This was to reflect on the start of World War One in August 1914.
David Lloyd George, Speech in the House of Commons, (11 November 1918)
At eleven o'clock this morning came to an end the cruellest and most terrible War that has ever scourged mankind. I hope we may say that thus, this fateful morning, came to an end all wars.
The National Archives released stories told from the front line of the First World War. You are invited to view an interactive map of the world during the wartime.
For many, remembrance is everyday of loved ones lost in war.
For more information: