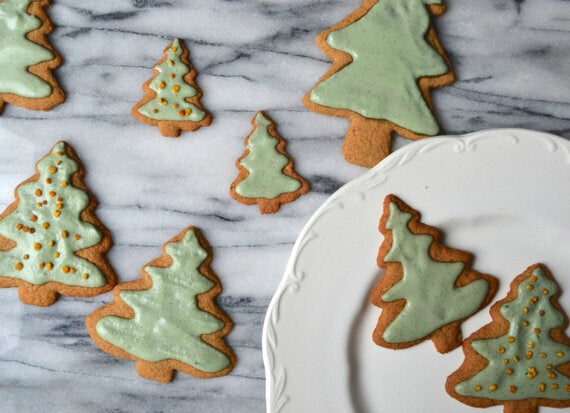 These Christmas cookies are the perfect treat to bake up while you enjoy the holiday season.
I always loved the array of goodies I would make with my family growing up and sugar cookies were one of my favourites. The original recipe is my grandmother's and we've been making it for years. Some time ago, I decided I wanted to change it up and try to make them with some better ingredients.
Instead of refined white sugar, these are made with coconut sugar which contains amino acids, trace minerals, and won't spike your blood sugar in the same way as the processed stuff. There's even a frosting made with macadamia nuts that tastes like white chocolate to decorate with!
1¾ - 2 cups gluten free flour
For the white chocolate icing:
2 tbsp. honey or maple syrup
½ cup soaked macadamia nuts
3½ tbsp. almond milk (add as you need to slightly thin the icing)
1-2 tsp. arrowroot powder
Optional: Bee pollen, cacao nibs to decorate
1. Soak the macadamia nuts for a minimum of 4 hours, or overnight.
2. Add the coconut oil, eggs, and vanilla to a large bowl and mix together until fluffy. Add the coconut sugar and maple syrup and mix again. Finally, add the ground almonds, flour, baking powder and salt and mix until combined.
3. Divide the dough in two, cover in plastic wrap, and set in the fridge for 1 hour.
4. When you're ready to use the dough, remove from fridge. Preheat your oven to 350°, sprinkle your work surface with flour then roll the dough out until it is approximately ½ cm thick. (Add flour as you need to keep the dough from sticking)
5. Cut into desired shapes then place them onto a parchment lined baking tray. Pop into the oven for 5-7 minutes until slightly golden on the edges.
6. Allow the cookies to cool on a cooling rack and make the white chocolate icing.
7. In a double boiler, melt the cacao butter. When it's completely melted, remove from the heat and add the honey. Allow this to melt into the cacao butter until they are combined.
8. Rinse and drain the macadamia nuts then add them to a high-speed blender. Split the vanilla pod in half with a knife and scrape the seeds out to add in along with the cacao butter, honey, salt, and almond milk.
9. Keep blending until the mix is very smooth. This may take several minutes; it helps to continually scrape down the sides of the blender. Add more milk if needed (add a little at a time to prevent the icing from becoming too liquid)
10. When the icing is smooth, add 1 teaspoon of arrowroot powder until just combined. Add the spirulina until you reach your desired hue then decorate each cookie by smoothing icing onto each one, sprinkling with bee pollen, or anything else you might like.