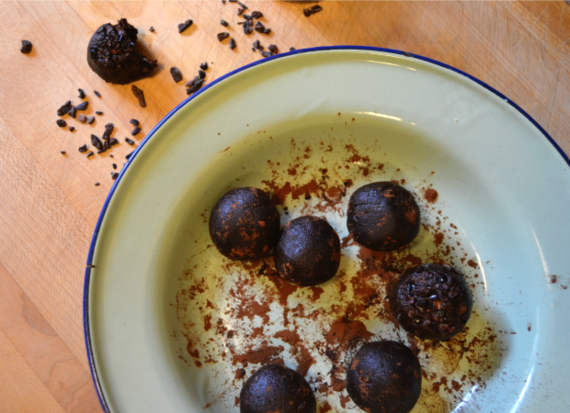 As far as quick fixes, these brownies are one of my go-to recipes. I won't promise them to be the gooey, fudgy, warm ones that come straight out of the oven, but they're a really delicious raw alternative. Before you think that because they're raw this means "tasteless" try them out! The fact that they only take five minutes to make and that they stop a chocolate craving in its tracks should be reason enough. Plus I think that dessert is a great way to encourage anyone over to the healthier side of eating!
You could play with these a bit and add in some extras if you wish. I've made basic batches of these but mixing in cacao nibs or some nuts and seeds are great additions as well. I made mine with 100% organic cocoa powder as I had run out of raw cacao but you could easily use either. I would start with one tablespoon if using raw cacao and add more to your liking. I would also say that as you're using a minimal amount of ingredients to try and find the best quality of each that you can. This is not only better for you but also allows you to fully appreciate the flavours of everything involved.
I like to pop these in the freezer for about an hour and then take them out for a few minutes before serving. This recipe doesn't make too many but they're rich and moreish and you could always double the recipe if you're craving more!
Optional add-ins: cacao nibs, extra cocoa powder for rolling in
1. Add all your ingredients to a bowl and mix well until everything comes together.
2. Take ½- 1 tbsp. amounts of the mixture and roll into balls coating if you like in cacao nibs or cocoa powder.
3. Arrange on a tray and place in the fridge until ready to serve.