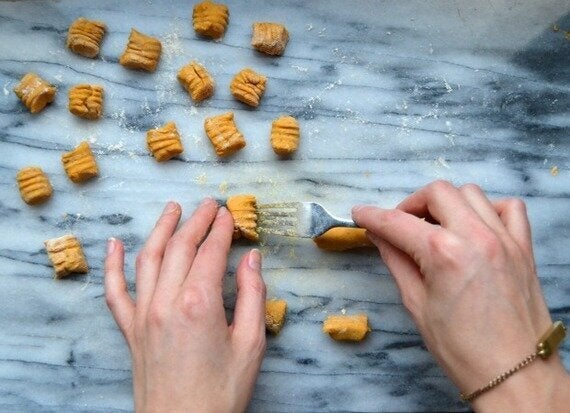 These pumpkin gnocchi are so moreish and simple to make. They start off a little tedious but once you get the hang of them, they really are quick to have ready. I've been making this at least once a week since I started having it.
I know pumpkin is often paired with sage and if you like that, feel free to substitute that for the herb side of things. I'm not a huge fan and really love rosemary so I add that instead. Thyme also works very well. Finish them off by pan-frying these in coconut oil and/or butter after they've been cooked.
If you're feeling like something sumptuous and carb-y, these should do the trick! This is the perfect recipe for cold winter evenings.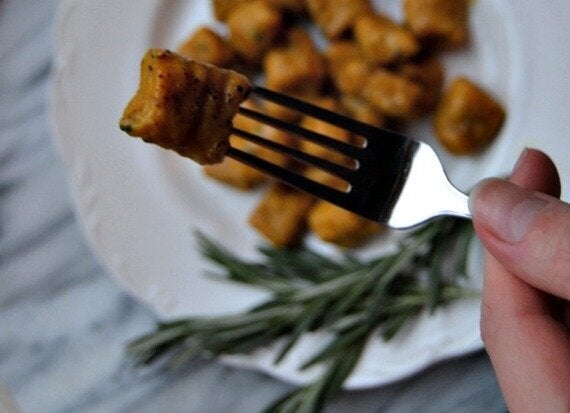 1-cup pumpkin (either canned, preferably organic, or fresh)
1-2 tbsp. coconut oil and/or butter
Freshly ground black pepper
Pinch of freshly grated nutmeg
Fresh herbs: rosemary, thyme, sage, etc.
1. In a large bowl, mix together the egg, pumpkin, flours, turmeric, nutmeg, and salt and pepper.
2. Sprinkle flour across a clean surface and taking small amounts of the dough, roll out in a long strip about 1-1 ½ cm. thick (You may need to add more flour here, just be careful not to add too much, you still want the dough light and fluffy) Cutting across the length of the strip, cut pieces about an inch big.
3. Using the back of a fork, with the prongs facing down, roll the cut sides of each piece of gnocchi together. Roll back again if necessary to form the pasta shape. Repeat until all the gnocchi is made.
4. Put a large pot of salted water on to boil. When it's ready, add the gnocchi to the water and give it a stir. When the gnocchi comes to the surface of the pot, it's ready. Drain and rinse and set aside.
5. In a frying pan, add the coconut oil/butter. As it melts, smash the garlic clove and add to the pan. Take your herbs and toss them in either whole or chopped finely, as much or as little as you like.
6. Toss the gnocchi in the frying pan in the herbs and oil. Season to taste. Plate up a serving and top with the chilli flakes and extra pepper.