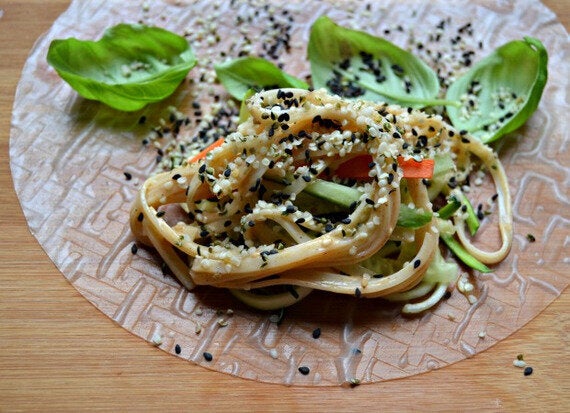 The changing of the seasons always pinpoints a change in our eating habits. There's an increase in fresh and light foods from the heavy and hearty ones that kept us warm through the cold months.
With spring making itself known, these rice wraps are a great transition into the lighter side of things. They travel well and make for a great packed lunch and they create a fun meal to share with friends and family.
There's no exact measurement for the amount of ingredients here; mix and match whatever veggies you like, add some sprouts, rice noodles, shrimp, different herbs, etc. The beauty of these is using what you have on hand or changing it up with what's in season for different colours, flavours, and textures.
I made these with fresh basil, cucumber, carrot, courgette, chopped lettuce, and rice noodles, sprinkling in some sesame seeds and hemp hearts. Get creative by changing up the veggies, spiralising some and chopping others.
Instead of using peanut butter, I've made an almond butter satay sauce with a spicy hit that really takes these up a notch!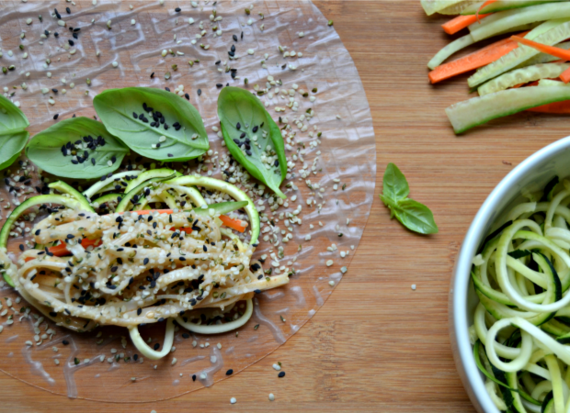 Variety of veggies, chopped into "matchsticks" such as: red pepper, cucumber, carrot, courgette, greens, etc.
Thin rice noodles (vermicelli)
Fresh herbs: basil, parsley, coriander, etc.
1 tbsp. maple syrup or honey
1 clove of garlic, minced
Splash of water: to thin as needed
Optional: chopped red chilli, chopped green onion
1. If using vermicelli, boil some water to pour over desired amount and set aside for allotted time until softened.
2. Chop your veggies into matchsticks, and if using, spiralise your courgette.
3. In a small bowl, whisk together almond butter, maple syrup, tamari, lime, and garlic. Add water if needed to slightly thin the sauce.
4. Assemble your wraps: Pour a couple of tablespoons of water onto a large plate. Taking a rice wrap, dip it into the water until every part has been coated with the water. Do this for about 25 seconds then lay onto a chopping board.
5. Sprinkle sesame seeds and/or hemp seeds across the wrap. Layer a couple of leaves of basil in the centre then add the veggies you like, noodles, or anything you're using to fill.
6. Start from the bottom of the wrap, roll away from you and fold over the filling. Tuck each of the sides in and continue to roll until you have a wrap.
7. Repeat with the rest of your ingredients and serve with the almond satay sauce.