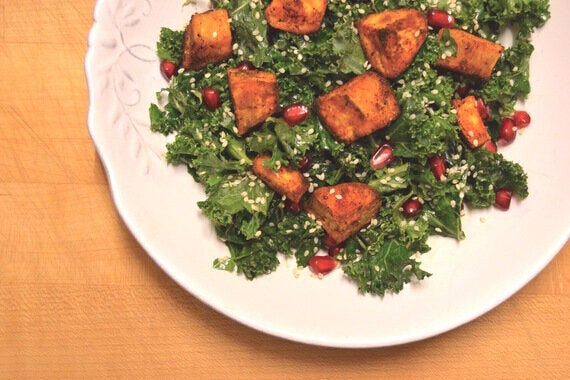 I hardly used to eat any vegetables so the fact that this salad is made up of kale of all things means it had to be pretty tasty! This is now one of my all time favourite kale recipes that I go back to again and again.
Here's one time where I invite you to play with your food: massage on! When kale is massaged, cellulose (the indigestible plant fibres) breaks down and it turns into something really delicious that's also much easier on your digestion.
Add to it a delicious dressing with roasted sweet potato and you really won't be missing anything at all with this. This is hearty and satisfying on its own but you can also easily have this as a side and add whatever you like along with it.
Now that it's summer, it's great to play with what's in season and add fresh berries instead of the pomegranate seeds. I also love to change it up by adding different seeds such as pumpkin seeds or sunflower seeds, or even some organic goats cheese or halloumi.
There are endless options for this nutritious and colourful meal that provides you with plenty of dietary fibre, phytonutrients, and a variety of vitamins and minerals.
200-250g kale, preferably organic
1-2 sweet potatoes, cubed
Handful of pomegranate seeds
Sprinkle of turmeric and paprika for the sweet potatoes
¼ tsp. grainy or Dijon mustard
½ tsp. apple cider vinegar
Dash of tamari (gluten free soy sauce)
Dash of maple syrup or raw honey
Juice and zest of an orange
1. Preheat oven to 375 °F. Place a dish with a knob of coconut oil into the oven to melt. Remove the dish; add your cubed sweet potato, season with salt and pepper and the turmeric and paprika. Add it back to the oven for 20-30 minutes until browned around the edges.
2. While the sweet potato is in the oven, add your kale to a big bowl and remove the leaves from the stems. Gently rub the kale between your fingers until it softens. You may not think it's doing anything straight away but after a couple of minutes the kale begins to wilt slightly and turn ever more green.
3. Make the dressing by adding the tahini, olive oil, mustard, orange juice and zest, apple cider vinegar, tamari, maple syrup, and seasoning and whisk together.
4. Toss the kale with your dressing mixing well so everything is coated. Remove the sweet potato from the oven, allowing it to slightly cool before topping the kale with it. Sprinkle on the sesame seeds and pomegranate seeds and enjoy!