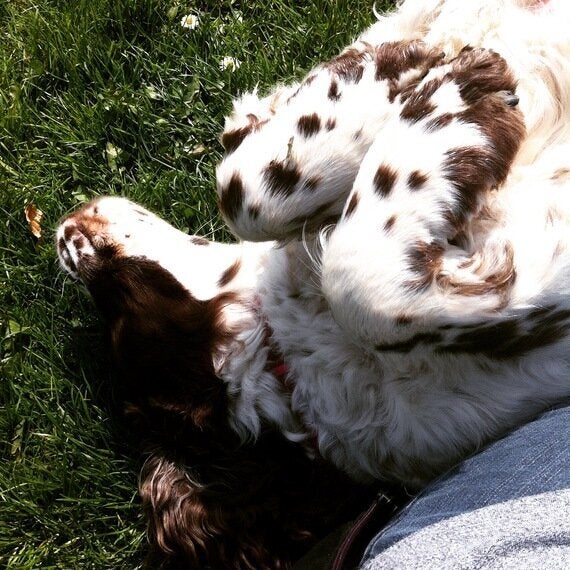 I live in England, and it is my theory that the English are (excuse the pun) dog-gone mad! Here are some things I have noticed when I have been out and about....
Too old, tired or unwell to walk? No problem! I have seen dogs in specially adapted pushchairs so they can be pushed around the park by their owners.
On a hike with my owner, as we sat down to rest, a dog owner beside us pulled a doggy picnic out of his bag (and water, and a bowl that folds up for your bag). I did wonder whether I should feel ashamed about drinking the river water?
In a pub, I saw a dog owner pull up a chair for their dog and set a plate in front of him, on the table. It was going so well until he nearly bit the waitress as she tried to fuss him.
Now this one is top-secret my doggy friends - In Pets at Home they keep dog treats behind the till - especially for those poor mutts that have to go with their owners to buy their dog food.
Speaking of dog food - Have you SEEN how many different types of dog food are available? It is truly baffling; puppy food, adult food, age appropriate food, added vitamins, large dogs, small breeds, senior dogs, overweight, underweight, dogs with allergies....wow!! There are quite literally aisles stacked full of different varieties, brands, packets and sizes.
The doggy parlour behind the glass window is nicer than some human beauty salons (so my owner tells me); you can almost smell the shampoo and hear the hairdryers softly blowing.
Training treats can be bought in chocolate flavour (not real chocolate as that is very bad for dogs), cheese, liver flavour, rusk type biscuits, there is even a doggy pic 'n mix (Woolworths style, as my owner says).
Owners can buy sparkly collars, matching leads, doggy toothbrushes and toothpaste, clothes to dress you up or keep you dry, doggy micro towels that fold up really small for a bag or pocket (how much of a problem IS a wet dog), and scented poo bags. A dog round by me quite happily carries his own poo bags, attached in a capsule on his lead. He's not a bit embarrassed.
Some dogs in England have their own Christmas dinner, and some even celebrate their birthday (oh yes, paper party hat, photo, special doggy birthday cake, presents, cards and cuddles).
There are breed specific Facebook pages, and some dogs have their own Facebook page (no, I'm not going to make a joke; ''how do they type status updates with paws?''; I am not that predictable).
The best one of all! - doggy bejazzles - some groomers will apply a sequinned designed above your tail for sparkle and glitz! Beautiful.
Anyway, I must dash - my owner has spilled some food and if I go now I can lick it off the bin before my walk. We are off over the field - there is a lovely pile of fox poo over there and I'm hoping for a grand old roll - the smell is divine. I hope you can come to England and find an owner as mad as mine, it's fantastic.