With Glastonbury, The Isle of Wight Festival and Download over for another year and Latitude, V Festival, Reading and Leeds around the corner it's safe to say that the UK festival season is in full swing.
Boutique festivals, one day city festivals, themed festivals as well as the big favourites there seems to be no end of opportunities to don a flower hair garland, pull on your hunter wellies and join your friends and family in some time away from the pressures of real life.
But what if you are deaf or disabled? Is spending a few nights under canvas alongside thousands of other festival-goers in a field in Somerset or the Isle of Wight or some other out of the way place a viable option?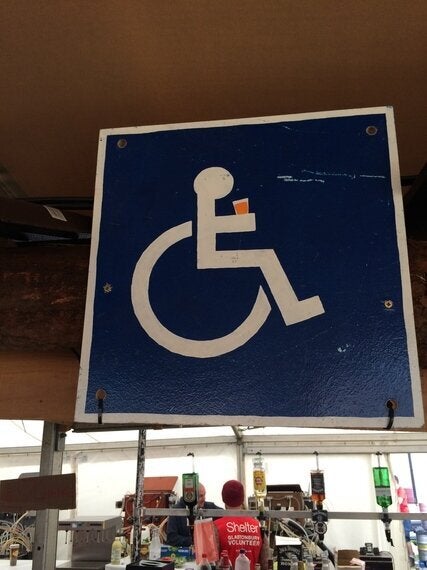 Yes it is. If anything festivals are starting to lead the way in demonstrating how deaf and disabled people can fully enjoy the whole experience alongside their family and friends. In my own experience many of the big festivals are going beyond the simple legal access requirements and doing more than paying lip service to accessibility. They are really listening to the deaf and disabled community and making adjustments that in many cases don't cost too much but can make the world of difference.
Attitude is Everything is a UK based charity with the mission of making live music events accessible for everyone. They have worked with many of the big festivals for many years and count Glastonbury, Latitude, Leeds & Reading as well as the Victoria Park Festivals in London in their portfolio. The Charity has a charter of best practice with the ethos that deaf and disabled people should be as independent as they want to be at live music events.
Over 90 venues and festivals have already signed up to the charter, and last year Glastonbury became the first camping festival to receive the Charity's Gold Standard for best practice in recognition of the festival's long-term and ongoing efforts to make the largest greenfield music and performing arts festival site in the world as accessible as possible.
The more deaf and disabled people are able to attend festivals, the more they expect, and this can only be a good thing because it seems festival organisers are almost competing to make their event the most accessible.
So if you are deaf or disabled and have always wanted to attend a festival, what can you expect?
A free ticket for a PA/Carer - Almost every festival, large or small offers a 2 for 1 ticket scheme so that you can bring a carer. You will normally have to provide evidence, which will be confirmation of DLA or PIP or a certificate of vision impairment.
Viewing platforms - again these are now ubiquitous and stewarding of them has improved over the years. Normally to use a viewing platform you will have a separate wristband or pass (again by showing evidence of disability). Most viewing platforms have an accessible loo nearby and some even have power to charge chairs & pumps while you are watching your favourite band.
Separate Accessible Campsite - Most of the big festivals, and definitely the ones where Attitude is Everything is involved, will have a separate accessible campsite. The best ones have fully accessible showers and loos plus a fridge to store medication. Spring Ground at Glastonbury even offers holistic treatments and a late night campfire.
Shuttle Buses - again, these are often available at the bigger, more rural festivals and mean that less time is spent negotiating muddy fields saving important energy for the mosh pit.
BSL Interpreters/Induction Loops - Induction loops are available in some areas of festivals, some even have them on viewing platforms where it is technically possible. Most festivals offer BSL interpreters although it does seem to be down to the act whether they can be on the stage with them or confined to interpreting on the viewing platform.
DeafZone at Glastonbury are a great crew, really pushing the boundaries again, they would love to see closed captioning on main stages (as many foreign language Opera productions offer) for example. They also offer mini - BSL lessons at the festival for those keen to learn to sign.
Lowered Bars - a genius but simple idea to allow wheelchair users to get a round in easily. At Proms in the Park there is even a mini-bar on the viewing platform.
If you are thinking of going to a festival and you are deaf or disabled here are my top tips: -
1. Check out the website for their disability policy. It will normally give details of what is on offer and a contact to email. Prior to our recent trip to Glasto I bombarded Claire, the Accessibility Co-Coordinator with loads of questions, she was very patient and provided me with lots of helpful information and advice which certainly made our experience a lot easier once we arrived.
2. Take advantage of the 2-for1 Carer scheme if available and consider bringing someone other than your partner. As the partner and mother of people with disabilities, festivals are my chance to recharge and have a break so bringing along a trusted friend to help with things like carrying the folding chairs, medication, running for drinks etc gives the regular carer a break too.
3. Bring a robust wheelchair, consider a racing wheel/third wheel attachment or alternatively hire a mobility scooter. The charity Fair Mobility hire mobility scooters at many festivals at very reasonable rates.
4. Be prepared to have fun, party hard and go home tired - the viewing platform is the place to be, as my husband recently demonstrated at Club de Fromage in Glastonbury.
So what are you waiting for? There are still lots of festivals coming up and Glasto tickets go on sale in October - we'll see you there, we'll be the crazy family on a viewing platform late at night somewhere, indulging in some significant dad dancing!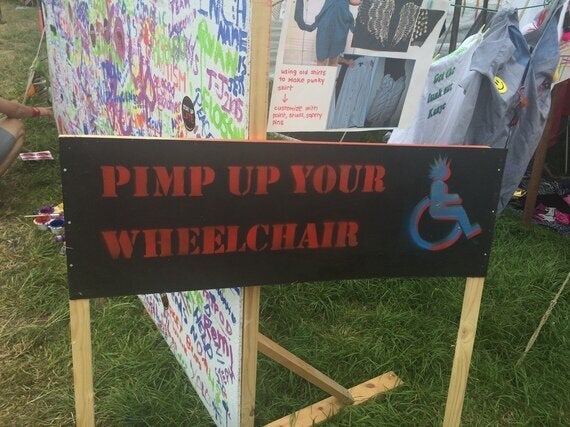 Related