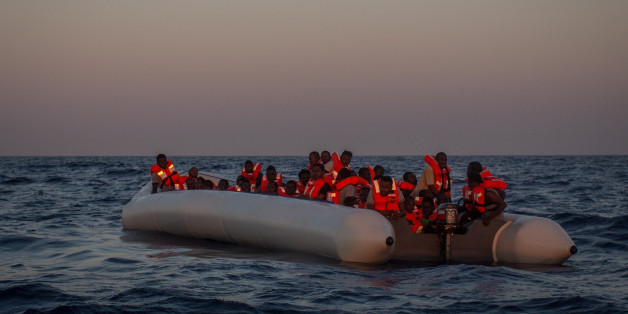 Chris McGrath via Getty Images
Abdullah fled Saudi Arabia where gay men face the death penalty to seek protection in Britain. But he was left living on the streets of Manchester in freezing December weather when the Home Office refused him the emergency support he was entitled to and so desperately needed.
"It was horrible to be on the streets. I would just try to find an empty corner somewhere. It was very cold. I would try to sleep next to a big AC unit that would give out some heat. I saw people trying to steal from other homeless people on the street. That made me feel unsafe. I was tired and afraid," he said.
He found a homeless charity where he could get a free breakfast and lunch. Friends would give him bus tickets so he could claim the discount vouchers for McDonald's or Burger King meals.
The Home Office refused his application for emergency accommodation three times because they did not believe he was homeless. Another organisation referred him to Refugee Action. We found him a bed in a night shelter and challenged the Home Office's decision to refuse him support. He was then finally able to move into emergency asylum accommodation after three weeks on the streets and then onto longer term support while his claim was processed. Abdullah now has refugee status, but is still searching for somewhere permanent to live.
Refugee Action has published new research that shows Abdullah's case is not unusual.
The report - based on analysis of more than 300 cases - shows some of the most vulnerable people seeking protection are being wrongly denied assistance or are suffering long delays to get the support they're entitled to.
A failure by the Home Office to follow its own guidance for supporting those seeking asylum in Britain is making vulnerable people homeless and leaving them unable to feed their families.
Every day our caseworkers see people who have fled conflicts and persecution enduring extreme poverty. Many haven't eaten a proper meal in weeks and are living on the streets of our towns and cities.
This is despite legislation setting out the Home Office's duty to prevent people seeking asylum falling into destitution and hardship while their claims are processed, an often-lengthy period when most people have no right to work.
Our analysis of 315 cases shows that individuals and families at risk of homelessness are waiting an average of nearly two months (58 days) for housing and the small amount of money (just £5.28 a day) they are entitled to for essential living costs, such as food, clothing and transport.
Some wait far longer. One man from Eritrea was left without support for almost 10 months - he was granted refugee status before he was granted asylum support.
More than half of people in crisis, who like Abdullah were in desperate need of a roof over their head and a proper meal, had their application for emergency support refused. But the vast majority (92%) were approved when people challenged the decision, causing huge stress and uncertainty.
Our research exposes the appalling treatment of families and individuals who have escaped war and persecution abroad, only to be badly let down here in Britain.
The Government must take urgent action to ensure that no-one is left hungry or homeless. People who have lost everything have the right to support and must be able to rebuild their lives with dignity.