The events of 9 October 1993 will mean very little to most people. Even for me, memories of what I witnessed that day had faded slightly in the memory, until now.
I was a 19 year old undergraduate student at university in Glasgow; a city miles from my home in Hampshire and with more opportunities to experience life than I'd ever imagined.
It was the first week after freshers when one of my new friends, a long-haired biker from Northern Ireland, grabbed me by the arm after a lecture with some exciting news. Nelson Mandela would be attending a rally in the city's George Square. "Mate, we've gotta go. The man's a f*****g legend," I remember him saying. Thankfully I had friends like him. My teenage apathy had bracketed the idea of attending a political rally as a little uncool. Surely I had better things to do. How wrong I was.
What I would see that afternoon would become a moment I'd recall in my mind for years to come and, through the wonders of the Internet, be able to relive over and over again. It would be the day I saw a free man dance with the joy of a fearless child.
The people of Glasgow have a long and proud history of supporting Nelson Mandela and on that drizzly day he was invited to the place which awarded him the Freedom of the City 12 years earlier when he was still an imprisoned man.
I remember standing in the Scottish cold slightly stunned at the support shown for Madiba - a man who'd spent the last period of his life in a hot African jail, miles away from the spot I saw him standing that day.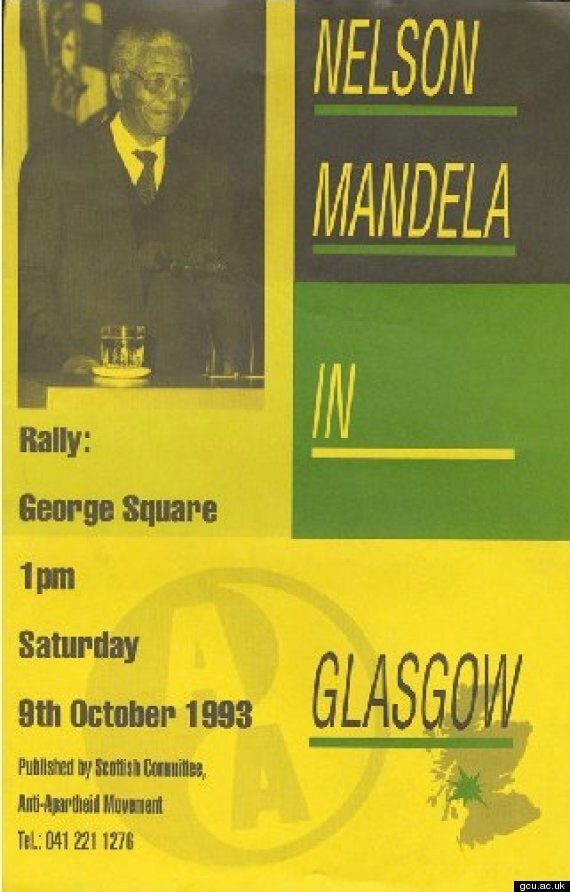 A poster from the rally which welcomed Mandela
If I'd been asked to recount the words Mandela spoke to the crowd that day I couldn't. (But if you want to know, it's all here.)
In a sense the words were not important. What I remember more than anything and what I will never, ever forget is watching an old guy in a grey suit and with slightly greying hair smiling, laughing and dancing like a mad thing.
It made me laugh. It made the crowd laugh, but we were not laughing at an old man dancing.
We were laughing with a free man who was able to show that whatever life throws at you, you can still win in the end.
Related