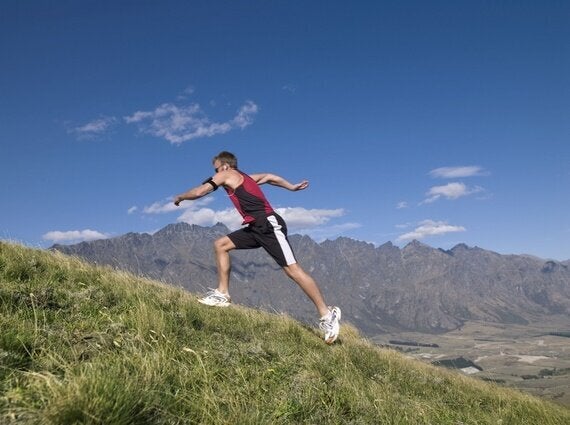 It seems that running is on the way back. After being pushed to the background by cycling, triathlon over the last few years, running is back. I have noticed that the obsessive advocates of bare foot running are on the evangelical rise and the prices of running shoes too.
It still makes me smile that people want to own and obsess over something that is practically free and something we can all do. Running is in all of us. My only advice to any wannabe Mo Farah is to progress slowly over time and remember it is quite literally a marathon, not a sprint. Commitment and discipline are everything in any process. With this in mind, why not commit to what appears to be a great way to get fit and see some of the UK's most amazing country side.
Castleton Youth Hostel in the Peak District, Derbyshire, is to host the first ever two-day Run YHA event on 24th and 25th May.
Covering three trail races over the course of two days, Run YHA Castleton aims to introduce runners of all abilities to Youth Hostels and trail running through some of the Peak District's most beautiful scenery.
Run YHA is being billed as 'the chance to escape ordinary' and promises to appeal to amateur and experienced runners alike.
There are three trail runs across the two days - 2 mile and 6-mile distances on the 24th, followed by a half marathon on the 25th May 2014.
There are 300 places in total and prices for entry in the two-day event start at £30, rising to £40 for entry and camping in the grounds of YHA Castleton or £70 for two night's accommodation and breakfast in the Youth Hostel.
Run YHA Castleton will act as a blueprint for future running events at Youth Hostels throughout England and Wales. YHA has around 160 Youth Hostels throughout England and Wales in a variety of city centre, rural and coastal locations.
Off-road running is growing in popularity throughout the UK and Run YHA is an opportunity for runners to forget about how fast or how far they're running and instead, take the time to fully appreciate the best the British countryside has to offer.
Caroline White, Chief Executive of YHA (England and Wales), explained: "YHA Castleton is surrounded by 27 acres of rural landscape and we have many more Youth Hostels in similar locations. Run YHA is an excellent way of utilising our properties and their locations and introducing more people to Youth Hostels. We're confident it will widen the appeal of Youth Hostels but also be the start of a popular event in runners' calendars."
Related