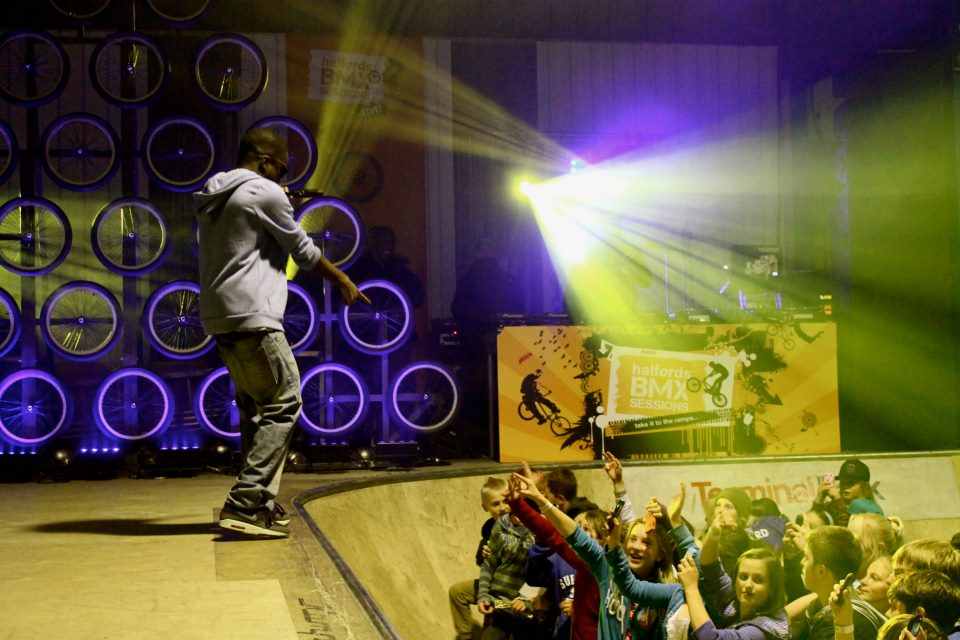 It was the moment my hot and sweaty skateboarding obsessed teenage son smiled and 'dropped in' on his new BMX bike that I realised that there is really nothing like being on a bike, not matter what shape or size.
I have become a self-confessed MAMIL over the last few years, dipping my toe into all things carbon and lycra. Dipped but not yet submerged, I can still see the joy in other forms of cycling apart from the snobbery of the road bike brigade.
After two hours ignoring my sat nav, driving through never ending yet amazing road biking countryside I ended up in the back end of now where near Melton Mobray. Terminal 1 is a skate park on a disused airstrip which was about to play host to an exclusive gig by MOBO award-winning artist Tinchy Stryder to celebrate a Halfords BMX Sessions event, a day of free skills workshops that fused music talent and BMX coaching for children aged 9-14.
I felt like a fish out of water in the plywood city which had morphed into a BMX bike frenzy. Tinchey rolled in like a superstar and had the X factor for sure both on and off the BMX bike.
A keen BMX fan himself, Tinchy also got some top tips from professional Radio BMX rider Leon Perkins who showed him some of the moves that the kids had been learning in the sessions earlier in the day.
Tinchey then wowed the crowd, which was considerable considering it was at such a remote venue, the joys of Twitter! Treating fans to some of his biggest hits, including his new single 'Help Me'.
The gig was put together by Halfords who launched the sessions in July to encourage kids to take to the ramps and learn basic BMX skills over the summer holidays. Aspiring BMX stars flocked to sign up for a place on the Halfords website with the lucky winners being selected at random.
Tinchy commented: "It's been such an amazing year for cycling and I've really enjoyed working with Halfords to introduce more young people to BMX. I've been really looking forward to performing at Terminal 1 and after a fun day on the ramps the kids were excited and really up for it - the atmosphere was wicked!"
As for my boy, he and his mate were just loving the whole experience. I sipped tea from behind the VIP window thinking, A. God I'd love to have a go on the BMX and B. Music ain't what it used to be.
The sessions are designed to build confidence in cycling and teach basic BMX skills. Led by John Lee, Head Coach at Terminal 1, participants were treated to lessons in checking the bike is safe for daily riding; carving and turning both ways; riding and pumping over driveways and obstacles; dropping in down roll ins and quarters and jumping the bike and exiting quarter pipes / bowls.
John said: "It has been another fantastic day of BMX fun with many new faces to our skate park who I am sure will return soon. Free sessions like this are a great way to get kids involved in the sport and the Halfords BMX Sessions have uncovered some bright young talent over the past few months."
All in all in a month where cycling has hit the headline for the wrong reasons it was a very uplifting experience for all concerned.
For more information on BMXingand to keep up to date with more Halfords BMX Sessions in the future, visit www.halfords.co.uk/bmx