Travelling from Glasgow to Austin began with bundling ourselves into a taxi with as much gear as we could carry, bleary eyed and ill-prepared. I say ill-prepared because we're recently back from a UK tour and I felt that the best way to prepare myself for our first North American incursion was to ignore that it was happening until the last moment. I packed my case 4 hours before Lewis (drummer/producer) rang my doorbell.
I should probably explain. I'm in a band. We're a synth-pop trio called Prides who formed in April 2013, and this year we've been invited to play South by South West. Accompanied by our manager Ally, and our front-of-house Nick, this will be our first time experiencing the iconic festival.
By the time we landed in Houston we had lost 6 hours, and were in varying forms of disarray. None of us had slept very much the night before, and Callum (guitar/keys/vocals) was coming down with a hearty dose of man flu. Here we encountered our first hiccup of the tour. We'd maxed out our credit card. Before we even arrived. See 'ill-prepared': adjective. Not ready or prepared for something. This meant that we were stuck in Houston Car Rental, with no way to pay for our 3 week minivan hire. Cue our first experience of Texan hospitality. Perhaps it's pessimistic to think that a car rental employee in the UK would have left us to sort it out on our own, in which case call us pessimistic. Instead, Laura spent her break coming up with a solution, and we were eventually, admittedly a few hours later than scheduled, on the open road! We'd even upgraded our minivan to what can only be described, as a monster.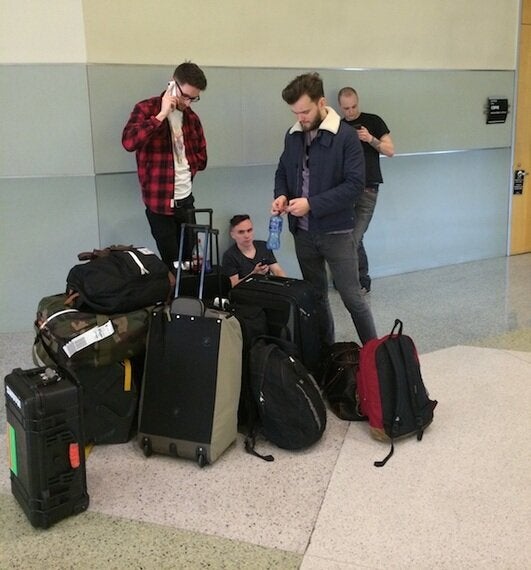 This is what a band looks like who don't have money for a rental car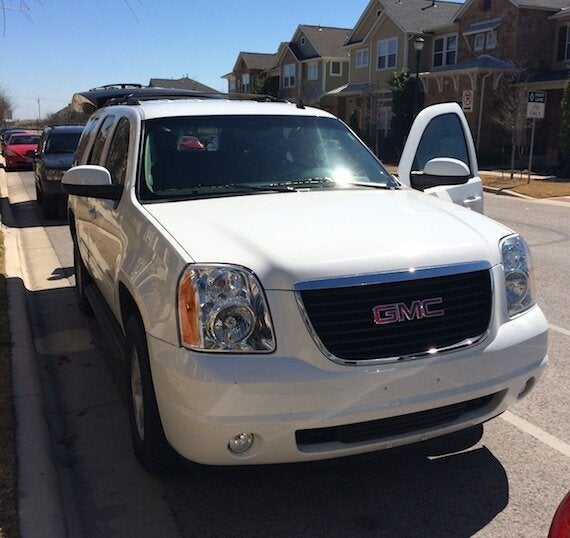 One late night, heavy-eyed, computer game-esque drive through the dark open plains of Texas and we were nearly there. We felt that it was only right that we should stop at 'Denny's' for our first taste of the big US of A. My skillet of beef steak, onions, peppers, and eggs would have been improved dramatically by 100% less melted cheese. It could also have fed a family of four.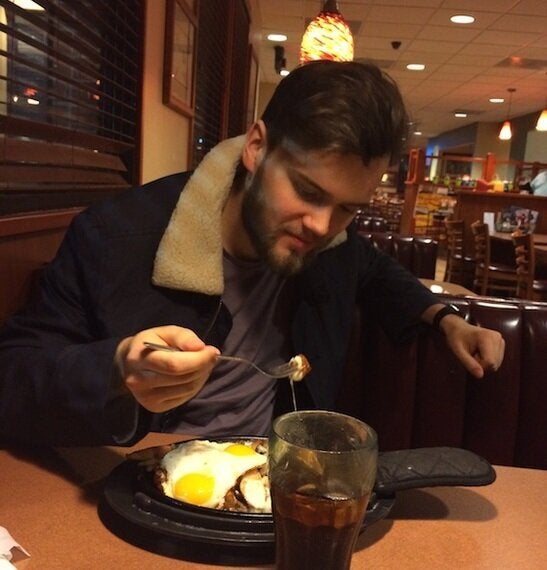 Callum with his skillet of cheese
We have been allocated a place to stay through the 'SXSW International Housing' scheme with Robin and her dog Beauregard, or Beau for short. She has housed bands for the last 5 years of SXSW and greets the near comatose Scotsmen turning up on her doorstep in the middle of the night with incredible warmth and a disarmingly charming over-use of 'y'all'. Texan hospitality at it's best. There seems to be an incredible love of Scottish culture and heritage in America. John from Philadelphia, who I sat next to on the plane, proudly informed me that his mother's side had Scottish connections in the 17th Century. Robin, it seems, is no different. She has been to the Scottish showcase at SXSW every year, and this year specifically requested a Scottish band (possibly spurred on by last year's Mexican band arriving with their own sound system). She hit the jackpot, because this year she's getting two, with Honeyblood (also from Glasgow) joining the fun in a few days time. It's an incredible idea meaning bands on a budget get somewhere to stay in return for the host getting their own Artist band to the entire festival.
After a well needed sleep, our first real day in Texas starts with more man-flu grumbles, but nothing a strong coffee, croissant and a Mexican cola can't fix. Cue the 'British man abroad' debate of whether or not it's 'shorts weather' (it is) and we start our day of hitting music shops to collect the gear we couldn't carry. We have a slight 'fan-boy' moment when we bump into Andy, the drummer from British band Hundred Reasons, at the festival tour-managing a German dance band, and then head to collect our passes.
There is something slightly disconcerting, no, downright uncomfortable, about standing in a queue of 'Band members' to collect a 'Band wristband'. The abundance of tattoos, sunglasses, and denim made for quite a sight. Realising that you are in amongst this giant queue of 'up and coming' bands, indiscernible from any other (minus the tattoos) makes you feel pretty self-conscious. The attendants at the desk are polite, but obviously trying to get you to move along as quickly as possible, to keep the factory line moving as it were.
Our first show was the SXSW British Music showcase presented by Huw Stephens. Huw has been a great supporter of us on Radio One, so it was good to meet him for a chat, and the show was great. We played to a full house (the holy grail of every new band) and everything ran smoothly. A few splinters maybe, but pretty smooth. Buying half your gear whilst in Austin meant for a half hour scramble before we went on trying to make sure everything worked. Hooking up keyboards to laptops in the street outside the venue was not the prettiest sight, but we got there. It was a great line up for us to be a part of, alongside Wolf Alice, Bipolar Sunshine, Jungle, and Slaves. Unfortunately it wasn't long after that that jet lag claimed us and we called it a relatively early night. Complete with more 'I'm in a band' awkwardness when crossing 6th Street with gear in tow.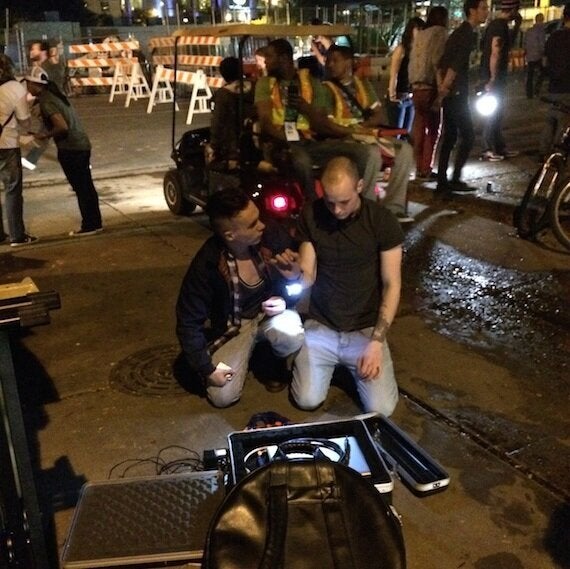 Lewis and Nick setting up in the street
So we slept. SXSW is officially underway, and we are officially involved. Well, here goes.
All photos supplied by Stewart Brock.