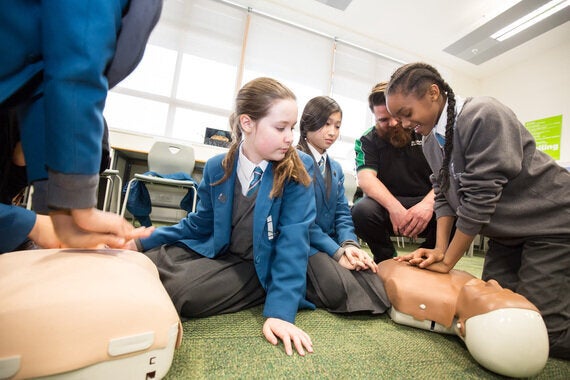 A month ago, a brave 10-year-old girl from Cornwall saved her dad's life. When Bethany Simpson heard her mum's cry for help after Robert suddenly stopped breathing, she couldn't stand back and do nothing. It was a stroke of luck that Bethany had learned first aid at school only weeks before. When she saw Robert lying lifeless in the bedroom, she confidently took control of the situation and said 'Mum, I know what to do', giving him chest compressions until the emergency services arrived.
Understandably, Bethany's mum, Jane, didn't want her young daughter to see how fraught and desperate the situation was with Robert. Jane didn't know any first aid and despite getting instructions over the phone from emergency control to perform CPR, she was in shock and was unable to help. If Robert hadn't have had help within three minutes, his brain would have started to die. An average ambulance response time is eight minutes - so you can see how critical the situation was.
Thankfully, because of Bethany, Robert is currently at home in recovery and there's no doubt she has given him a second chance to live. When you hear of a story like this, you start to wonder why more young people aren't given the chance to learn such a vital skill. In fact, only 21% of schools teach their students first aid.
When we spoke to teachers, 96% of them said they think it's a subject that should be taught in classrooms. But, a majority of them also expressed that despite the desire to put first aid on timetables, there isn't enough time (35%), money (21%), or staff training (33%) to give young people the opportunity to learn it.
St John Ambulance appreciates teachers are stretched to the limits with national curriculum pressures, but we cannot stress enough how important it is for children to learn basic first aid so they can help a classmate or family member in an emergency. We want to help teachers who are struggling with time and resource, and that's why we created the Big First Aid Lesson.
On Friday 12 June, St John Ambulance will be broadcasting our free, one hour, online first aid session, The Big First Aid Lesson. The event - hosted by Claudia Winkleman - will be streamed live into classrooms across the country to help over 100,000 children learn some life saving skills. The event will combine first aid training and 999 scenarios with real life stories, with plenty of opportunities for pupils to join the conversation via Google Hangouts.
What makes the lesson really accessible is that the only equipment schools will need is an internet connection and a screen (such as an interactive whiteboard) for their pupils to watch in the classroom or during assembly.
So far, nearly 1,000 schools have signed up to the lesson and there's still time. We're calling on teachers and schools to build the event into their summer term plans so their students don't miss out.
Like parents and teachers, we want to give children the best start in life by giving every young person the chance to learn first aid. There is nothing worse than feeling helpless in an emergency and although we hope they'll never need to use these skills, Bethany's story proves that first aid knowledge can be a real lifeline.