We recently launched a campaign for British Sign Language to be taught in every school in the UK - and as we celebrate the International Week of the Deaf, I've been thinking about the accessibility and inclusion of sign languages across the globe.
Although the situation varies hugely from place to place, we firmly believe everyone should have the opportunity to learn sign language, no matter where they live. For some deaf children and young people, it's the only thing keeping them connected to their community, preventing them from growing up excluded and isolated. And for those who can't access spoken language, perhaps due to late diagnosis or lack of available tech, sign language is a particularly crucial lifeline.
Most of the world's 32 million deaf children live in developing countries, so you might assume that support is better in a more economically developed nation like the UK. But when it comes to how sign language is recognised and used, it's just not that simple.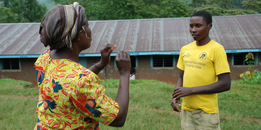 Deaf Child Worldwide, the global arm of the National Deaf Children's Society, has been working on an exciting project in Kenya to teach sign language to deaf and hearing schoolchildren in the hope that it will become part of the country's new curriculum. We've seen similar success in Tanzania, where we trained teachers to use sign language with all their students; the national exam pass rate for deaf children rose by 30% as a result.
Uganda was one of the first places in the world to recognise sign language in its constitution, in 1995 - well ahead of the UK, which only did this in 2003. However, formalities like this don't necessarily lead to inclusion. Access to education in rural parts of Uganda remains poor so, despite its well-established status, many never get the chance to learn to sign.
Lack of opportunities is a major barrier to inclusion here too. Sign language isn't on the national curriculum and you can't study it as a GCSE (or National 4/5 in Scotland) so very few schools teach it. Private lessons cost hundreds of pounds and, even if you can afford them, availability is limited.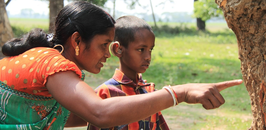 This week, we want to send the message loud and clear that sign language deserves worldwide recognition, facilitation and promotion. Otherwise, we will never be able to achieve the rights outlined in the UN Convention on the Rights of Persons with Disabilities or the 2030 Agenda.
Deaf Child Worldwide teams and partners across East Africa, South Asia and Latin America have shared stories to demonstrate how sign language has a huge impact on inclusion, as part of our International Week celebrations. You can read a sneak peek below, and you'll find lots more on our website or by following @DeafChildWW on Twitter.
With sign language, I can...
- Start school (Fima - Chittagong, Bangladesh)
Fima was born deaf and only started to communicate at age three after coming to one of Deaf Child Worldwide's early years centres. Now six years old, she can use Bangla, English and sign language and is starting at a nearby primary school this year.
- Make friends (Shirley - Rioja, Peru)
When Shirley first started school, she couldn't hear what teachers were saying and just copied other children's work but couldn't understand it. Every day she got frustrated and upset. Since moving to a school where they use sign language, Shirley can keep up with lessons and interact with her peers, and is so happy and confident.
- Get an education (Aisha - Jinja, Uganda)
16-year-old Aisha taught her teachers how to sign so they can communicate fully and support her to pass her primary exams. She recently started secondary school and wants to be a sign language teacher when she grows up.
- Earn my own money (Frank - Alto Mayo, Peru)
When Frank joined one of Deaf Child Worldwide's youth groups he discovered both sign language and a talent for decorating cakes. He now works in a bakery, using his own designs and earning money to support himself and his family.
- Access healthcare (Christine - Masaka, Uganda)
Christine is a peer educator in a Deaf Child Worldwide youth empowerment project, working to teach deaf young people about sexual health. She met a young woman who was raped and contracted HIV, and got very ill because she couldn't understand health workers' advice and couldn't afford an interpreter. Christine helped her get medication and support, and visits regularly to check she is taking her ARV drugs properly.
- Teach others (Erasmos - Kilimanjaro, Tanzania)
Erasmos is Headmaster of Moshi Technical Secondary School, where teachers have been using sign language with all students, deaf and hearing. He says this instilled confidence in deaf students, and they reported a 70% improvement in inclusion.