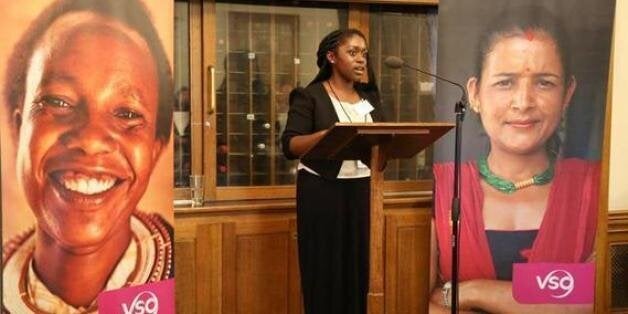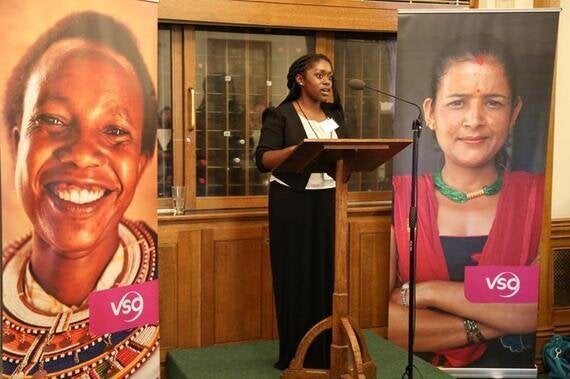 Takyiwa Danso was one of two UK youth delegates to the UN General Assembly in New York. She explains what it was like behind the scenes at the biggest political show on earth.
'In time we will no longer be the silent majority there, but the loudest voice of peace' - Victor Ochen, youth activist and Nobel Peace Prize nominee.
My name is Takyiwa, and from the 18th-25th September I travelled to New York to attend the 71st United Nations General Assembly (UNGA) as one of two UK youth delegates.
The General Assembly is the official forum of the United Nations, where all 193 member states come together to discuss and debate pressing issues in the international community.
The week of events I attended is known as the high level week, where heads of states and governments give speeches to the assembly while a packed agenda of fringe events runs parallel.
We set ourselves three objectives for the time we would spend in New York.
Firstly, as youth delegates, we wanted to represent young people from the UK to ensure that youth voices were heard.
Secondly, we wanted to be advocates calling on governments to work better and more meaningfully with young people in these high-level spaces.
And finally, we wanted to share our experiences and views on the UN's sustainable development agenda to understand how we and other young people around the world can get involved.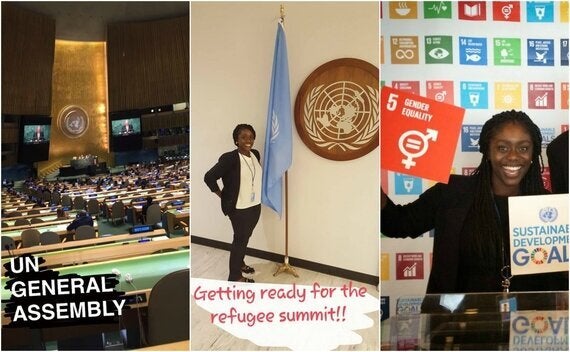 The week was a great chance to understand how an organisation like the UN works
For me personally, I wanted to act as a role model for people in my own community to demonstrate that your passions can drive your ability to change the world, regardless of your background.
In preparation for being a youth delegate, I held focus groups with young people in my local area in North London to listen and directly gauge their thoughts on the UN's 17 Global Goals adopted last September as well as more broadly on its role today.
As I expected, there was a significant knowledge gap in young people's perceptions of what the UN actually does and what the role of the UK is within this space.
The voices, opinions and ideas I gathered during these focus groups helped guide my own interactions at the General Assembly.
They drove me to highlight the need for not only greater transparency of UN processes but also a wider understanding of the Global Goals and their critical importance in taking on the global challenge of eradicating poverty and inequality.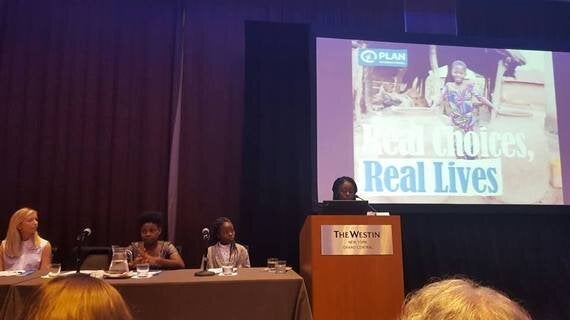 Here I am speaking at Plan UK's event on understanding girls' experiences
Over the week, there were many memorable moments, from speaking at Plan UK's 'Real Choices, Real Lives' event on understanding girls' experiences to taking part in a Countering Violent Extremism workshop.
But if I had to pick a favourite moment, it would have to be the High-Level Panel on Women's Economic Empowerment, as it was just an incredible atmosphere and environment!
The women were such strong and inspiring speakers, both on the panel and in the room, and when UN Secretary-General Ban-Ki Moon came in to give his keynote (I couldn't quite believe my eyes!) I got a real sense of what he has been able to push through with UN Women and how much they've achieved as a movement within the UN's political mechanisms.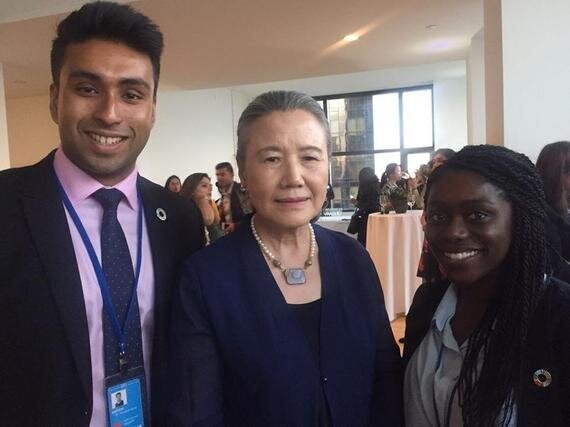 A personal highlight for me was meeting Ban Ki-moon's wife, Yoo Soon-taek
As well as being a real privilege and an honour, I found this week to be an eye-opening experience. I witnessed governments, businesses and civil society debate topical issues, with differing and opaque outcomes.
I realised that although the UN is a truly global space, bringing together governmental representatives from 193 countries worldwide, at times it exists within its own bubble, detached from the wider world, and certainly wider New York.
Political gaps and differences became clear and seemingly unbridgeable during discussions on highly sensitive issues which are affecting the world today.
A year on from the launch of the SDGs, I wondered whether the position and perception of young people on a 'political level' had even changed at all.
Although there were different forums for youth to be heard through, it wasn't accessible to everyone. The youth agenda should no longer be a side event, but within the heart of the discussions.
Initially it's hard not to be slightly terrified at the prospect of sharing spaces with some of the most powerful people in the world while representing the youth of the UK.
Being present in rooms while heads of governments and CEOs of big multinational corporations discuss crucial, politically sensitive issues, I noticed that we were often the only young people there.
There was a huge disparity. Young people really can and already are providing the answers to drive development forward.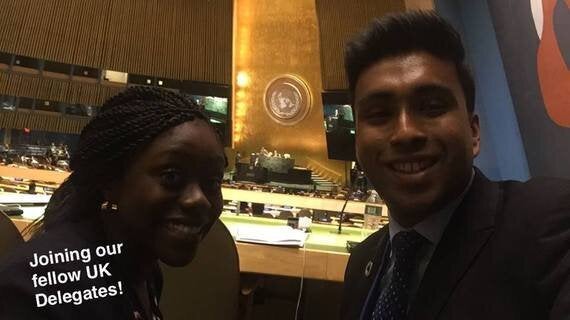 Accompanying me to UNGA was my fellow youth delegate Minhaz Abedin
From spending three months in Kenya volunteering with the UK government-funded International Citizen Service programme, I saw first-hand the enthusiasm, creativity and willpower to create a better future from both my fellow UK volunteers and the inspiring young Kenyans we worked alongside.
We have the right mix of passion, determination and optimism to push for the change we believe in - yet this is not being fully recognised or accepted by a large (but slowly decreasing) proportion of those making the decisions at spaces like the UN.
But engaging with other youth advocates from across the world as they shared their experiences, criticisms and successes of their own youth-led activities quickly crushed any doubts I had that the youth shouldn't hold a rightful place at the high-level table.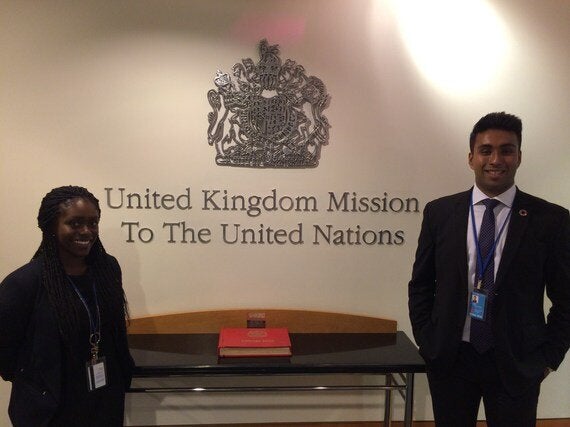 Plenty of photo opportunities!
Young people have always been leading campaigns without the permission of world leaders. The only way to make this change sustainable is to establish strong partnerships with decision-makers across all levels and develop a mutual respect for youth voices.
I believe we as society have reached a tipping point. The Global Goals are not only a target to reach, but a countdown of years for our generation to reverse the mistakes of the past.
It is our responsibility as members of civil society to enact change.
And I'd love to be a part of this change in championing strong female leaders who are actively improving the participation of women and girls in society.
Now that I've returned, I also hope to keep the momentum going and work to narrow the gap in young people's perception and understanding of what the UN does and how they can influence this.
The time for rhetoric is over. The time for action is now.