What's better than putting the skills you've learnt in the classroom in practice for a real-life event?
That is exactly what I got to do yesterday morning when the FA visited Middlesex University London. As designated news reporter on the day, my responsibilities revolved around the creation of a news package. The experience was definitely a challenge; however it was extremely worthwhile to be able to take my learning outside of the classroom and into a live project.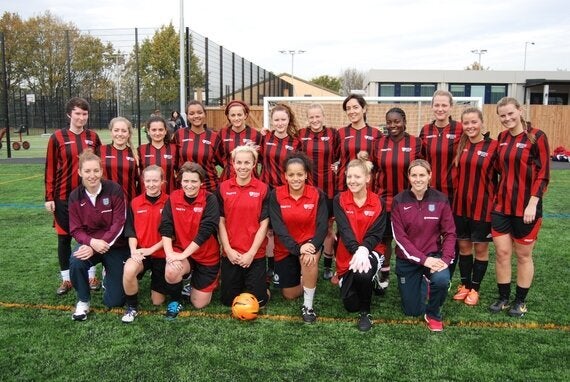 Middlesex University women's football team with England internationals Kelly Smith & Siobhan Chamberlain.
The FA and Middlesex University came together to promote the upcoming women's international match against well-respected rivals, Germany. The clash will be the first time that the women will play at the new Wembley stadium and with a record 55,000 tickets having been sold, it is an event highly anticipated by many.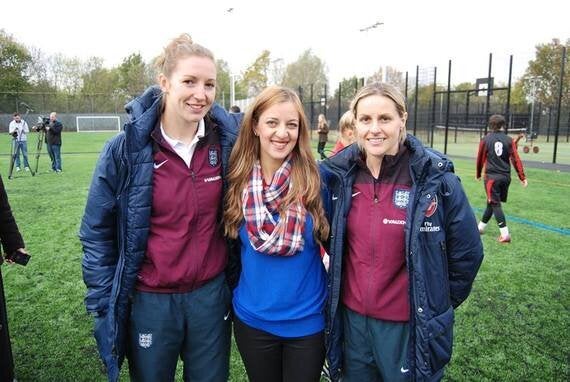 Siobhan Chamberlain & Kelly Smith.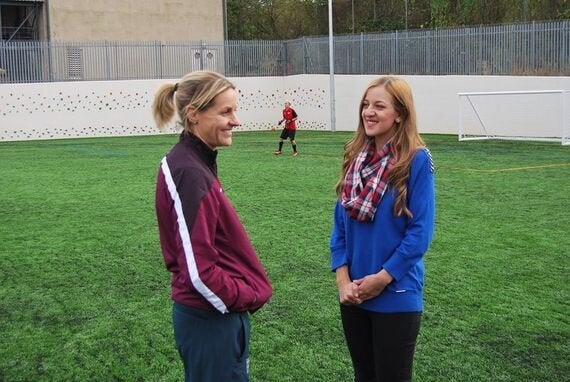 Making your interviewee feel comfortable before an interview provides a better flow of conversation.
I had the privilege of interviewing England women's international highest goal scorer Kelly Smith and goalkeeper Siohban Chamberlain. The prospect of doing so was nerve-wrecking however, I was lucky enough to be part of a reassuring TV production crew. Taking part in an event with famous personas however, require the addition of PR teams wandering around. Whilst I think people that PR bring a sense of control to journalism, I also believe that it stands as a barrier at times. For example, my interviews only took place when a member of PR gave the green light to do so; not when my interviewee was ready to answer questions. It was really interesting to witness a PR operation take place in front of me and as a journalist, you can't help but feel a bit too controlled.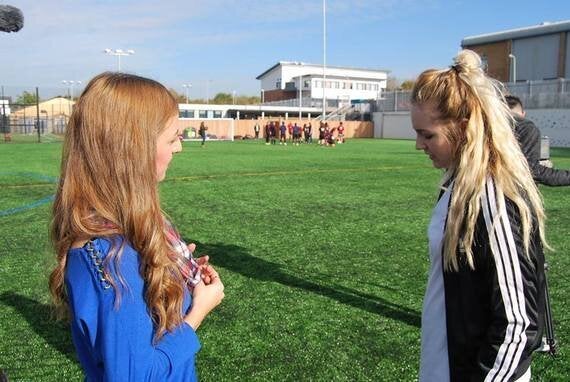 Regular discussions with TV production crew member Frankie Checkley.
Being a news reporter wasn't easy, particularly when braving cold weather for three hours. I learnt that communication is vital, particularly as a journalist because you are often required to liaison with PR and most definitely a TV crew. In order for a live project to run smoothly, it is essential that you learn to form a good rapport with your colleagues. It makes the experience much more enjoyable too.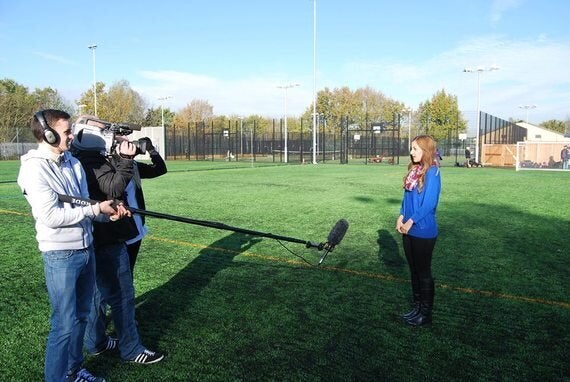 In my element as a news reporter.
Events like these not only allow well-known organisations to promote their relevant field, but it enables us students to take a hands-on approach in tasks. With the FA engaging with the local community, it provides an opportunity for students to fully understand all that entails in future roles with employers. With job markets and employability figures regularly changing, it is essential as a student to gain as much experience and exposure as possible. You can only stand out if you allow yourself to be seen.
To catch up on what happened on the day, click on the link below:
Photo credits: Csilla Kulcsar