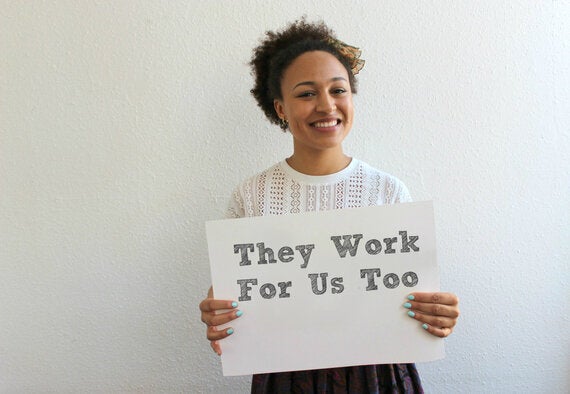 I'm tired of waking up to claims that young people can't be bothered to vote and therefore the lack of policies in our interest is our fault. Our collective weariness with an environment that does not seek to include us is often wrongly conflated with the idea that we are politically apathetic. Everyday party rhetoric, in language and content, prioritises the interests of older, middle-class white men and routinely ignores young people. But shouldn't party politics be adapting to us; the people who will be shaping this country's future, instead of those who will come to depend on us or already do?
With all this on our shoulders, I don't blame young women disillusioned by UK politics. But despite this, young women emphatically do care about this country and how it is run. I know because, between memes, we tweet, post and share our opinions regularly. I know because we speak, create and campaign, even when it seems like no one is listening. Too often are we spoken about, instead of spoken to. So, in contrast to the countless media campaigns invested in telling young people and women to vote, I wanted to create a campaign that switched up the power imbalance and allowed young women to tell us what they want in the run-up to and the aftermath of the election, through a new campaign called They Work For Us Too - and I'm really pleased with its progress.
The idea behind the campaign is to reiterate that, regardless of the outcome of the General Election, politicians have a duty to listen to Britain's young women. We're asking one question:
'As a young woman in the UK, what change would you like to see post-election?'
To respond, we're inviting self-identified women and girls to take a selfie; the badge of the proud millennial, holding their answer written on whatever they have to hand, and to submit it to post on our Tumblr so we can share our hopes together. The submissions we have received so far have included a wide range of topics including mental health, benefits, gender and racial equality, the NHS, university, police brutality, heteronormativity, curriculum content, the environment and business. Some of these issues aren't on MPs' radars, let alone in their policies - so is it any wonder that young women are reticent to vote?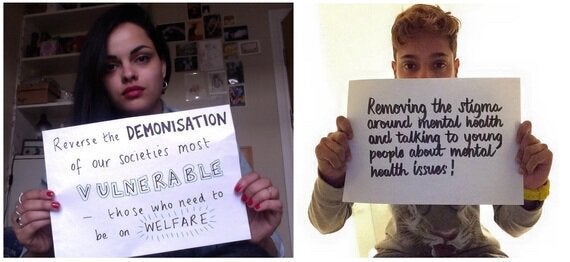 Gender isn't the only aspect contributing to political imbalance, it's also imperative to consider how factors of race, sexuality, ability, religious belief and class intersect with the female identity to prevent our voices from being heard. That's why it's important to me to try to hear from women from a wide variety of experiences and backgrounds. We've received some great responses and I'd like to widen the conversation, so if you've got something to say, please do!
When you look at the submissions collectively, it becomes a struggle to frame us as 'politically apathetic'. We aren't just a cross in a box - we've got strong beliefs and passion. I honestly think that when it comes to the relationship between young women and our politicians, it really is a case of 'it's not me, it's you' - it's clear we've got the enthusiasm and ideas, so the question is, politicians, what are you going to do about it?