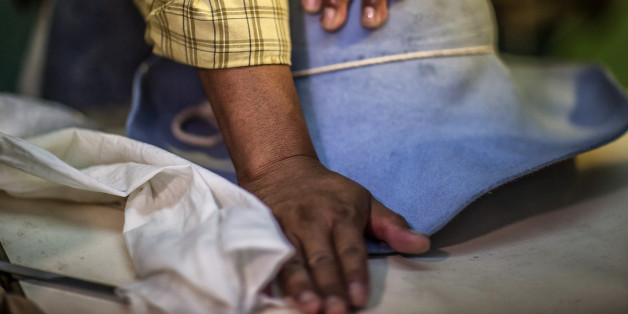 ��fitopardo.com via Getty Images
It's easy to forget (particularly for the millenials amongst us) that the way most fashion is made, bought and sold today is a relatively new phenomenon.
When Zara came to New York at the beginning of 1990's, the New York Times used the term "fast fashion" to describe the store's mission. Since then "fast fashion" has become synonymous with the concept of producing and selling a lot of low cost, rapidly assembled product as quickly as possible. It is a model which relies upon two things: mass manufacturing processes, and a global discrepancy in living standards, which makes it possible to produce highly labour intensive products where labour costs are low.
A recent trip to a garment factory in Myanmar allowed me to revisit what this model really means for people on the factory floor. This factory was clean, it was safe, it was not overcrowded, facilities were good and supervision appeared to be fair. From my experience of garment factory environments this could be seen as worlds away from the horror stories of fashion's supply chains that still regularly hit the press. Aspirational perhaps, by global supply chain standards.
And yet... as we walked around the factory floor, many of our group, fashion professionals from around the world, were conflicted. The realities of working in the mass manufacture of apparel are that each person on that factory floor was working against the clock, head down, to repeat the same sewing sequence many hundreds of times a day. Breaks are allowed - but rarely taken - when paid by the piece, they are a luxury most cannot afford. This was tedious work, and we recognised that it would drive us crazy. From our perspective, it was anything but aspirational.
In the context of life in Myanmar, of course there is a different lens on this. Tedious work that pays is aspirational if the alternative is an inability to feed one's children. Yet, what this experience brought home to me was the depth of our double standards across the fashion industry as a whole. "Meaningful work" for those of us who are fortunate enough to work higher up the supply chain in our industry means something very different.
The companies that source from Myanmar, particularly those with more established names, have very different expectations for their own employees. For them, meaningful work means a positive working culture, in which employees feel valued, respected, and as though they are on the road to somewhere.
As an industry we can and must continue to work towards better factory standards, towards bearable working conditions for everyone in industry supply chains. However, I believe that the opportunities are much greater than this.
The process of "making" fashion can be aspirational, can be creative, and can be inspirational. Going beyond the status quo to aspire to truly meaningful work in fashion supply chains will need us to be more bold, more collaborative, and work towards a common standard. A standard which values, equally, all the people who contribute to our global industry.
In the next blog in this fast fashion series, I will explore practical steps we can take as an industry, and as individuals within it, towards meaningful work at both ends of the supply chain.
Read all of Tamsin's CEO blogs on the Ethical Fashion SOURCE website.