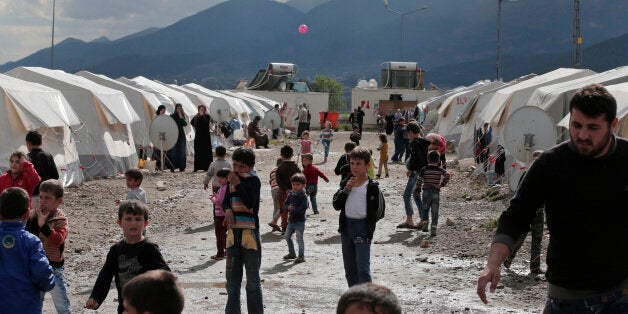 As world leaders gather in New York for the UN General Assembly and President Obama's leaders' summit on refugees, the refugee crisis continues to spiral.
Images of refugee children - drowned Aylan Kurdi washed up on a Turkish beach, and more recently five year old Omran, injured in an airstrike in Aleppo, sitting bloodied in an ambulance - have rightly shocked and horrified the world.
Spurred to respond, governments have vowed to take action as public pressure mounted. Momentarily, sporadically, the media too has championed the rights of these children.
Yet, with wearisome inevitability, momentum has slowed, newer stories break, attention is diverted and images of child refugees are soon forgotten.
But a broader crisis is building, one more hidden from the eyes of the media and the public.
More than half of the 65million people displaced globally are children. And only half of those are able to go to primary school.
Children in South Sudan, Burundi, Yemen, and the Central African Republic find themselves caught up in conflicts that are largely ignored by the media, but are having a devastating impact on their lives.
During crises like these, education is critical. It provides a safe space to ensure girls and boys can continue learning. It helps to protect them.
This protection is especially important for girls. During conflict and emergency situations, they are often at far greater risk of violence and abuse. They may be forced into marriage, and face the threat of sexual violence and trafficking. Education helps to protect them from these dangers.
This is why it's so important that global leaders meeting in New York step up and make clear, new commitments to education. The objective of President Obama's summit is to increase the number of refugees worldwide in school by one million.
We welcome this goal: Plan International UK has joined with other organisations to support a public letter to world leaders, calling for action on education in crises.
The new Education Cannot Wait: A Fund for Education in Emergencies provides an opportunity for that action. Governments must support it, making specific commitments to refugees and internally displaced children - and especially girls.
Education is essential to protecting children on the move. It improves girls and boys wellbeing, and ensures they have the skills and knowledge needed to help rebuild their societies after conflict.
Education truly cannot wait, and we need action for all children out of school. This week, the world has that chance. Let's make sure we take it.
Related