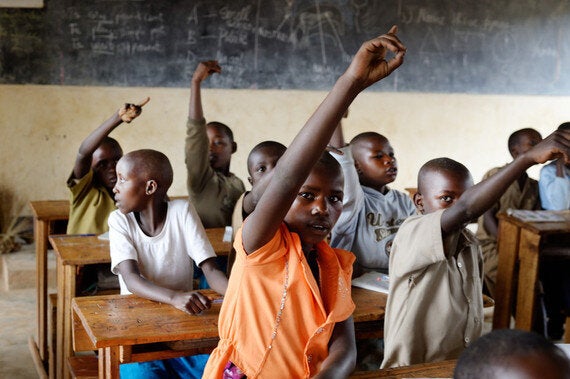 Image: Plan International
For a quarter of a century, 16th June has marked Day of the African Child. Back in 1991, many thought of the continent as poverty- and war-stricken, of its children as desperate and hungry. But in 2016 that's no longer the case, and these negative preconceptions are outdated. For all the challenges it still faces, Africa is a vibrant and promising continent full of amazing young people who, supported by organisations like Plan International UK, are determined to reach their potential and realise their dreams.
People like 16-year-old Jacky in Rwanda who, not so long ago, was being "chased out of class" because she was unable to pay her school fees. Household poverty and economic insecurity - leading to girls carrying the burden of domestic work - tends to be one of the barriers to education that girls experience in Rwanda.
However, Jacky is now part of Financial Education for Girls, a partnership between Plan International UK, Credit Suisse, and Aflatoun working to increase both the financial capability and the awareness of social and economic rights among adolescent girls. Girls like Jacky and her classmates are learning to manage their own savings, spending, and possible future enterprise or income.
"I think this knowledge will make a difference to my life. If girls can learn and help their families to learn, so that they are not so poor, then they can go to school and afford the fees and materials" - Jacky, 16
Life skills sessions are an explicit and additional component of the Financial Education for Girls programme. These mitigate issues such as sexual and domestic violence, illiteracy, early marriage, and pregnancy at a young age, and they help lower the number of young people who drop out of school. Plan International Rwanda and local partners are committed to providing education on sexual health and reproductive rights, teaching children appropriate behaviours to avoid pregnancy and disease.
While the focus of the programme is on girls, attention is also being paid to boys who will benefit from the same financial and life skills education. Fantastic 'Boys4Change' positive masculinity clubs have been formed, to challenge and change the types of male behaviour that prevent girls from attending school.
Tom is a boy enrolled in the programme in Rwanda, and learning about saving really attracted his attention. After Tom had saved 4,000 RWF (£3-£4), his parents contributed some extra money, allowing him and his sister to buy an adult goat together. The goat has since given birth, and the siblings are planning on growing their business to "a big farm of goats"!
The future for African children is bright. Let's help them realise it.
Financial Education for Girls, funded by Credit Suisse, aims to improve the financial education and life skills of 100,000 adolescent girls across Brazil, China, India and Rwanda. For more information please visit Plan International UK.
Related