US, French, British, and Russian bombs rain down in Syria adding to the misery of the citizens caught in this near 6-year conflict. The war zone is already crowded with the Syrian regime's forces, pro-regime and Shia militias, Assyrian militias, numerous Kurdish groups, and ISIS. If recent reports from the Kremlin are to be believed, China may soon be joining the long list of active military players in the region.
Beijing's involvement in the Syrian conflict (seemingly, the "world's conflict") has so far concentrated on military and financial support to Bashar al-Assad. But, the People's Republic of China's reluctance to join the fight is being tested by reports of Muslim Uighur's making their way to join the multi-national ranks of ISIS. The PRC may no longer believe they can continue as passive players in this war and, framed by their concerns over Islamist extremism, could send troops to join the conflict.
A potential catalyst for such involvement is the recruitment by ISIS of citizens from China and its neighbours in Central Asia. The apparent threat from Islamist extremism has been growing in the, Uighur-populated, Xinjiang province with scores of Chinese from the region being caught by Turkish officials on route to joining ISIS. Turkish nationals providing fake passports to Chinese nationals heading to Syria is also of concern to Beijing. Previously, the west has been keen to dismiss these claims as a way for China to use its counter-terrorism policies to suppress separatist dissent and further curb its human rights. It's near-impossible to dismiss China's rights record, especially with the regards to the Uighurs, but they may still have genuine fear of domestic radicalisation.
In June 2015, ISIS released a video of an 80-year-old Muslim Uighur explaining his decision to join the group after decades of oppression in China; and followed this up with a four-minute song, sung in Mandarin, that glorified the fight of the Mujahid. The next month they published a video urging more Uighurs to join their apparently "Sunni" cause. With Chinese citizens leaving their homes and travelling to Syria, Zhang Chunxian, the Communist Party Secretary of Xinjiang, confessed last year that China can no longer remain "aloof" to violent extremism. What this means for the Uighur minority living in Xinjiang is worrying.
Propaganda murals depicting "good" and "bad" Uighurs are thought to have been commissioned by the government and appear close to mosques in Xinjiang. These murals, albeit crude, are telling of what the PRC thinks of its Muslim population. The Uighur people have suffered decades of economic marginalisation, ethnic discrimination and religious repression. It's very possible that these crackdowns are doing more harm than good in trying to curb violent radicalisation. Policies aimed at banning women wearing veils and Uighurs buying knives are in place in addition to stricter laws passed at the end of 2015. Similarly repressive rules on religious expression and practice are being echoed in the Central Asian countries bordering Xinjiang.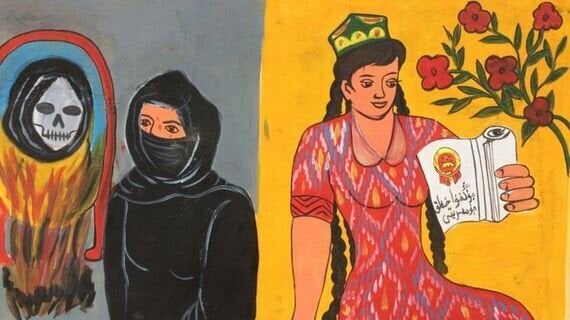 Syria's ambassador to China, Imad Moustapha, explained how China views the Syrian crisis from three perspectives "international law and legitimacy; global strategic positioning; and the activities of jihadist Uighurs". These perspectives have led to China's dismissal of the legitimacy of international-led airstrikes; financial support to Assad allegedly to the tune of $30bn for post-war reconstruction; and stricter counter-terrorism policies to mitigate the risk of domestic radicalisation. It's also likely that China would join the Russian side in Syria given their support of the Syrian regime.
The threat of disruption from terrorists to the economic assets and energy security of China could be the catalyst which persuades China to provide more than just equipment and money to Assad. Energy security and economic prosperity are generally the deciding factors of how its military is used; with Islamist extremism an easy sell when justifying strict national security measures and a military presence in Syria. With plans to build pipelines across Central Asia, the containment of terrorist disruption is important to Beijing's economy. As a consequence, we could soon see the People's Liberation Army, second only to the US military as the world's largest employer of people, join the ranks of invested interest parties in bombing Syrian cities and towns.
China's problem with violent extremism may well exist. Their fear of radicalisation may indeed be genuine. But, should Beijing continue to implement repressive policies in Xinjiang, and send boots on the ground and jets in the skies over Syria, they may be adding fuel to the fire of their problems. Military involvement might increase tensions with its Muslim population and, as described by a Chinese proverb warning of a difficult and dangerous situation, create "a mountain of knives and a sea of fire".