A woman who can't get enough sex - or just a normal girl who gets mocked down the pub. That's how most of us know the word 'nympho' these days, and while the director Lars von Trier recently delighted in showing us our own prejudice with his dead-pan depiction of a female sex addict, a new display at Tate Britain reveals a slightly different story - with an unexpectedly feminist streak. I met the curator to track down the elusive 'nymph' in nymphomania - and predictably, this erotic story begins with the ancient Greeks.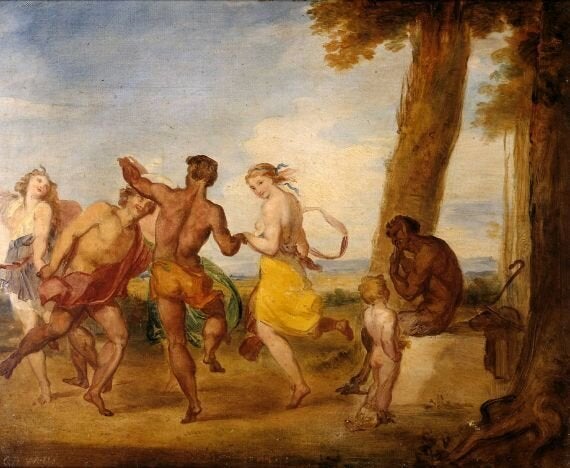 George Frederic Watts, Nymphs and Satyrs circa 1840, © Tate
"In Greek mythology, the nymph was a female character who could either resist male desire, or she could be sexually promiscuous herself, sometimes to the point of aggression," Cora Gilroy-Ware, the curator of Bodies of Nature, explains.
So the nymph - a creature of nature, usually seen bathing in pools or wandering in woodlands - was always feminine, often seductive and sometimes mischievous.
What she wasn't, it turns out, was either inappropriately young or a man's subservient fantasy. "People have heard of Nabokov's Lolita, the nymphet, and that confuses things because nymphs aren't about prepubescence. They're dissidents, really," says Gilroy-Ware. "An ancient idea of a femininity that's outside society's dominant ways of being a woman."
This sounds familiar. For all the 21st Century 'empowerment' of the likes of Miley Cyrus and Rihanna, are they actually just new versions of an ancient idea?
"Oh yes, in a way," agrees Gilroy-Ware. "I actually have a whole theory about how Rihanna is a nymph. Because of things like how she refuses to wear a bra, and yet she's totally strong and empowered in her body. But then to me, Miley Cyrus is not like that. That hyper-childlike, hyper-provocative image seems sort of grotesque yet also sterile, which I don't think is nymph-like at all."
Surely, then, the nymph raises the same sorts of issues as a hot-panted Rihanna. Are they feminist icons or slaves to sexuality?
For better or worse, the nymphs made it through history with minimal questioning. In the Renaissance, provocative depictions of nymphs were rediscovered and celebrated in art and literature. "They became a sort of code," says Gilroy-Ware. "They were a way of representing sexuality in socially acceptable terms." For example, Titian's provocative Nymph and Shepherd.
Being rendered in paint helps, of course. Society's attitudes towards the real thing were less open-minded.
The first published use of the word 'nymphomania' pops up in a Scottish medical book in 1769. Two years later, it was the subject of a book in itself, written by a French physician, JTD de Bienville. It was totally radical. "No one had dared devote a whole book to something as 'trivial' as female sexuality before, it just wasn't done," says Gilroy-Ware.
Nonetheless, it wouldn't have done much to coax anyone out of hiding. Sufferers were "monsters in human shape", the writer said. Their excessive sexual impulses would begin in the imagination, before the physical symptoms occurred. They would "hiss, applaud, deny, affirm, assume ridiculous gestures, throw their bodies into strange contortions, attempt to stimulate the passions of men by the loosest language, and to endure success, affect a disregard for attire approaching to nakedness." The last stage in the disease was death.
It strikes me that said author may have considered Britain's towns littered with 'nymphomaniacs' on any given Saturday night. Were men subject to such creative diagnoses?
There was indeed a term for the male equivalent to this female affliction, says Gilroy-Ware; but 'satyriasis' - named after satyrs, the mythological male figures who would cavort with nymphs - didn't quite catch on. 'It was rarely diagnosed, because male hypersexuality wasn't seen as a problem.'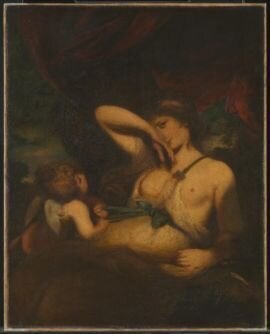 Back in the 18th Century, spurred on by the term she'd inspired, the nymph had found fame. In 1784, Joshua Reynolds, the president of the Royal Academy, painted the provocative A Nymph and Cupid (left, © Tate). Its reproductions sold widely - particularly to women. "Later, in the 19th Century, I think the original was actually sold to the Prime Minister of the time, who hung it in his daughter's bedroom," recalls Gilroy-Ware.
It was a time when fashion was emerging as an interest - and with the French Revolutionary Wars starting in the 1790s, viewers sought an escape. Magazines talked about getting 'dolled up like a nymph', and though painted by men, they became a liberating aspiration for women. Artists seized the opportunity.
Among them, British painter named Thomas Stothard, better known for literary paintings of the Canterbury Tales, began painting romantic scenes of naked nymphs bathing or caressing cupid, and again, they were wildly popular. 'He has this charming, cartoon-like style that was totally different to what others were doing. People loved these sort of fluid bodies that were almost decorative.'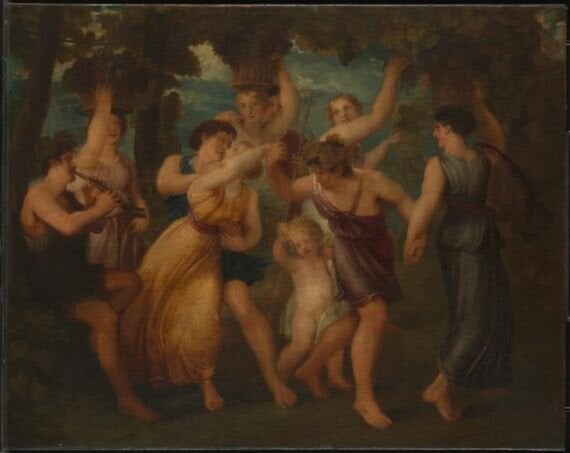 Thomas Stothard, The Vintage exhibited 1821, © Tate
A backlash followed. Stothard's style became an example of how not to paint, and critics said that he was just emulating the old masters - badly.
Stothard's nymphs also didn't age well. One aspect of the old masters that he and his contemporaries were indeed trying to copy was the glowing appearance of a Rubens or a Titian. "They mixed things like soap and wax and all these essential oils into their paints to create a really sensational image," explains Gilroy-Ware.
What made a shiny surface at first left serious cracks later. Despite a lot of conservation work, you can see this particularly in the largest work in the display, below.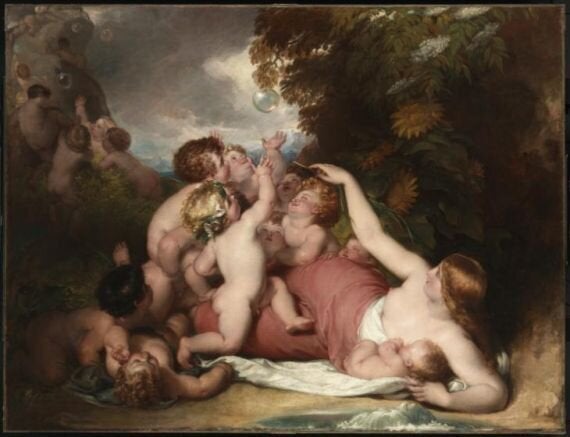 William Hilton the Younger, Nature Blowing Bubbles for her Children, exhibited 1821, ©Tate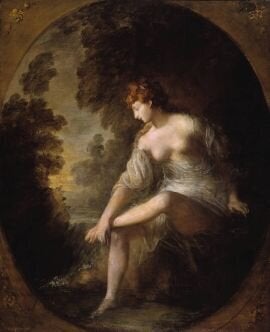 Over the Victorian era interest in the nymph dipped, and Stothard's work, along with nymphs by Reynolds and Thomas Gainsborough (right, Musidora, c.1780-88, © Tate) among others, have been in the Tate stores for most of the past 150 years.
Now, revived by Gilroy-Ware, they make up Tate Britain's display - not long after, coincidentally, the release of Lars von Trier's controversial Nymphomaniac films, about a female sex addict. Is the link still relevant?
"I feel like the words 'nympho' and 'nymphomaniac' are so tied to porn now, and audiences are so desensitised that it relies on quite graphic images, whereas the nymph was more about the imagination. The 'disease' has overshadowed that in a way," reflects Gilroy-Ware.
So, what will 21st Century visitors make of the naughty nymphs? Along with Rihanna, do they find themselves in more divisive, post-feminism territory? Or will they be appreciated like never before?
"Yes, it can be difficult. Feminist discourse has moved on, and I think it can be hard for people coming to an exhibition to overcome the idea that the nymphs are just objectified women.
"But I really feel that the nymph isn't just a pretty object. She's empowered. She's a radical. Several paintings show groups of women surrounding single male figures, so I think that'll come across."