As the plane flew over Niger the familiar sight of the red desert sand and arid environment came into view. I was here two years ago when the new government declared a food crisis emergency and appealed for international assistance.
Then, when we stepped out of the airport and drove through the capital Niamey in the searing summer heat my photographer asked me "where is the crisis?" There were no obvious signs. As we criss-crossed the country by car, clocking up 3,000 kilometres, the signs of the crisis came into clear view. There were dead animals everywhere - cows, camels and oxen. In the children's hospitals there were scores of severely malnourished children and mothers. Thousands had been treated.
On this occasion in 2012 the food crisis is deeper and more severe. An estimated 6.4 million are on the hunger line, of which 1.1 million are at risk of various stages of malnutrition. Without help, 400,000 are at risk of death.
At the same time, an insurrection in northern Mali has driven more than 400,000 people from their homes. About 60,000 of them are in camps in the Tillaberi region in Niger.
At the Tabarey-barey refugee camp run by Plan International, I found not just displaced people but a displaced culture. Everything that they were accustomed to, except their religion, was changed.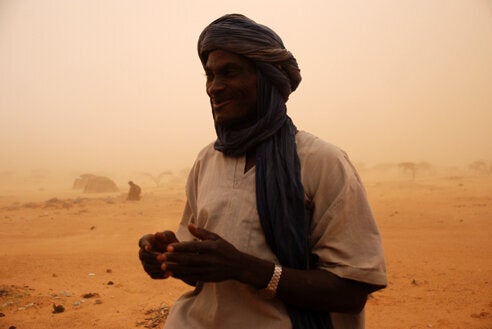 Alhassane Kourey's son was shot and injured during the rampage of their village.
The Tuaregs here told me horror stories of pillage and plunder of their livestock, food, homes, clothes and their women - some had been raped and assaulted. Other women were taken from their homes never to be seen again. Other loved ones were missing and presumed dead; yet without bodies it was hard to close this chapter of their lives.
It was supper time for 45 year old Aliou Macaouand his family, from Assongo, when the "robbers" struck. They left the pot on the fire and ran for their lives. Two of his 10 children were left behind in the mêlée. It's been months since he's heard from them but newer arrivals told him they were safe and were looking for transportation to join him in Niger.
Alhassane Kourey lost contact with his two sons aged 14 and 16. The younger one was shot in the leg as they became separated in the chaos that ensued when militants rampaged through their village. He has heard that they are alive and is gathering a search party to return to Mali to find them.
"If I could get a message to them, I'd tell them that I know that I am separated from you and I am not happy. I would like you to come here and stay with me so we can be together," he told me. When I checked for him a week after he told me this, he was nowhere to be found in the camp. I assume the search mission is underway.
Their future is uncertain. They sleep, wake, eat, pray. They wait for word on what will happen to them. Can they stay in Niger, bring their animals to graze and return to tilling the land or will they be asked to return. Of the 40 or so families that we interviewed they were equally divided between returning to Mali and staying in Niger.