Landing in Goa I found myself instantly falling in love with the inherently chilled, lushly tropical beach state. Quickly finding myself nestled in the back of a bright white resort car, the drive from the airport to Resort Rio in the north gave me the chance to marvel at Goa's serene green fields, tranquil rivers and multiple palm clusters. I felt heady, excited and eager to start my Goan getaway.
The five star Resort Rio hotel and spa is nestled next to the banks of the Baga river in Arpora and is an impressive sight as you pull up outside. Marble steps take you up and underneath a picturesque arch, and as you enter the large and very plush lobby you're surrounded by a sea of professional staff eager to help with your bags and make your check in as smooth as possible. One welcome drink later by the side of the pool (a refreshing lemon and mint cooler) and I was whisked up to my room.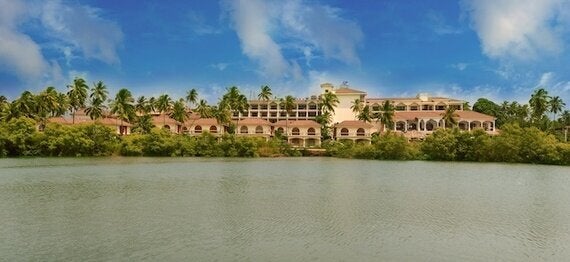 Décor is a luxurious mix of colonial tradition, and elegance - with beautiful marble floors and plush mahogany furniture. My Luxury Deluxe room was large and airy (fully air conditioned), with a private balcony looking out towards the swimming pool with the Baga river and paddy fields beyond. Sumptuous capacious seats made you want to sink into a chair with a book and never get up. Tea and coffee facilities were provided, and water was replaced every day. Toiletries were plentiful and the rainforest style drench shower in the bathroom was seriously divine.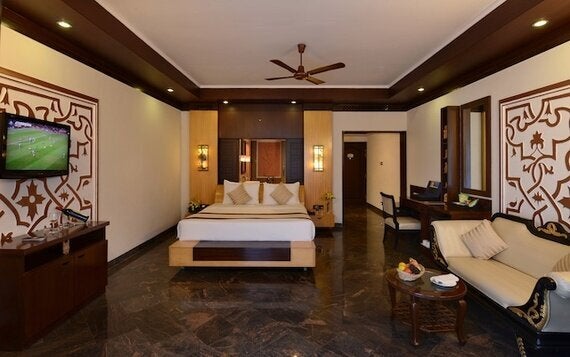 Housed in a separate building to the main hotel and next to the outdoor pool, the award winning Zaara spa is calm to the point of meditative, and pretty breathtakingly beautiful. Spa manager Suvidha will talk you through any spa treatments you want to try, making sure that you opt for only complimentary therapies - the attention to detail is more than evident. Completely calm and serene, colour in Zaara spa comes from flashes of tropical flower arrangements. Reclining on a daybed (decorated with hot pink flowers) and sipping on a hibiscus drink, I waited for my therapist feeling like I was truly in a spa-paradise.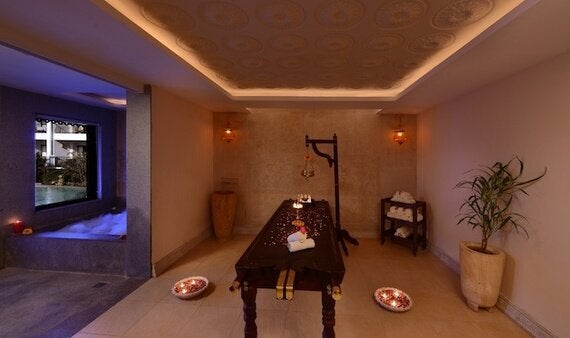 My traditional deep tissue Indian massage promised to relieve me of all aches and tension and wow, did it do just that. I'm a fan of an old school 'hard' massage and my therapist used her full body weight along with a simple tea tree oil to really manipulate the particularly tense areas of my back using her elbows and forearms - pure heaven. This type of firm pressure might not be for everyone (I had specified beforehand that I wanted a really deep massage) and when the treatment was finished I felt relaxed and completely knot free. I followed the massage with a Glow Facial where my skin was steamed, exfoliated, cleansed, and moisturised. I also underwent a 'light' extraction, which was quite a relief....I was so relaxed by this point that a slightly lighter touch was very welcome. The entire treatment was rounded off by a full body stream in the spa's steam room. Heavenly.
The resort boasts 3 main restaurants so there's no excuse for getting bored. Jalsa is purely vegetarian whilst Mamma Mia serves Italian cuisine. The Pickled Mango is home to a lavish buffet for breakfast, lunch and dinner- try the breakfast Dosas and spicy scrambled eggs. There is also a poolside snack bar and a lounge bar that is ideal for cocktails.